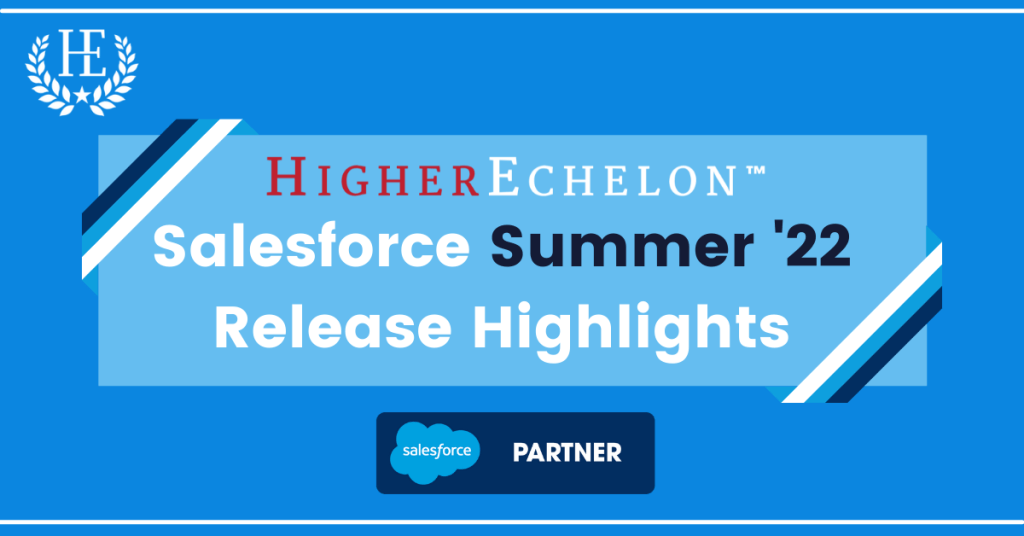 It is that time again – Salesforce release time! Are you new to the Salesforce ecosystem and not sure what this means for you? Are you a seasoned pro and curious about what Salesforce has in store for us? Regardless of your role or experience level, we have you covered with a review of some of our favorite announcements.
But first, what is a release? A release is when Salesforce delivers enhancements and updates, implements community ideas, and shares new features. Releases occur three times each year. It is an opportunity for anyone involved in the ecosystem to take advantage of the platform's real-time innovation.
Upgrades are delivered automatically in real time, which means all Salesforce customers can use new features and enhancements right away. Some features may require configuration, and some may impact the way your organization uses the platform, so it is important to be in the know. And for our consulting team, releases bring opportunities to share customer-facing features and use exciting new back-end functionality.
How can you learn more about this release? If you are a Salesforce customer, begin by looking up your instance on the Salesforce Trust website to see when you can expect to receive the release. Then, to ensure you know what is coming, review release notes. Finally, test everything out in a sandbox. Sandbox upgrades typically occur 4-6 weeks before a release. For Summer '22, the preview began on May 6, 2022. Depending on your instance, the Summer '22 release will be available in your org over one of three weekends – May 20, June 3, or June 10, 2022.
Here are some of our favorite upcoming features. To find or share information about upcoming releases and collaborate with others, check out Release Readiness Trailblazers Community.
In our Winter '22 release article, we shared that a requirement to enable multi-factor authentication (MFA) would take effect on February 1, 2022. That date has come and gone; all users logging in to Salesforce are required to use MFA.
MFA is one of the easiest ways to prevent unauthorized access to your Salesforce account. MFA requires you to provide two or more pieces of evidence that you are who you say you are when you attempt to log in. Typically, this means something you know, such as a username and password, and something you have, such as your mobile device with the Salesforce Authenticator app installed.
If you have not implemented MFA, automatic enablement and enforcement is coming, with some exceptions. You will receive six months' notice, but now is the time if you have not implemented this additional security measure. The Multi-Factor Authentication Assistant, available in the Setup menu in your org, is a great place to start, along with the MFA rollout pack.
Admins, have you ever found yourself thinking how useful it would be to be able to create custom fields that function like a standard address field? Well you are (sort of) in luck! This much-needed feature is in beta, which means it is publicly available for testing but not fully functional, finished, or supported. To test it out, make sure you have state and country/territory picklists configured first. Otherwise you will not see the field type available. Here's how to do that. You will also want to check current limitations.
Announced as a beta feature in Spring '22, the enhanced report type selector allows users to easily access recently used report types, understand the fields included and other details, and hide unneeded report types. It is now generally available, which means the feature made it through testing and is now supported.
This was also announced as a beta feature in Spring '22, with improvements from the initial enhancement in Spring '21. This feature makes it easy to update individual records from a report without leaving the report. Now generally available, this enhancement means inline editing possibilities are (almost) endless. Keep in mind a lock icon means the field cannot be edited from a report, while a pencil icon means it can.

Summarizing data in reports is one of the most effective ways to understand and share data about your business. Prior to Summer '22, users were limited to Sum, Average, Max, and Min summary options in reports. With the new release, a Median choice is now available, making reports even more powerful.
Setting limits to data displayed in dashboard components has been available for a while. With Summer '22, the same option is available in tabular reports. This means you can get to the most important data more quickly. For example, if you want to see the top 20 largest opportunities from a tabular report showing all open opportunities in your Salesforce org, from the Filter tab, add a row limit to limit the number of results.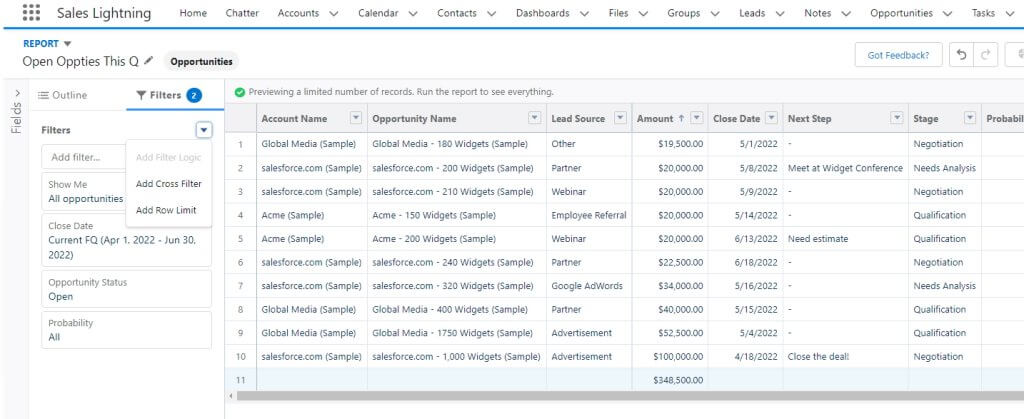 7. Picklist Management Features
Three of our favorite Summer '22 enhancements are related to picklists. If you are an Admin, we know you will be as excited about these as we are.
Clean Up Inactive Picklist Values (Beta) – As mentioned with previous beta features, this one is still in testing. Opting into this setting in the Picklist Settings page Setup menu allows you to delete unused picklist values from the Inactive Values section of the page. Keeping picklists clean helps ensure stability and performance.
Bulk Manage Picklist Values (Beta) – Another beta feature worth reviewing is the ability to manage picklist values more efficiently using this feature. This feature allows you to act on multiple values with new buttons, including Delete Selected, Deactivate Selected, Replace Selected, or Activate Selected. Opt into the Advanced Picklist Values Management (beta) from the Picklist Settings page.
Learn Which Picklist Values Are Duplicates – Adding new picklist values in bulk is a breeze, unless one of the values you try to add is already in the picklist. The error message displayed when you have a duplicate is not much help; it simply warns you that you have a duplicate value. With Summer '22, this error message gets an upgrade, showing which value or values caused the issue.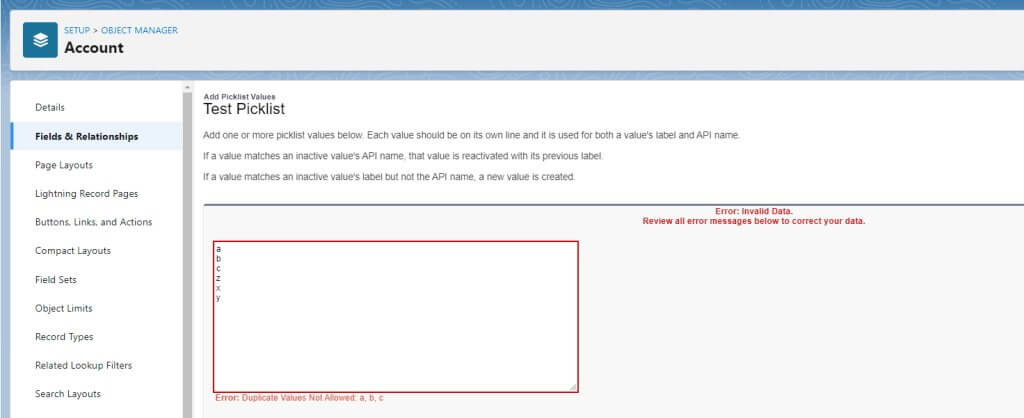 Another one for the Admins! Prior to Summer '22, related lists could only be customized by modifying the page layout. If you wanted to customize a related list, but were in the Lightning App Builder, you had to transition to the page layout to adjust it. With this release comes the ability to modify related lists in Lightning App Builder with the new Dynamic Related List – Single component.

Salesforce defines Person Accounts as functioning to "store information about individual people by combining certain Account and Contact fields into a single record." This gives organizations the ability to store all data about an individual in one place and can be advantageous for certain businesses. Prior to this release enabling Person Accounts (which cannot be disabled after being enabled) required reaching out to Salesforce, but with Summer '22, Admins can enable Person Accounts after completing a series of steps.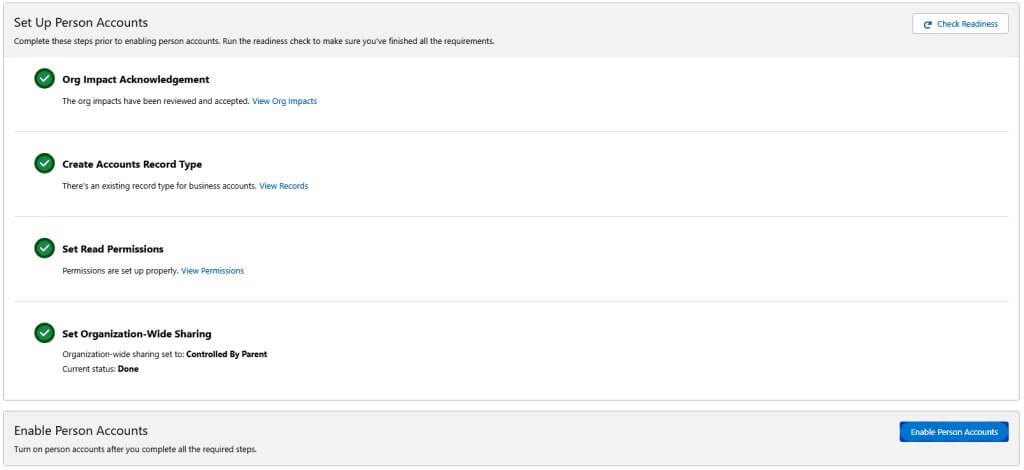 Over time, Salesforce continues to work toward feature parity with some functionality that is only available in Salesforce Classic. One of the features in Summer '22 has been available in Classic but is not available in Lightning. If sharing settings prevent users from seeing campaign records that they need to see, with Summer '22, manual sharing is now available on the campaign. (Admins, make sure you add the button to the page layout!)

11. New Salesforce Product Names
As the Salesforce platform and associated products evolve, and as services offerings grow, it is not uncommon to see product names change. In fact, Salesforce announced a legal name change from Salesforce.com to Salesforce, Inc. in March. In the Summer '22 release notes, the following new names have been announced:
Additionally, the following Marketing Cloud product names are also slated to change, announced in April:
Email Studio will change to Marketing Cloud Engagement
Pardot will change to Marketing Cloud Account Engagement
Salesforce CDP will change to Marketing Cloud Customer Data Platform
Interaction Studio will change to Marketing Cloud Personalization
Datorama will change to Marketing Cloud Intelligence
Advertising Studio will change to Marketing Cloud Advertising
Curious to Learn More?
Read up on the new features available with the Summer '22 release through the release notes, and contact us if you'd like to learn more about how HigherEchelon partners with organizations to help quickly and successfully implement Salesforce.
Katie Levy is an 8x certified Salesforce Consultant with HigherEchelon, Inc. and has a passion for finding and sharing the latest and greatest Salesforce features.
Client Review: 5/5
★ ★ ★ ★ ★
HigherEchelon's team is extremely professional and high caliber. They are very knowledgeable on the Salesforce platform, while offering solutions to business problems. That's a hard mix as most partners tend to be over indexed in one particular way. HigherEchelon knew how to leverage the platform to solve our business needs.
– Client, Financial Services Sector, public review on Salesforce AppExchange
Watch a case study video of our work with Aerospace & Defense client Yulista Holding, LLC:
Other Helpful Resources: