Author: Katie Levy
If you're a member of the Salesforce ecosystem, you know how exciting Salesforce release seasons can be! With new features and enhancements, community ideas delivered, and more, Salesforce's three releases per year bring fantastic opportunities to take advantage of the platform's free, real-time innovation.
If you are new to the Salesforce ecosystem, or missed our past posts on Salesforce releases, Salesforce delivers new features three times each year: Spring, Summer, and Winter. This means all Salesforce customers use the same version of the platform and can take advantage of new features; upgrades are delivered automatically in real time. For our consulting team, release seasons are also exciting because enhancements come both to customer facing and back-end functionality.
Though some new features within each release don't require any setup or action to take advantage of, some do. That means whether you're a Salesforce Admin, a customer, a consultant, a developer, or just curious about what's to come, you want to be in the know.
Begin by looking up your instance on the Salesforce Trust website; this will help you understand when you can expect to receive the release in your org if you are a current Salesforce user. Then, to ensure you understand features available, review release notes. Finally, take advantage of sandbox testing to try out new features. Upgrades are typically pushed 4-6 weeks before a release, and for Winter '22, the preview began on August 27, 2021. Depending on your instance, the Winter '22 release will be available over three weekends, beginning September 10, October 1, or October 8.
Here are some of our favorite upcoming features, and to find or share information about upcoming releases, and to collaborate with other customers and experts, check out Release Readiness Trailblazers Community.
Though not a new feature or enhancement, Salesforce announced a future requirement for all Salesforce customers to enable multi-factor authentication (MFA). MFA helps Salesforce customers further protect access to user accounts; it is one of the easiest ways to prevent unauthorized access. It works by requiring users to provide two or more pieces of evidence that they are who they say they are. This typically involves something the user knows, such as a username and password, and something the user has in their possession, including a code generated by the Salesforce Authenticator app.
All internal users who log in to Salesforce through the user interface must use MFA. Per Salesforce Trust and Compliance Documentation, this requirement takes effect beginning February 1, 2022. Use the Multi-Factor Authentication Assistant in the setup menu to help you prepare, and learn more here.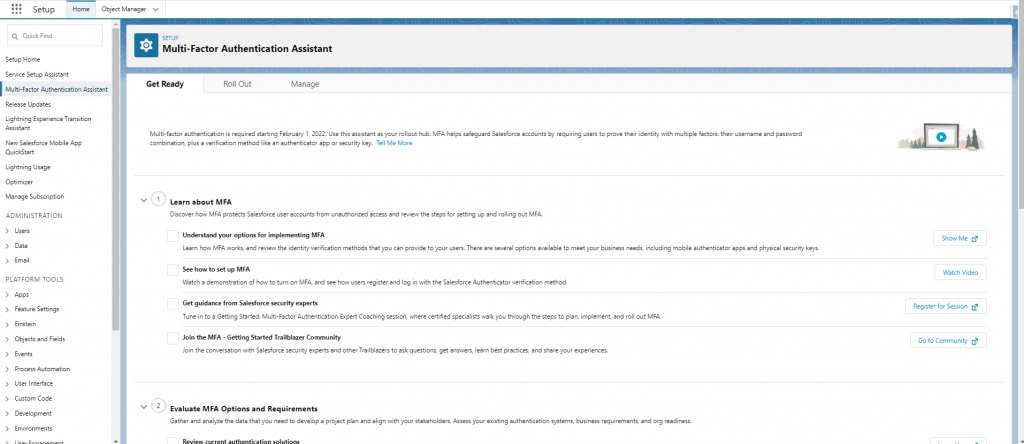 With the Winter '22 release, all features of Einstein Search are available at no extra cost. This allows customers to take advantage of three key tools:
Personalized search results, delivering relevant results based on a user's activity
Natural language search, the ability to type common words and phrases to further filter results
An actionable user interface, allowing users to create records right from the search box

Prior to Winter '22, Salesforce already provided the ability to filter and sort the activity timeline associated with an individual record, but kept the item with the closest due date at the bottom of the list. Now with Winter '22, users can select to "Show newest Upcoming & Overdue activities first" to put the next item on the calendar at the top of the list.

Beta features include features that may not ultimately be delivered by Salesforce but can be worth testing out for any organization. Dashboard gauge charts allow teams to track progress toward a specific goal, and prior to this beta feature, that goal had to be static.
By enabling dynamic gauge charts in Reports and Dashboard Settings in the Setup menu, you can test this feature, which provides the option to switch from Standard to Dynamic mode. Dynamic mode allows you to compare a report metric with a numeric field from a record, provided the source reports are set up with the groupings, metrics, and filters that must be reflected in the gauge charts.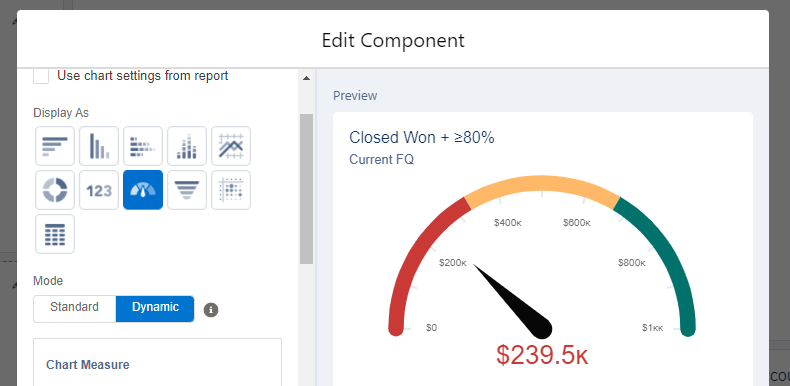 Another beta feature worth exploring allows users to edit more fields in line in a report. This means that instead of viewing a report and opening individual records to edit date, picklist, and lookup field values, users can do it right from the report page.
After checking the Enable Inline Editing in Reports (Lightning Experience only) in Reports and Dashboard Settings in Setup, users can open a report and hover over specific fields to display a pencil icon. Just as is the case elsewhere in Lightning Experience, clicking the pencil icon opens the field for editing, right in the report. There are restrictions related to which objects and fields are available for inline editing, but it is still a great feature to try.

As a Salesforce Admin, imagine you've built an amazing flow to automate a key business process for your team. Every time your team fills out an existing screen to create a new contact of a specific record type, they also must create a task to follow up with that person in one week. But if for some reason, suppose the contact creation is successful, but the task creation fails; the contact exists, but the appointment does not.
In some cases, having part of an operation succeed while another fails is okay, but in some cases, it may be important to have an operation be "all or nothing." If the task creation fails, the contact creation should as well. With Winter '22, a new Roll Back Records component in Flow allows Admins to create a fault path, ensuring all operations are undone if one fails.
Curious about what a flow is? Learn more on Trailhead.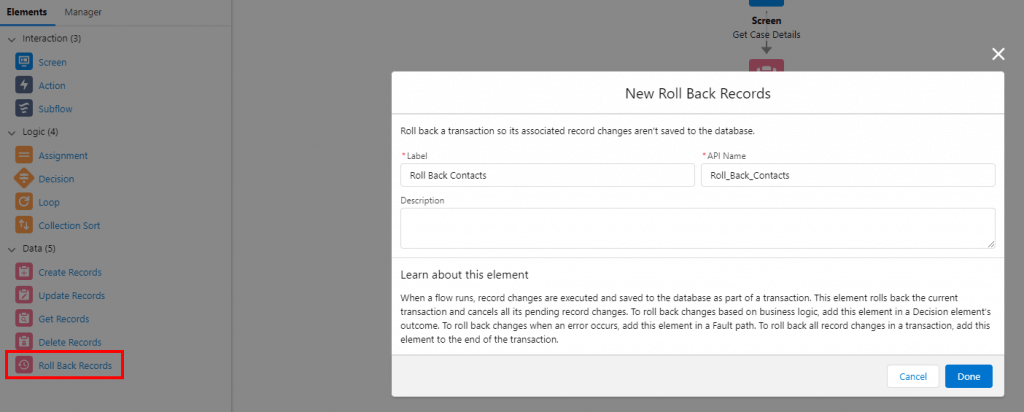 For many Salesforce Admins, when it comes to designing automation using declarative tools, it's best practice to use one tool and one process per object. This can help Admins keep track of automation for an object, avoid hitting limits, and determine the order of operations. Prior to Winter '22, that best practice was tricky to implement with flow, but with Winter '22, the subflow element is now available in record triggered flows.
What does this mean, exactly? A record triggered flow is a type of automation that can be used to automate business processes. In keeping with the "one tool per object" best practice, if there are common tasks performed on an object that are needed in multiple places, that was tricky to do in flow prior to Winter '22.
Now, with record-triggered flows supporting subflows, subflows can be designed to automate a common task, and can then be called from a record-triggered flow. If the common task needs to change in any way, instead of having to find all the flows a task has been automated in independently, Admins can simply make the change in the subflow once.
Learn more about what new features are available with the Winter '22 release through the release notes, and contact us if you'd like to learn more about how HigherEchelon partners with organizations to help quickly and successfully implement Salesforce.
Katie Levy is a 6x certified Salesforce Consultant with HigherEchelon, Inc. and has a passion for finding and sharing the latest and greatest Salesforce features.
Contact HigherEchelon for Proven Salesforce Implementation Services
Call us at 866-488-9228, email us at Solutions@higherechelon.com, or fill out this form so we may discuss your needs.
Client Review: 5/5
★ ★ ★ ★ ★
HigherEchelon provided excellent, efficient, and smart solutions, to meet our specific needs with Salesforce. They were able to speed up our configuration and completed our project nearly 8 weeks ahead of schedule. They are prompt and quick to help if a need arises. We highly recommend them!
– Public sector client, AppExchange review
More Information: