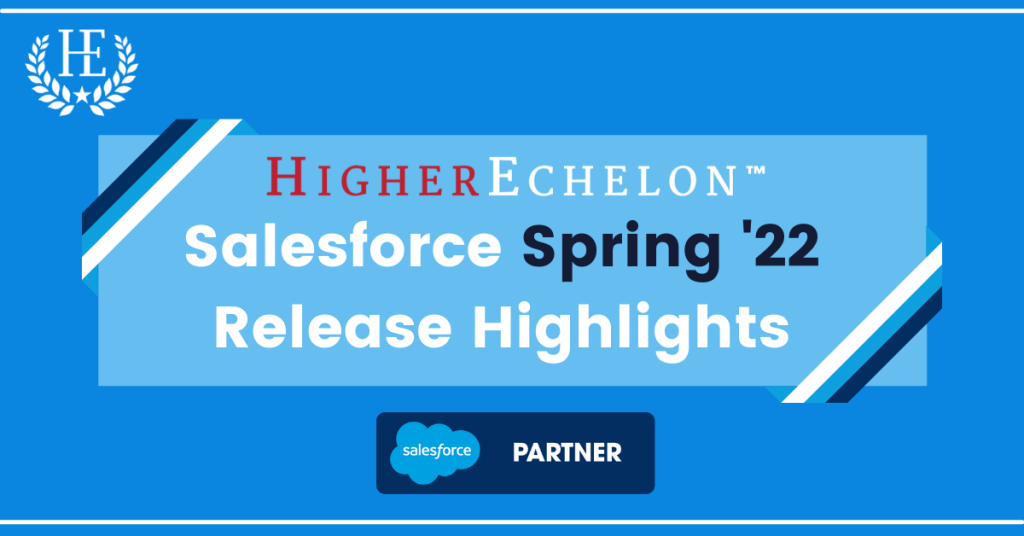 Author: Katie Levy, HigherEchelon Lead Salesforce Consultant
It's that time again – Salesforce release time! With the winter solstice just behind us, it may seem strange to think about the Spring '22 release, but with release weekends beginning January 14th, now is the perfect time.
New to the Salesforce ecosystem? Welcome! Salesforce's three releases each year – spring, summer, and winter – bring opportunities to take advantage of real-time innovation including new features and enhancements, community ideas delivered, and more. And all customers get the features across a handful of back-to-back release weekends, ensuring all Salesforce customers use the same version of the platform.
Whether you're a Salesforce user focused on enhancements that help make your job easier, or a consultant, admin, or developer looking for ways to provide the best possible end user experience, there are plenty of features for everyone in each release. Though some new features within each release don't require any setup or action to take advantage of, some do; being in the know is important for all involved.
So, how do you prepare for a release? If you're a current Salesforce user, start by looking up your instance on the Salesforce Trust website to find out when the release comes to your org. Next, make sure you've looked at the release notes, now available on the Salesforce Help website. Finally, take advantage of sandbox previews to try out new features. Upgrades are typically pushed 4-6 weeks before a release, and for Spring '22, the preview began on January 7, 2022. Release weekends are January 14, February 4, and February 11, depending on your instance.
Releases are always packed with fantastic new features, and here are some of our favorites. To learn more, share information, and collaborate with other customers and experts, check out Release Readiness Trailblazers Community.
If you've ever sat watching your computer for what feels like hours waiting for a webpage to load, you understand how frustrating that can be. (Cue everyone's favorite spinning hourglass icon.) You may even decide to give up and leave the page if it takes too long.
As a Salesforce Admin, monitoring page load times can help you prevent user frustration, and with the Spring '22 release, a new prompt in the Lightning App Builder makes that easier. When you're in the App Builder, if there are slow desktop record pages, a one-time prompt points to the Lightning Usage App to help you figure out which pages may need to be adjusted.
For Salesforce Admins, Developers, Consultants, and others building with flow, using the Flows list view is one way to see all the flows in an org. But when it comes to understanding which flows run when a record of a specific object is created, update, or deleted, it's not the most efficient.
With the Spring '22 release, the new Flow Trigger Explorer helps collect all record triggered flows in one place. Accessible from the Start element on a record triggered flow, the Flow Trigger Explorer provides a way to easily navigate between a flow and other flows that may run under the same conditions. You can also access the Flow Trigger Explorer from the Setup menu.

As an Admin, ensuring your users understand exactly what's going to happen when they click a button can help relieve frustration, relieve stress, and even potentially reduce support requests. For example, when filling out a form, a use might find themselves asking, "This 'Next' button, does it actually submit the form, or is there more?"
Prior to the Spring '22 release, changing the names of the Previous, Pause, Next, and Finish buttons on flow screens required a custom component. With the release, flow builders can select an option to use a custom label and enter specific text for a better user experience. This feature also supports translated labels via Translation Workbench.
Note: "Generally Available" features in the Salesforce release notes are features that have passed Pilot and Beta testing phases and are considered fully functionality.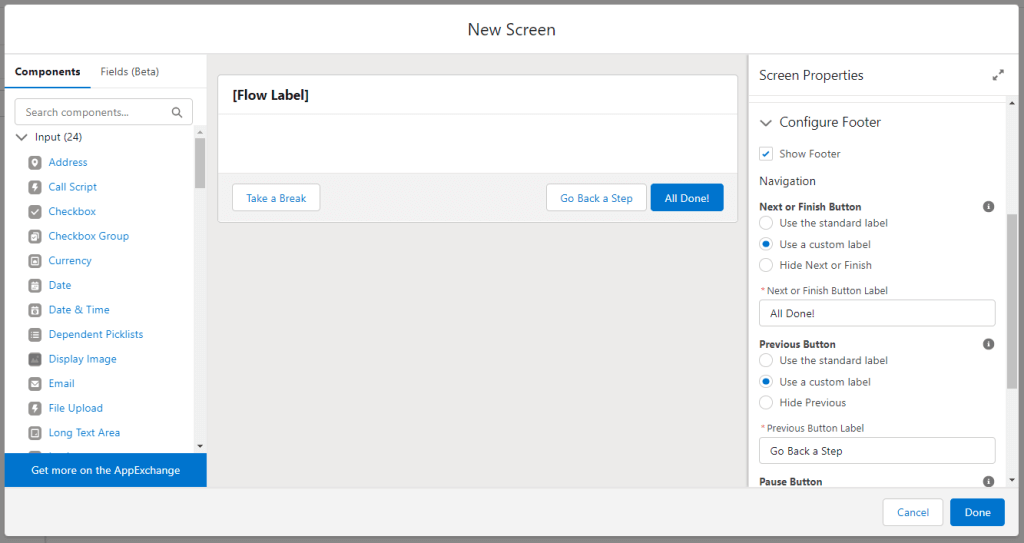 Another gem for Admins, Developers, Consultants, and others building with flow is the ability to control the order of execution for record triggered before-save or after-save flows declaratively.
Translation? Record triggered flows represent automation that makes changes to a record before it's saved to the database, and now, if you have multiple record triggered flows, you can determine the order in which they fire with some limitations. You cannot, for example, prioritize an after-save flow to run before a before-save flow. But it'll still be a huge help in having more declarative control over the order of automations.
When it comes to declarative automation within your Salesforce org, flow is the future. An announcement at Dreamforce '21 proved it, and with that announcement came a roadmap for the gradual depreciation of Workflow Rules and Process Builder. What does that mean for you? If you're someone who builds automation in Salesforce, you'll want to skill up on flow if you haven't already, and if you manage an existing Salesforce org, consider the impact of this announcement on existing automation.
The first step in that roadmap is the launch of Workflow rule migration tools, coming with Spring '22. (A Process Builder migration tool is slated for the Summer '22 release). Workflow rules that contain certain criteria can be migrated using this new tool. Visit the Setup menu, search for "Migrate to Flow," and review your Workflow rules to begin the process.
Note: features noted with "(Beta)" in the release notes are normally unsupported or given very limited support, as they're not get fully functional or complete. As an Admin, they're great to try out and become familiar with before they become generally available.

With the Summer '21 release, Salesforce provided the ability to edit some types of fields, one by one, from a report, and the report refreshed after every edit. The Winter '22 release brought the promise of more types of fields available for inline editing. In Spring '22, after the feature is enabled, users can edit any field with a pencil icon next to it, and when the edit is applied, the value is stored without the report being re-run.
As is the case with others mentioned in this article, this feature is in beta; keep that in mind if you choose to explore the inline editing possibilities.

If you've ever created a new report in Salesforce, you know how tricky it can be to choose the right report type. And if you've ever chosen the wrong one, built a beautiful report, and had to start over, you're not alone in your frustration.
This beta Spring '22 feature, once enabled, can help minimize report type guesswork by providing users with a list of recently used report types and attributes of those report types. Users can also see reports created by others in the same org using the same report type, the objects the report type uses, and fields in the report. To enable, visit the Setup menu, search for Reports and Dashboards Settings, and look for the Enable Recommended Report Types (Lightning Experience only) option.
Protecting your business and safeguarding customer data is critical, and as the threat landscape evolves, one of the most efficient ways to prevent unauthorized access to user accounts is through multi-factor authentication. Though this release notes topic doesn't bring the same level of excitement as customizable buttons in flow or Flow Trigger Explorer , it's still important to consider and prepare for whether you're an existing Salesforce customer or looking to implement Salesforce soon.
Beginning February 1, 2022, according to the Salesforce Trust and Compliance Documentation, all Salesforce customers are contractually required to use multi-factor authentication (MFA). If your organization uses single sign on (SSO), you can use that provider's MFA service. If not, there's no better time than now to start preparation.
Salesforce Admins can start by using the Multi-Factor Authentication Assistant, accessible in Lightning Experience via the setup menu.  And as with any change to processes, procedures, or technology, helping users prepare for the change in how they'll access Salesforce is key. Customizable templates for rollout planning and change management are available in the MFA Rollout Pack.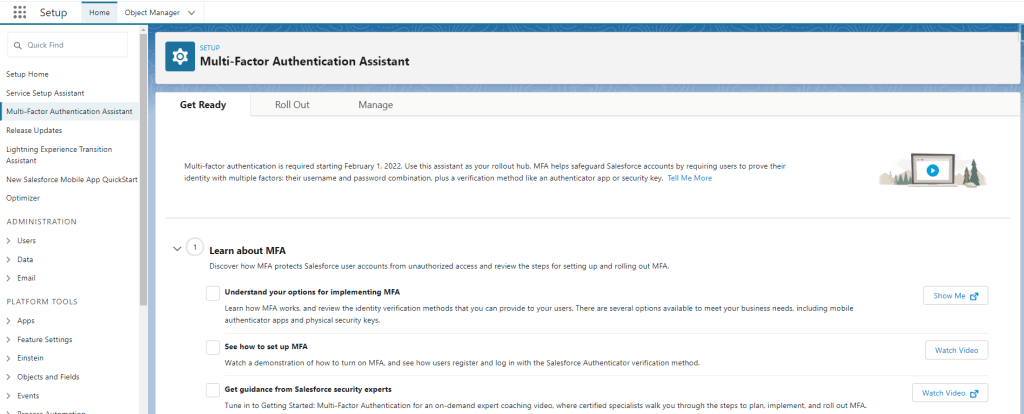 Learn more about what new features are available with the Spring '22 release through the release notes, and contact us if you'd like to learn more about how HigherEchelon partners with organizations to help them quickly and successfully implement Salesforce.
Katie Levy is a 6x certified Salesforce Consultant with HigherEchelon, Inc. and has a passion for finding and sharing the latest and greatest Salesforce features.
Contact HigherEchelon for Proven Salesforce Implementation Services
Call us at 866-488-9228, email us at Solutions@higherechelon.com, or fill out this form so we may discuss your needs.
Client Review: 5/5
★ ★ ★ ★ ★
HigherEchelon provided excellent, efficient, and smart solutions, to meet our specific needs with Salesforce. They were able to speed up our configuration and completed our project nearly 8 weeks ahead of schedule. They are prompt and quick to help if a need arises. We highly recommend them!
– Public sector client, AppExchange review
More Information: