It is that time again; time for another Salesforce release! As mentioned earlier on the HigherEchelon blog, or in case you're new to the Salesforce ecosystem, Salesforce delivers innovative features three times each year during seasonal releases: Spring, Summer, and Winter. Upgrades are automatically delivered in real time to ensure all Salesforce customers are using the same version of the platform with the most current features.
Some features require configuration to take full advantage of, but others come without any extra work. To prepare, look up your instance to review upcoming maintenance schedules on the Salesforce Trust website. You can also test features in sandbox instances; upgrades are typically pushed 4-6 weeks before a release, and for Summer '20, this will happen May 29-30. To find or share information about upcoming releases, and to collaborate with other customers and experts, check out Release Readiness Trailblazers Community. Finally, be sure to review release notes.
The Summer '20 release was postponed due to COVID-19 but will be available through June and July depending on your instance. To make sure you are ready for what is to come, here are some of our favorite features.
Faster Org Maintenance with the Optimizer App

Prior to Summer '20, the only way to review Optimizer content was to scroll through a PDF file. With Summer '20, a new Salesforce Optimizer tool provides an interactive way to scan your existing org for ways to simplify your customizations and increase adoption of different features.
With a few clicks in the Setup menu, the Salesforce Optimizer app can be enabled, the tool can be run, and when the scan is complete, recommendations are delivered in an easy to read, actionable format.

Individual recommendations are provided based on the affected feature, and an estimated level of effort to complete the recommendation appears in an Estimated Effort column. Clicking on an individual feature opens that feature in a console view, including results, affected data, recommendations, and links to resources.
The In-App Guidance Builder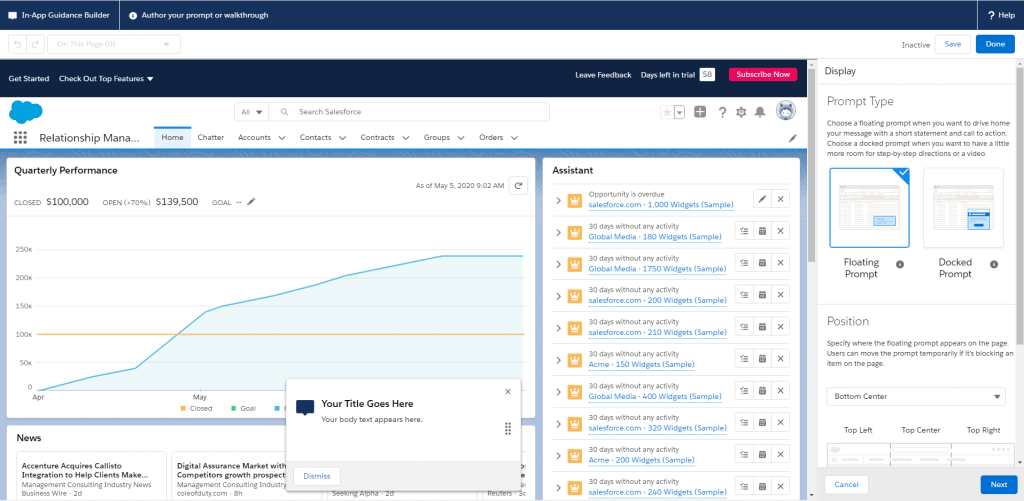 In-App Guidance allows administrators to configure custom guidance to help on-board, train, and/or provide information to users within the Lightning Experience. In-app prompts can be configured to appear for a target audience in a specific location on an individual page for a specific period of time.
With the Summer '20 release, administrators have a new, easy to use tool to build and configure these prompts. From the Setup menu, selecting In-App Guidance allows administrators to open the In-App Guidance Builder in a new tab.
Big Deal Alerts in Lightning Experience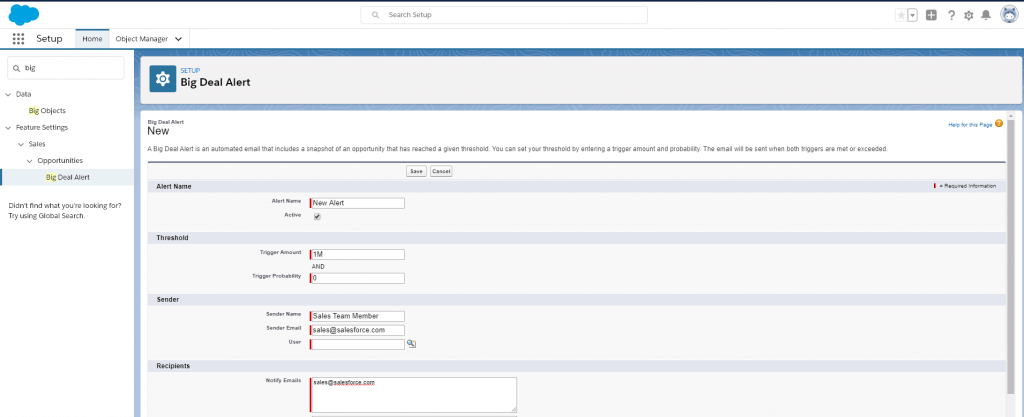 Prior to Summer '20, the Big Deal Alerts feature required you to switch from Lightning Experience to Salesforce Classic. Big Deal Alerts are automated emails triggered by opportunity amounts and probabilities that can be configured by administrators and sent to individual email addresses. Now, Big Deal Alerts are available in Lightning Experience via the Setup menu.
Split View in Standard Navigation

If you frequently find yourself toggling between individual records and list views, you will love this feature. The collapsible split view allows you to see records and lists side by side, making it easy to move through a list of records without having to click back into the list view. Simply choose to display the page as a split view instead of a table.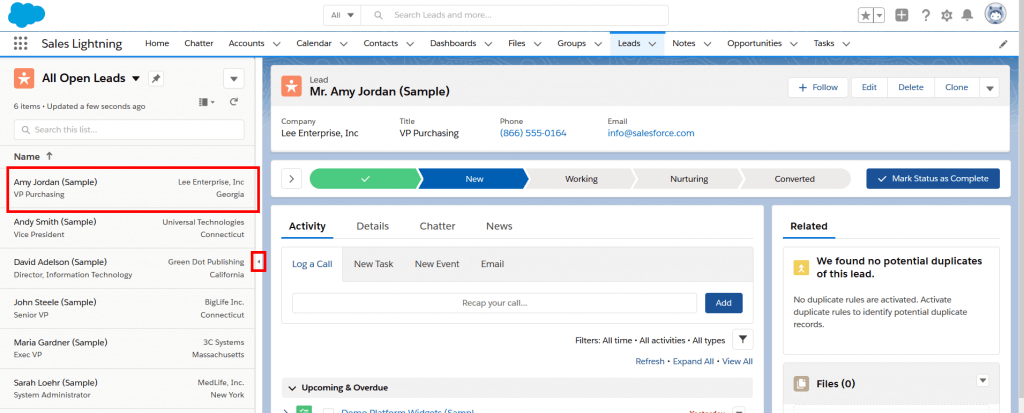 In the split view, move through records by clicking on each one, and collapse the list view by clicking the < when you no longer need it. Click the > to expand it again. In order to use split view for an object, that object must be on the navigation bar.
One Region Lightning Page Template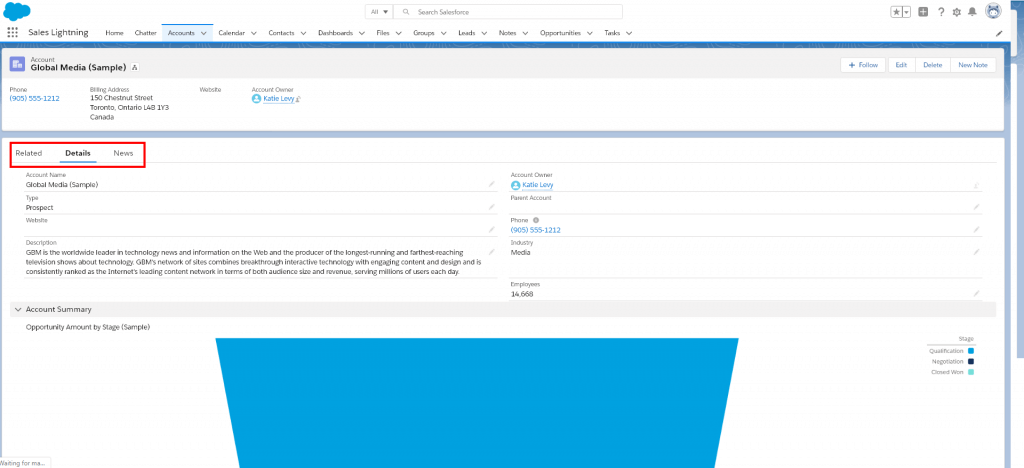 For organizations used to working in Salesforce Classic, the migration to Lightning Experience may leave some users feeling lost with new Lightning record pages. Between headers, subheaders, regions, and more, record page templates can make navigation convenient, but may be jarring for users not accustomed to them.
With Summer '20, the new One Region record page template can be used to provide a full page view, much like what users see in Salesforce Classic. For users with this preference, making sure Lightning looks more like what they are used to is one more way to help increase adoption.
Increase Field Limit on Row Level Formulas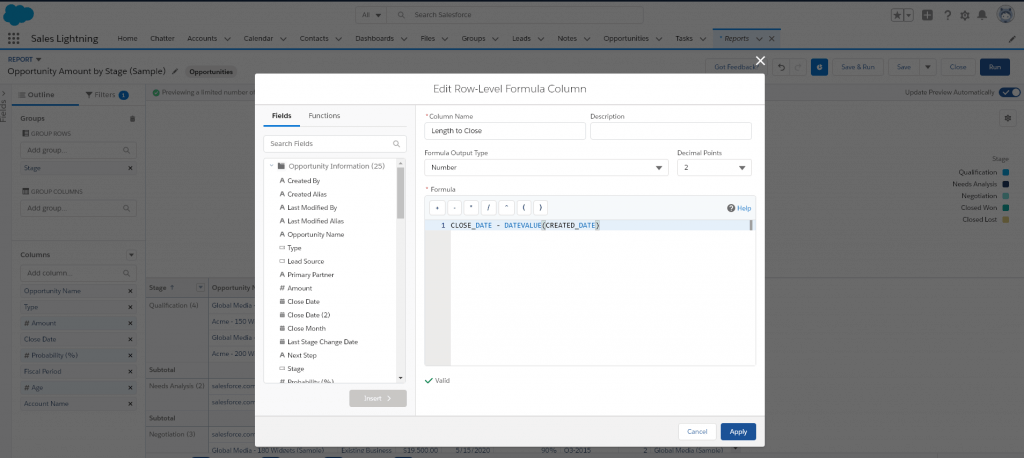 When you are looking to answer questions like, "how long to do opportunities take to close," or, "how many cases mention the name of a new product we just released," row level formulas in reports can help. But prior to Summer '20, row level formulas could only reference three fields. With Summer '20, that limit increases to five, making the feature more flexible.
New Minimum Access Profile

For administrators and consultants, configuring a profile with the least amount of access required as a base level to build upon can be extremely time consuming. Often, that would require cloning the Standard User profile or another existing profile and reviewing every permission to reduce access and permissions provided.
With Summer '20, a new least-privilege profile will be available called Minimum Access – Salesforce. It provides Access Activities, Chatter Internal User, Lightning Console User, and View Help Link permissions, but that is it. You can add more permissions using permission sets, permission set groups, or by cloning to start almost essentially from scratch.
In-App Mobile App Navigation Menu Personalization
By default, users can personalize the order of navigation bar items within Lightning Experience, unless the feature is disabled for a particular app. This allows everyone to determine and apply their own most effective workflow.
Prior to Summer '20, to change the order of items on the navigation bar and mobile app navigation menu, you had to make changes in the desktop version of Lightning Experience. Then, those changes carried over to the mobile app. As of July 20, 2020*, reordering navigation items from within the mobile app will be an option, enabling you to personalize your navigation experience on the go.
*As of this posting, this is the published date from Salesforce. Click here to learn more about this feature.
Learn more about what new features are available with the Summer '20 release through the release notes, and contact us if you'd like to learn more about our Salesforce implementation services.