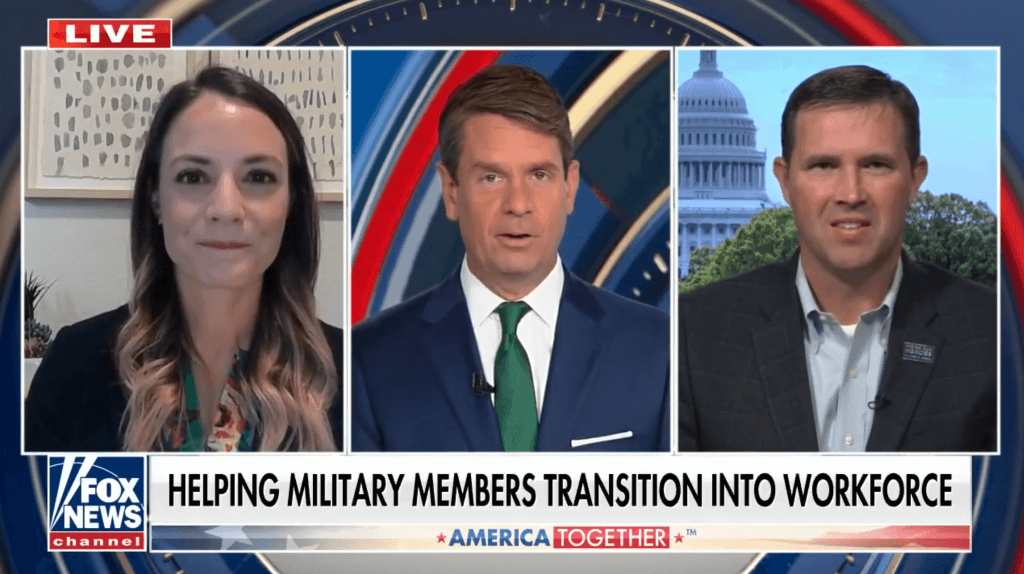 HigherEchelon Salesforce Business Analyst and Army Veteran Geralyn Hall recently appeared on Fox News to discuss her journey into a technology career via the U.S. Chamber of Commerce's 'Hiring Our Heroes' fellowship program.
WATCH THE INTERVIEW:
Hall appeared alongside 'Hiring Our Heroes' President Eric Eversole to discuss the program's impact on veterans and veteran spouses.
Hall told Fox News host Griff Jenkins that veterans have skills and a dedication to lifelong service that are invaluable for organizations seeking to hire great employees. She said the Hiring Our Heroes fellowship with host company HigherEchelon positively impacted her life as a veteran and veteran spouse. HigherEchelon went on to hire Hall after her 12-week paid fellowship ended.
"[The fellowship] gave me the opportunity to change my life and pivot my career into something I'm really enjoing doing right now," she said.
Hall's hire follows multiple other Hiring Our Heroes fellow hires for HigherEchelon, Inc. — a service-disabled veteran-owned small business founded in 2009 by Joe Ross, PhD and Paul Maggiano — two West Point classmates who felt inspired in the wake of 9/11 to start a high performance consulting firm to help military branches and beyond use the principles of sport psychology to succeed in adverse circumstances.
More than half of HigherEchelon team members are veterans or veteran spouses. The company has won multiple accolades for its dedication to veteran hiring, including the 2019 Salesforce Military Hiring Partner of the Year award.
HigherEchelon helps organizations embrace change and thrive in the complex modern business environment by developing resilient and adaptable leaders, reengineering business processes, and implementing transformational technology solutions with offerings in Human Capital Services, Gaming & Simulation, Enterprise Technology, Engineering Solutions, Salesforce Implementations & Consulting, and more.
The company has rapidly grown and serves a variety of public and private sector clients including the Dept. of Veterans Affairs, the Dept. of the Army, eBay, PayPal, and many Fortune 500 companies.
Hall, who has previously spent time working in People Operations for the Air Force, also shared about her Hiring Our Heroes experience  in a recent CBS Eye on Veterans interview.
Learn more about HigherEchelon's Salesforce consulting services and sign up to receive high performance tips and tools in your inbox.