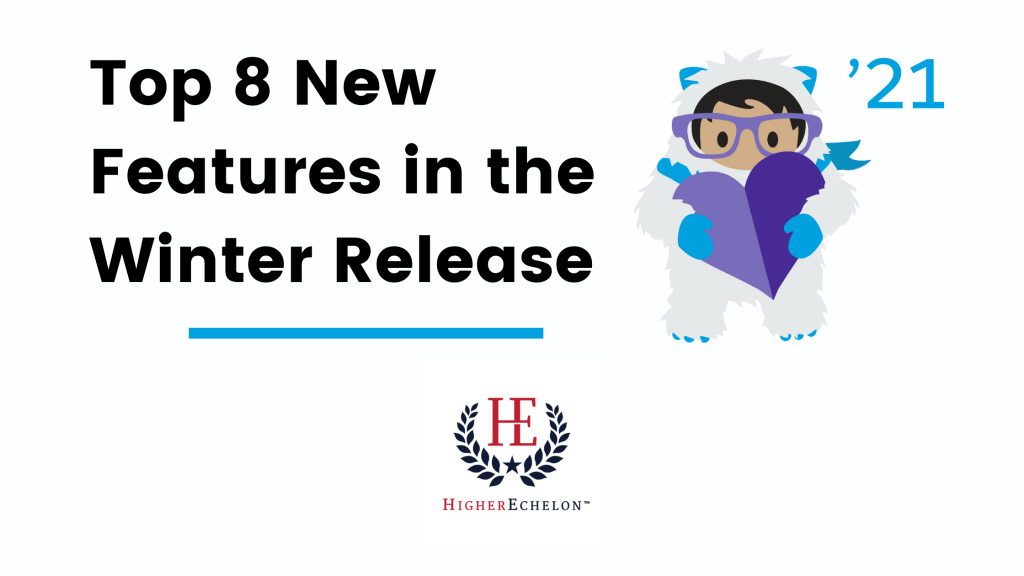 By Katie Levy, 4x certified Salesforce consultant with HigherEchelon, Inc.
The next Salesforce release is upon us! If you are new to the Salesforce ecosystem, or have missed our past posts on Salesforce releases, Salesforce delivers innovative features three times each year: Spring, Summer, and Winter. This means all Salesforce customers use the same version of the platform and can take advantage of new features, as upgrades are delivered automatically in real time.  
Some features come without any extra work, but others require configuration.  
Follow these steps to take full advantage of the updates:
B

egin by looking

 up your instance to review upcoming maintenance schedules on the 

Salesforce Trust

 website. 

 

R

eview 

release notes

 to ensure you fully understand

 available

 features. 

 

T

est features in sandbox instances; upgrades are typically pushed 4-6 weeks before a release, and for 

Winter '21, this will happen beginning September 11

. 

 

To find or share information about upcoming releases, and to collaborate with other customers and experts, check out 

Release Readiness Trailblazers Community

.

 
Depending on your instance, the Winter '21 release will be available over three weekends, beginning September 18, October 9, or October 16.  
H
ere are some of our favorite 
upcoming 
features
:
1. Analyze Lightning Page Performance 
Slow page load times in Lightning can negatively impact adoption and generally frustrate users. With the Winter '21 release, a new feature in the Lightning App Builder provides administrators with suggestions and best practices for improving the end user experience and overall page performance via analysis of fields, related lists components, and other metadata.  

2.  Automatically Add New Custom Fields to Report Types (Beta) 
As an administrator, one of the most frustrating things about adding new custom fields is ensuring that the new field appears on relevant report types. By checking a box in the Report and Dashboard settings in the Setup menu, administrators can choose to enable a feature that automatically adds new custom fields to custom report type layouts. This Winter '21 feature is in beta, which means it is for evaluation purposes only, is a preview, is not guaranteed to become fully available, and can be discontinued at any time.  

3. In-App Guidance on New, Edit, and Clone Pages, and Custom Theme Colors 
For Salesforce customers making use of myTrailhead and walkthroughs, the Winter '21 release provides a way to guide users with prompts on New, Edit, and Clone pages. Administrators can add in-app guidance to these pages in the same way they are added to other pages. With Winter '21, administrators can also use specific colors or branding with in-app guidance to complement an org's theme.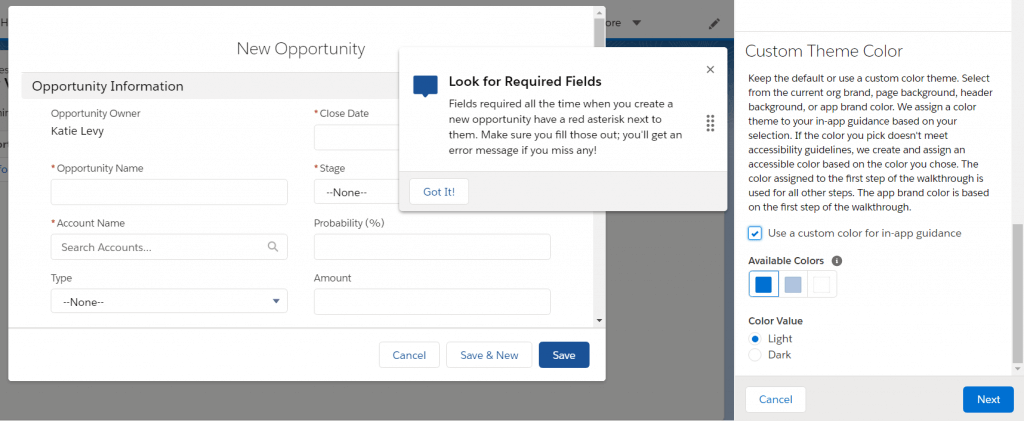 The Optimizer App is designed to help administrators make the most of a Salesforce implementation, and with the Winter '21 release, the App provides even more capabilities to take advantage of. The App can be scheduled to run monthly, providing regular metrics that can be used to simplify customizations and improve adoption. New org metric history allows administrators to see how actions taken impacted the org, and new metrics like profile assignments, permission set assignments, and insecure community sharing settings help identify potential security risks. 


5. Subscribe to Receive Report Results via Email 
Report subscriptions are a fantastic option for users interested in seeing report results regularly when logging into Salesforce is not convenient. With the Winter '21 release, users can subscribe to a report and choose to attach report files to the email by navigating to a report, clicking Subscribe, and setting preferences. Once the subscription preferences are set, reports are emailed automatically with a formatted report attachment or detail-only CSV attachment.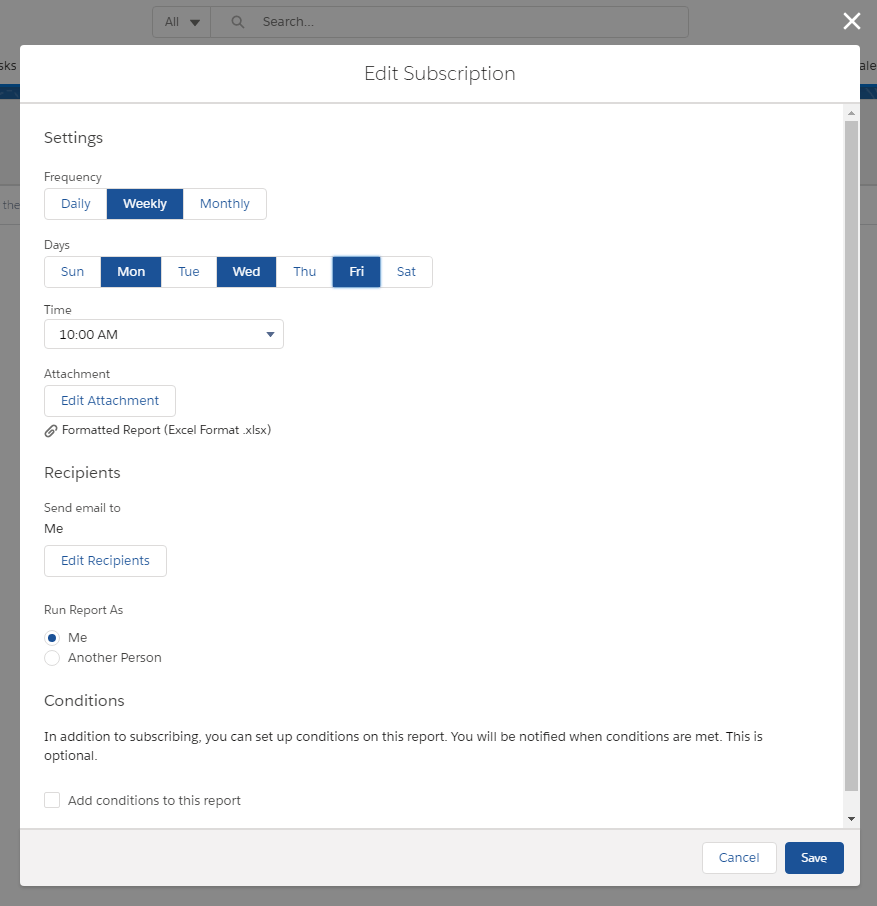 6. Opportunity Deal Change Highlights 
With the Winter '21 release, a new feature provides ways for sales team members to know when key data points on an opportunity have changed. In both the opportunities list view and Kanban view, changes to amounts and close dates made in the last seven days are highlighted. This feature is turned on by default, but administrators can turn off date highlights, amount change highlights, or both in Opportunity Settings via the Setup menu.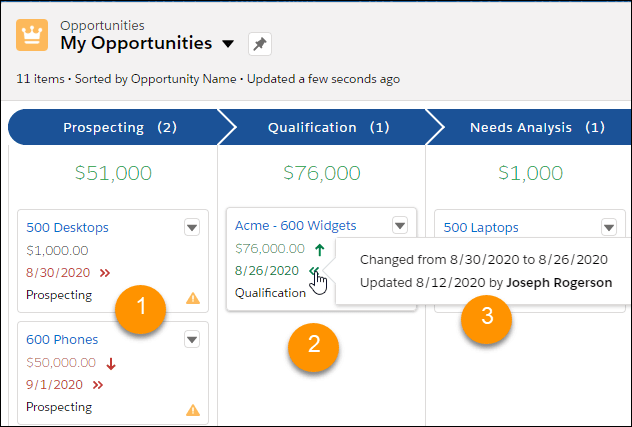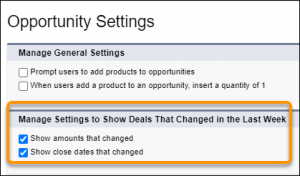 7. Multi-Factor Authentication Assistant 
Multi-factor authentication (MFA) requires users to provide two pieces of identifying information to log in to a system and is a widely accepted way to keep systems more secure. With the Winter '21 release, administrators can use the Multi-Factor Authentication Assistant to roll out multi-factor authentication, taking advantage of guidance throughout the entire process. 
On a rolling basis between September 18, 2020 and October 17, 2020 in production orgs, a new Multi-Factor Authentication Assistant option will be made available at the top of the setup menu. From there, the assistant walks administrators through a phased approach to multi-factor authentication rollout, including resources and guidance along the way.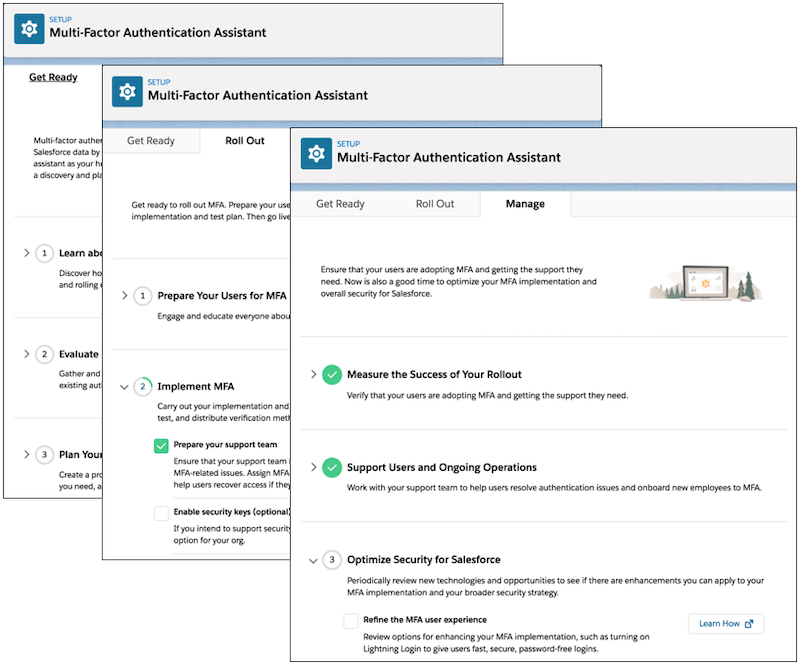 8. New Maximum Outbound Email Size 
For customers sending outbound emails from Salesforce, the size limit will increase from 25MB to 35MB with the Winter '21 release. This includes email headers, body text, and attachments. 
Learn more about what new features are available with the Winter '21 release through the release notes, and contact us if you'd like to learn more about how Salesforce implementation partner HigherEchelon helps organizations quickly and successfully implement Salesforce. 
Katie Levy is a 4x certified Salesforce Consultant with HigherEchelon with a passion for finding the latest and greatest Salesforce features to share.