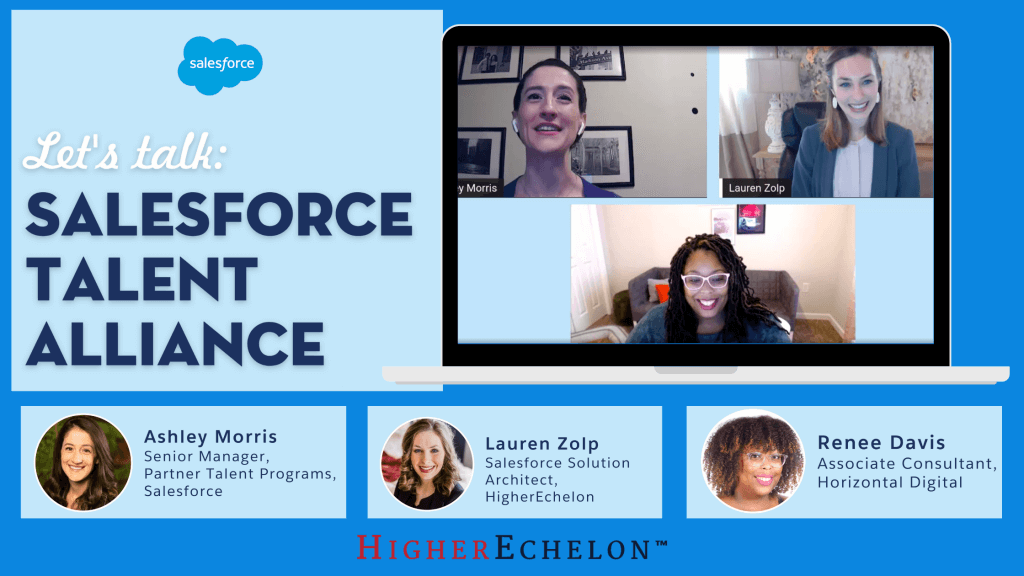 The Salesforce Talent Alliance recently featured HigherEchelon 9x certified Salesforce Solution Architect Lauren Zolp in a LinkedIn webinar designed to highlight various paths to success within the Salesforce ecosystem.
Zolp shared how her Salesforce success story began amidst challenges unique to military life. She was serving in the Air Force when she received an unexpected medical discharge and found herself needing to reinvent her career. At the same time, she was moving frequently — eight times in five years — due to her husband's active duty Marine Corps status, as well as navigating life as a new mother.
"I had to learn to become comfortable with failure," Zolp told Salesforce Partner Talent Program Senior Manager Ashley Morris. "I continued to pick myself up and say, 'We're going to try again.' And I think that's the secret sauce that has helped me be successful in my career — being able to get up after I've failed."
Zolp learned about the Salesforce training available to Veterans and Veteran spouses through Salesforce Military. She said she dove in and four weeks later had a job as a Salesforce admin. In another four weeks, she had her first Salesforce certification. Zolp is now a seasoned and successful 9x certified Solution Architect at HigherEchelon, Inc, a winner of the coveted Salesforce "Golden Hoodie," and continuing her upward trajectory as she pursues the next level of certification: System Architect.
WATCH THE FULL WEBINAR INTERVIEW:
READ SELECTED Q & A:
You had multiple opportunities you could have explored, tell us why you chose your employer?
Zolp: "I went to HigherEchelon for a number of reasons, but the main reason being that they had built a reputation for themselves of being a Veteran-friendly employer and trusting their people and supporting their people's growth. I was ready to go to an organization that was going to allow me to grow, but also support me as I grew because there's not one without the other. So in talking with HigherEchelon, they seemed like the kind of company that was going to let you come in and really own your own career, and I needed that kind of support. [Their commitment to supporting my goals] is evidenced by the fact that I actually came in as a business analyst. I made it clear that I wanted to be an Architect, that's the kind of experience that I wanted to get and they got me that experience. Now I am a Solution Architect, so they really fulfilled what I thought they would."
How did your experiences prior to joining the Salesforce ecosystem impact who you are as a Salesforce professional today?
Zolp: "In the military I had to get used to working with a lot of different people and working together toward a goal. Not "me" but "we", putting the team above myself. I also had to learn to live with a lot of ambiguity and still be able to operate.
How can employers attract great Salesforce candidates?
Zolp: "When you're looking to hire a candidate, examine if your passions align. A lot of times if you're going to get a candidate who is passionate about what you're doing, even if they don't have the experience that is needed at that point in time, they're going to come in and display really high levels of engagement and they're going to appreciate that you have stuck your neck out to bring them in and get them the experience that they need. After you've found that candidate, the second piece of that is really sticking with that candidate through their growth and sticking with them even when they haven't done well at something. That really speaks the world to your candidates and makes them want to continue to grow with you.
Veterans often struggle translating their military experience to the corporate environment. What advice would you give Veterans for translating their skills into what their employers can understand?
Zolp: "It's something I struggled with as I was going through my own hiring process. What really helped me was learning how to tell a story. When employers are asking you questions, what they really want to know is, 'Have you done this before and how did you handle it?', and so being able to translate the military experience I had into stories they could understand that resonated with them was really, really helpful."
———————————————
About HigherEchelon:
HigherEchelon is a Service-Disabled Veteran-Owned Small Business (SVDOSB) founded in 2009 that offers a wide range of service offerings and consulting in its six business segments: Human Capital Services, Engineering Solutions, Gaming & Simulation, Cyber Training, Cloud Solutions, and Enterprise Technology.
We are a Salesforce "Crest" Level Partner, former winner of the Salesforce Military Hiring Partner of the Year award, and a leading provider of Salesforce consulting services, earning 5 out of 5 stars in Salesforce customer reviews.  Learn more about our Salesforce Implementation Services.