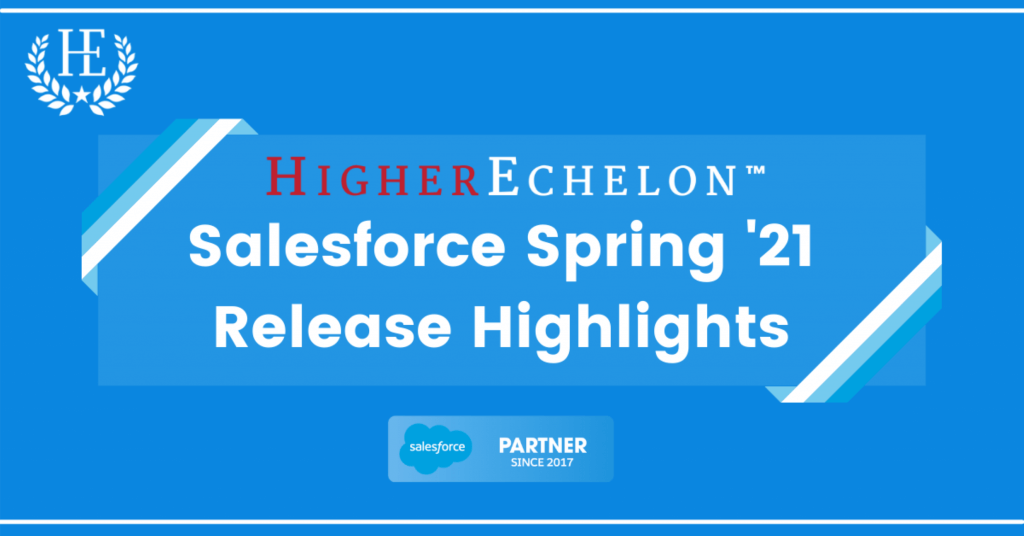 Looking for a trusted Salesforce implementation partner? We'd love to discuss your needs. Call us at 866-488-9228, email us at Solutions@higherechelon.com, or fill out this form for a free consultation.
By Katie Levy
Even though we are only a few weeks into winter, it is already time to start planning for the next Salesforce release – Spring '21! For those new to the Salesforce ecosystem, Salesforce delivers innovative updates to the platform three times each year: Spring, Summer, and Winter. All changes are delivered automatically, ensuring all Salesforce customers use the same version of the platform and can take advantage of new features.
Updates can include everything ranging from features that end users can take advantage of right away to optional functionality that requires some administrator configuration, developer-focused updates, new products, or even retirement of functionality.
Steps to take full advantage of the updates
In our release highlights, we usually focus on sharing end user-facing functionality and changes an administrator-level user can explore; our Spring '21 release highlights choices are no different. Of course, there is much more in the release than can be shared here, so for existing Salesforce customers, we recommend following these steps to take full advantage of the updates:
Begin by looking up your instance number (find it in the Company Information section of the Setup menu) on the Salesforce Trust website. Click the instance name, then the Maintenance tab to see the date your instance will receive the Spring '21 Major Release.
Review release notes to ensure you fully understand available features, including whether the release is in preview, and what features are still in beta. (Spoiler alert, the release notes look different this time; read our first feature highlight to learn more!)
Test features in sandbox instances; upgrades are typically pushed 4-6 weeks before a release. For Spring '21, this began January 8th.
To find or share information about upcoming releases, and to collaborate with other customers and experts, check out Release Readiness Trailblazers Community.
Depending on your instance, the release date will be January 15, February 5, or February 12.
Here are some of our favorite upcoming features:
1. Salesforce Release Notes Moving to Salesforce Help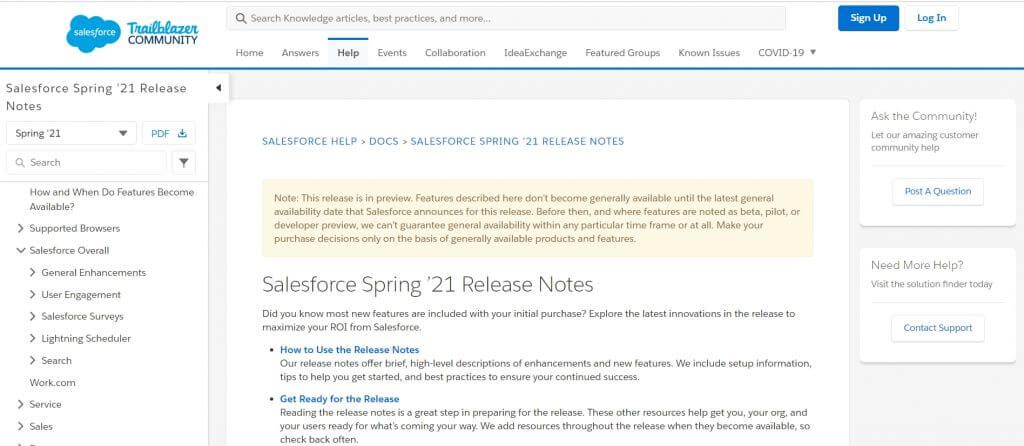 For those used to going to releasenotes.docs.salesforce.com three time each year to learn about new features and changes, for Spring '21, you can visit Salesforce Help for release information. The original release notes portal will be retired in July 2021. The move allows for easier case logging, better filtering and search experiences, and ensures release notes look and feel just like other Salesforce help and training resources.
The ability to download a PDF will still be available, but getting comfortable with what may already be a familiar look and feel to the release notes will help you prepare for the change. Additionally, make sure your bookmarks are updated, and if your organization has regular release notes readers, it will help to communicate with them so all team members know about the upcoming change.
2. Manually Share Records in Lightning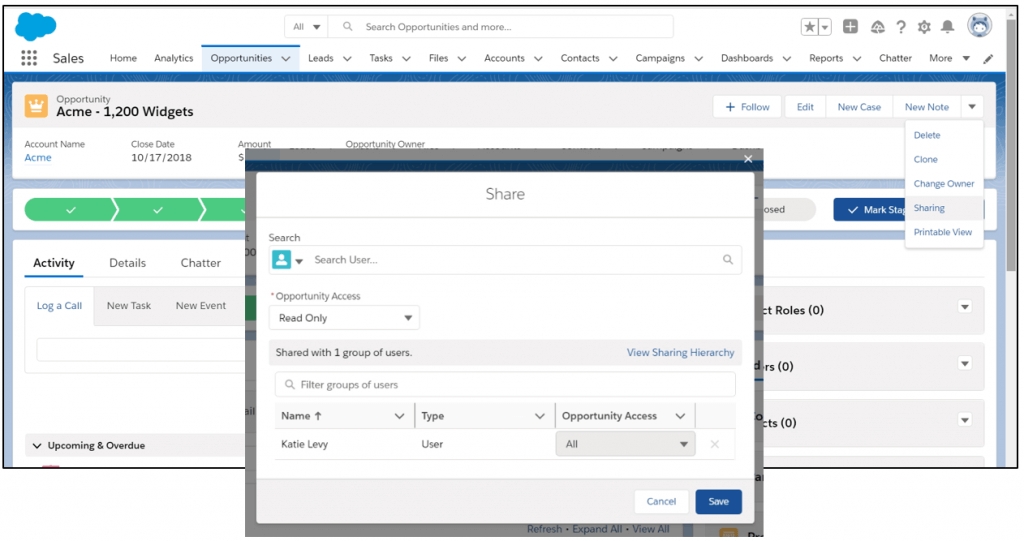 Previously only available in the Classic interface, users can now manually share a record with another individual or group of users, providing read or read/write access. This feature will be available on a rolling basis beginning with the Spring '21 release with all customers receiving access by February 2021, per the release notes.
3. Images and Snooze Options in In-App Guidance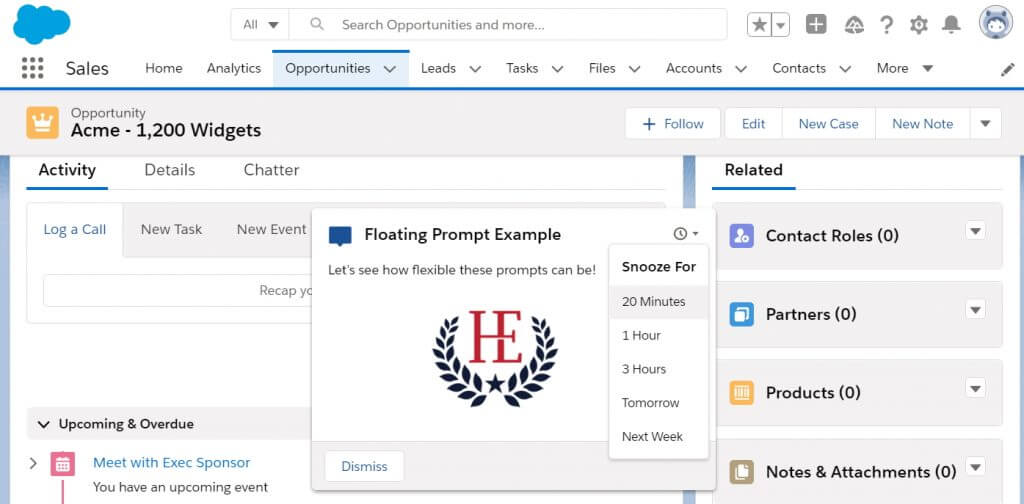 In-app guidance allows administrators to configure pop-up prompts and walk-throughs (requires MyTrailhead subscription) to aid users in training and onboarding, or simply to share information. With the Spring '21 release, images can be added to prompts to make them more engaging. Administrators can add images in multiple locations relative to the prompt's text.
Additionally, prior to the Spring '21 release, users could choose to keep a prompt displayed on the screen or close it. With the Spring '21 release, users can now choose to snooze a prompt, closing it temporarily, instead of clicking an "x" to close it completely until its next scheduled appearance.
4. Customizable Actions on Recently Viewed List Views

With the Spring '21 release, customizable actions added to an object's list view search layout now also appear on the Recently Viewed list view, making it consistent with other list views.
For example, below, a "Create To-Do Item" action was added to the opportunity, enabling users to quickly create a task. Modifying the list view search layout enables users to see that action on the Recently Viewed list view as well as other list views. Printable View and some other actions are not available on Recently Viewed lists.
5. Customize the No-Reply Email Address for Certain Email Notifications
Prior to the Spring '21 release, certain email notifications were sent from an anonymous noreply@salesforce.com. To ensure email recipients know the email comes from a legitimate source, this email address can be modified for case comments and case assignments with the Spring '21 release. Administrators can set a custom organization-wide default no-reply email address, and update Support Settings in the Setup menu to send email notifications from that new system address.
6. Select Multiple Fields at Once in Lightning Report Builder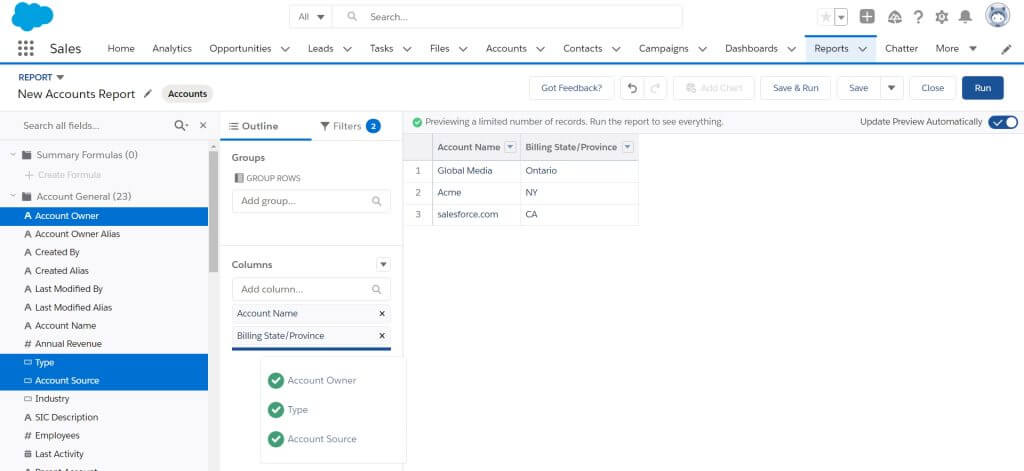 When creating a report, prior to the Spring '21 release, users had to drag and drop individual fields one at a time into the report outline. With the Spring '21 release, users can select multiple fields at once by clicking the field name(s) and concurrently pressing Ctrl (Windows), Cmd (Mac), or Shift. Then, the fields can be dragged and dropped on to the report outline, quickly adding them to the report layout.
7. Export Reports in .xlsx Format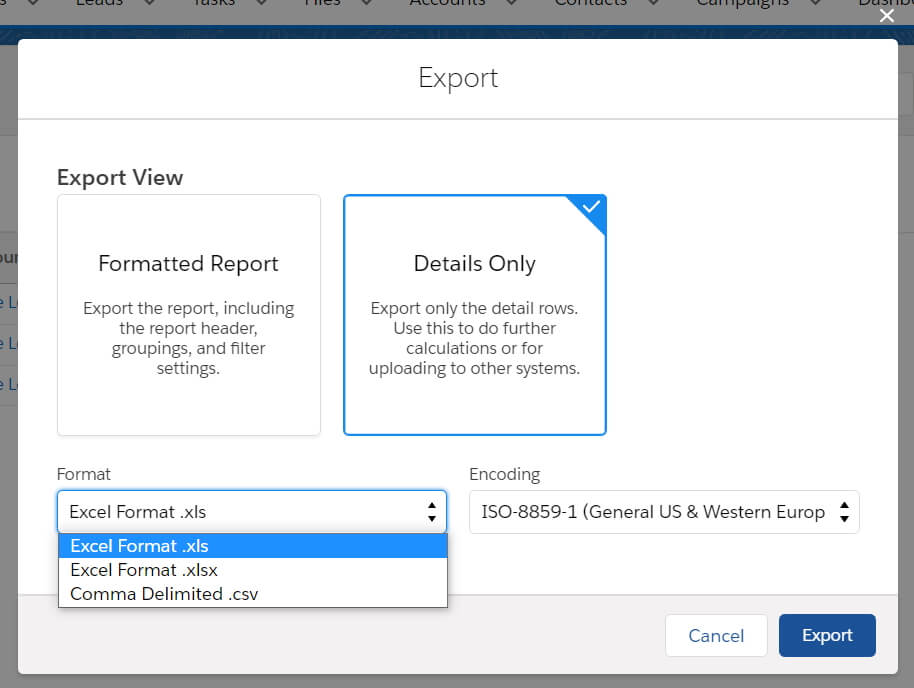 Prior to the Spring '21 release, only .xls and .csv formats were available for report exports. With the release, the ability to export in .xlsx format is available, and administrators can prevent the use of the .xls format in Lightning Experience by hiding it in Reports and Dashboards Settings.
8. Increased Character Limit on Field Level Help Text
Field level can be a fantastic way to provide users with information about a field's purpose or expected inputs to support data integrity, but the ability to provide help text came with a 255 character limit. With the Spring '21 release, this character limit doubles to 510 characters, making it easier for administrators to provide more detailed field level help on detail and edit pages for both standard and custom fields.
9. Analyze Lightning Page Performance for Pages Viewed on a Phone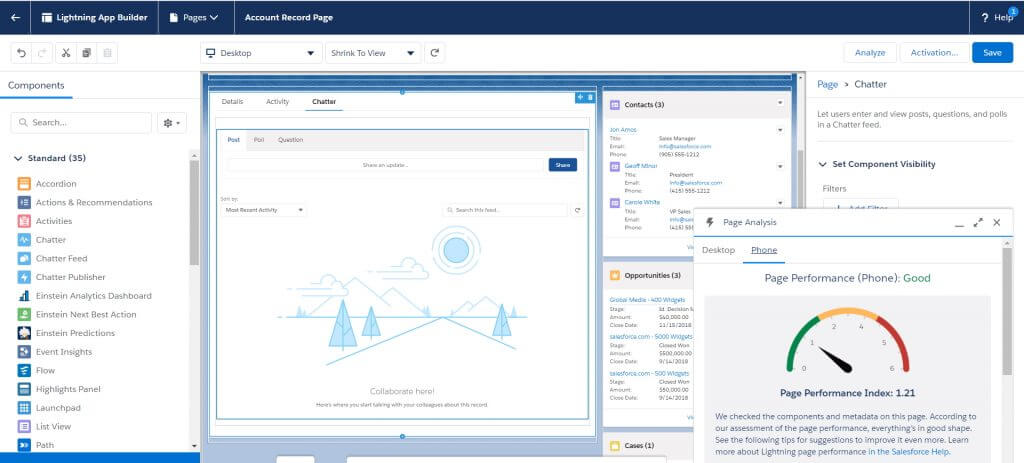 Pages that are slow to load can have a significant impact on adoption and the user experience. Performance Analysis in Lightning App Builder can help administrators avoid building record pages with long load times, and with the Spring '21 release, analysis is also available for page performance on phones. This allows administrators to design pages for ideal performance using both form factors.
Learn more about the available new features in the Spring '21 release through the release notes, and contact us if you'd like to learn more about how HigherEchelon partners with organizations to help quickly and successfully implement Salesforce. Our team also helps organizations get the most out of their existing Salesforce implementations, and provides training, change management, and user centered design expertise.
Katie Levy is a 4x certified Salesforce Consultant with HigherEchelon, Inc. and has a passion for finding and sharing the latest and greatest Salesforce features.
Contact HigherEchelon for Proven Salesforce Implementation Services
Call us at 866-488-9228, email us at Solutions@higherechelon.com, or fill out this form so we may discuss your needs.
---
Client Review: 5/5
★ ★ ★ ★ ★
Higher Echelon provided excellent, efficient, and smart solutions, to meet our specific needs with Salesforce. They were able to speed up our configuration and completed our project nearly 8 weeks ahead of schedule. They are prompt and quick to help if a need arises. We highly recommend them!
– Public sector client, AppExchange review
More Information: