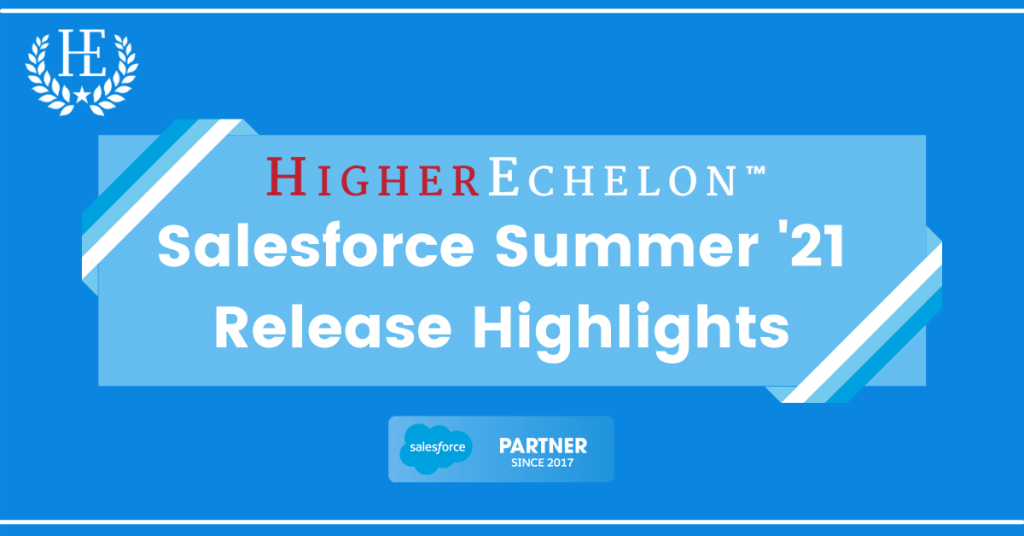 Author: Katie Levy
We are only a short time away from the official start of summer and the last Salesforce release of the year! New to the Salesforce ecosystem? Missed our past articles on Salesforce releases? Do not worry, we are here to catch you up, and share some of our favorite features to keep an eye out for this summer.
Salesforce delivers innovative features three times each year – Spring, Summer, and Winter – meaning all Salesforce customers use the same version of the platform and can take advantage of new features as soon as they become available.
What's more, pre-release orgs are available to allow for testing prior to release dates and the sandbox preview window also allows teams to figure out which features to implement. Some features come without any extra work, but others require configuration. Click here for more information.
Follow these steps to take full advantage of the release:
Begin by looking up your instance to review upcoming maintenance schedules on the Salesforce Trust
Review release notes to ensure you fully understand available features.
Test features in sandbox instances; upgrades are typically pushed 4-6 weeks before a release, and for Summer '21, this will happen beginning May 7.
To find or share information about upcoming releases, and to collaborate with other customers and experts, check out Release Readiness Trailblazers Community.
Depending on your instance, the Summer '21 release will be available over three weekends, beginning May 14, June 4, or June 11.
Here are some of our favorite upcoming features:
If you have ever been curious as to why a user has access to a specific record, this one is for you! Whether through roles, territories, sharing rules, or another method, it can be helpful to understand why someone can see accounts, opportunities, cases, contacts, leads, or custom object records, and what level of access they have.
Prior to Summer '21, you had to switch from Lightning Experience to Salesforce Classic to easily see this information. With Summer '21, a new "Sharing Hierarchy" action can be added to a page layout.

This allows visibility into record access for specific users.

Clicking "View" for an individual user shows even more detail.

Reports are fantastic tools for slicing and dicing data, creating visual aids to display data on dashboards, and to create exportable tables for re-import to assist with large data updates. With Summer '21, an inline editing feature already available in list views provides a way to update certain types of fields without leaving the Report Run page. This means you no longer must leave a report to make updates to individual records.
To enable the feature, request that inline editing be turned on by contacting Salesforce Customer Support. When the feature is available in your org, from the Setup menu, check the "Enable Inline Editing in Reports (Lightning Experience only)" checkbox to make it available to users. Then, run a report and hover over a field to reveal a pencil icon that allows you to change the value. A lock icon means the field is not available for inline edit.
This feature is in beta, meaning it is a preview feature that may or may not become permanently generally available; test it out at your own discretion. It is also currently only available for checkbox, text, and number fields. Click here for more information.
The best way to review a dashboard is in Salesforce to ensure you have the most up to date data. However, there may be occasions requiring a snapshot of a dashboard, such as for a presentation, document, or other activity outside of Salesforce.
With Summer '21, a new "download" option is available when a dashboard is run. Clicking "download" saves the dashboard as a PNG file.

When it comes to managing sales pipelines, being able to accurately forecast can make all the difference. For customers using specific Salesforce editions, Pipeline Inspection provides teams a way to review key opportunities, metrics, changes in those metrics, and more.
Once enabled and configured, teams can use quick filters (1) to narrow down the view, (2) see a list of metrics such as Moved In (opportunities moved into the selected period) that apply to the filtered view, further refine the view with additional criteria (3), and (4) hover over fields that changed to see more detail.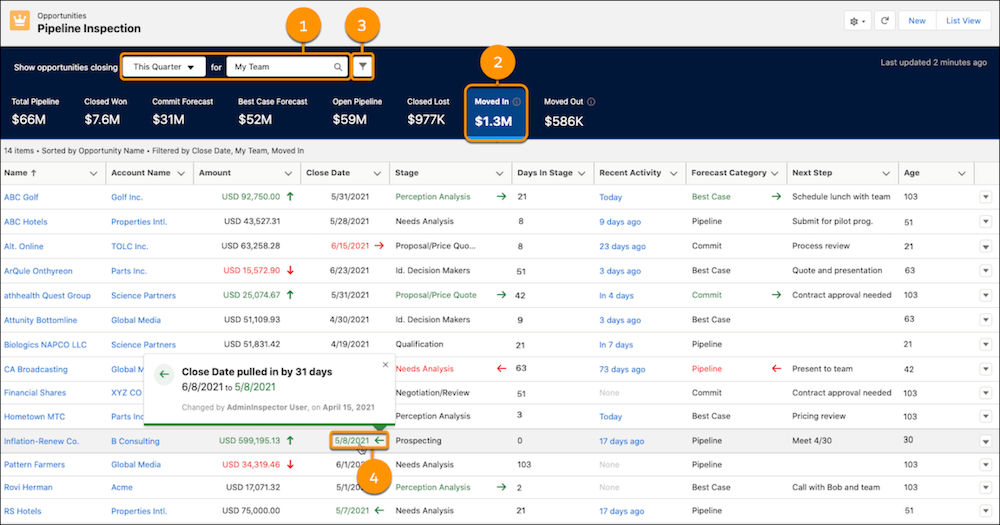 (Photo courtesy Salesforce Release Notes)
Pipeline Inspection must be turned on by an administrator, and team members interested in using it must be assigned the correct permissions. Additionally, administrators must verify that Historical Trending is enabled and configured for opportunities.
Walkthroughs in Lightning Experience enable administrators to create hands-on, interactive tours to guide users through everything from onboarding to new features with step-by-step prompts displayed in the user interface. Walkthroughs are one element of Salesforce's In-App Guidance tool and can be placed on home pages and record pages along with new, edit, and clone record pages.  In-App Guidance is a great way to support adoption, according to HigherEchelon Salesforce Trainer Ashley Hayes.
Walkthroughs are a feature of myTrailhead, a paid add-on service. But with Summer '21, administrators can create as many walkthroughs as desired, and show users up to three at a time for free. To show users more than three, subscribe to myTrailhead. Click here for a video on how to create walkthroughs with the In-App Guidance Builder.
If you are new to the Salesforce ecosystem or do not have administrator responsibilities within your Salesforce org, this enhancement to Flow may not be as exciting as some of the others. But if you are familiar with Flow and use it to automates a business processes, the ability to use the "Is Changed" operator for start elements and decision elements is a game changer.
This Summer '21 enhancement means that administrators can decide a flow should only run when a record is updated if that update involved changes to a specific field value, such as Case Status shown below, in the Start element. Additionally, administrators can use "Is Changed" in Decision elements to execute an outcome when a specific field value is changed on the triggering record, or to skip an outcome if that specific field value is not changed.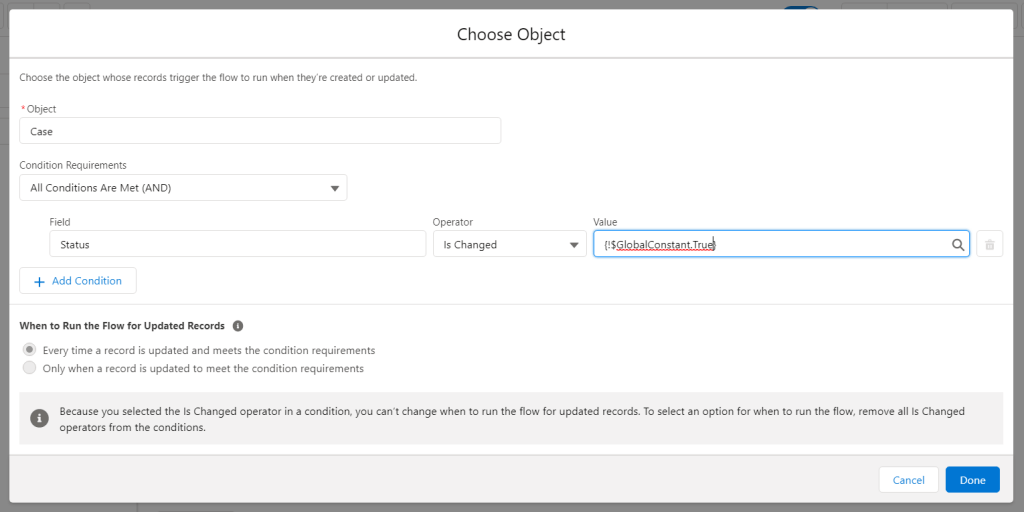 The ability to debug record triggered flows is another fantastic, behind-the-scenes enhancement for the administrators and flow enthusiasts out there. Prior to Summer '21, there was no option within Flow Builder to debug record triggered flows. This meant that if an administrator wanted to test a new automation that makes updates to a triggering record before it is saved to the database, testing had to take place outside of Flow Builder. Clicking the Debug button in Flow Builder resulted in an error message.

For example, imagine, as a Salesforce administrator, your team comes to you with a requirement stating that whenever an opportunity enters the Needs Analysis stage, the Next Step field should be updated to read, "follow up with contacts."  To test whether the flow works correctly, prior to Summer '21, an administrator would have to configure and activate the flow, and then find an existing opportunity to update to test it, or use another workaround. With Summer '21, clicking the Debug button allows administrators to test the flow within Flow Builder, significantly simplifying the process.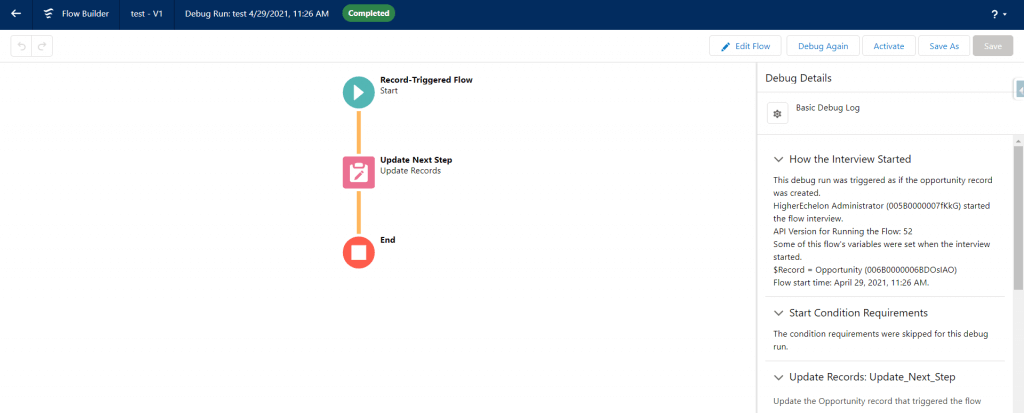 Flow allows administrators to, among many other things, present screens within Salesforce that users can interact with. For example, imagine as an administrator, you need to make it simple for support agents at a university to create a case for faculty who need IT assistance. A screen flow can be configured to allow users to input customer information on a screen element. Behind the scenes, the flow can then check if a contact exists for that faculty member in Salesforce and if not, create a contact for them.  Finally, in the same flow, users can be presented with a screen to fill out case details and create the case.
Knowing the salutation for faculty members is usually "Professor", you do not want support agents to have to choose it every time, but do want them to be able to choose other options, just in case. With Summer '21, administrators have the ability to set a default value using any flow resource. Previously, selecting a choice resource for the default value was the only option. So with Summer '21, "Prof." can be the default salutation for your support agents, saving them a click!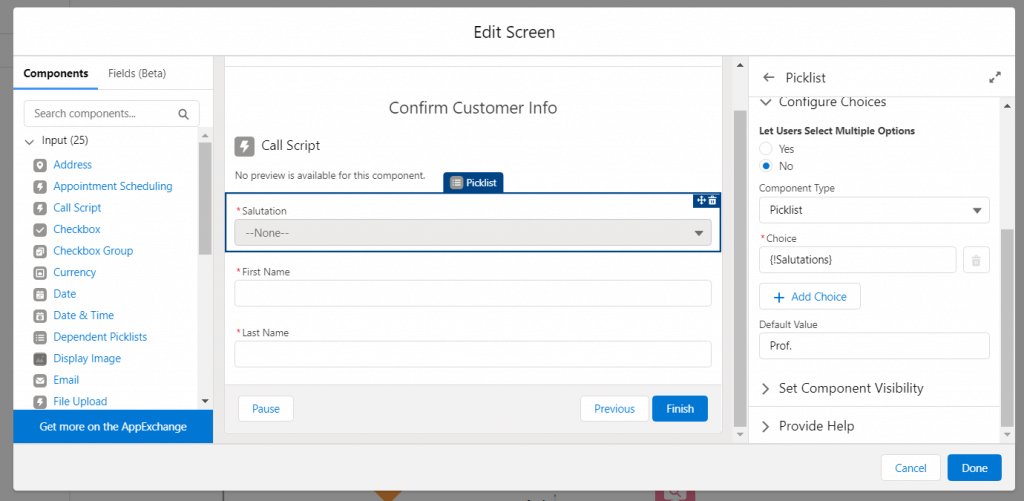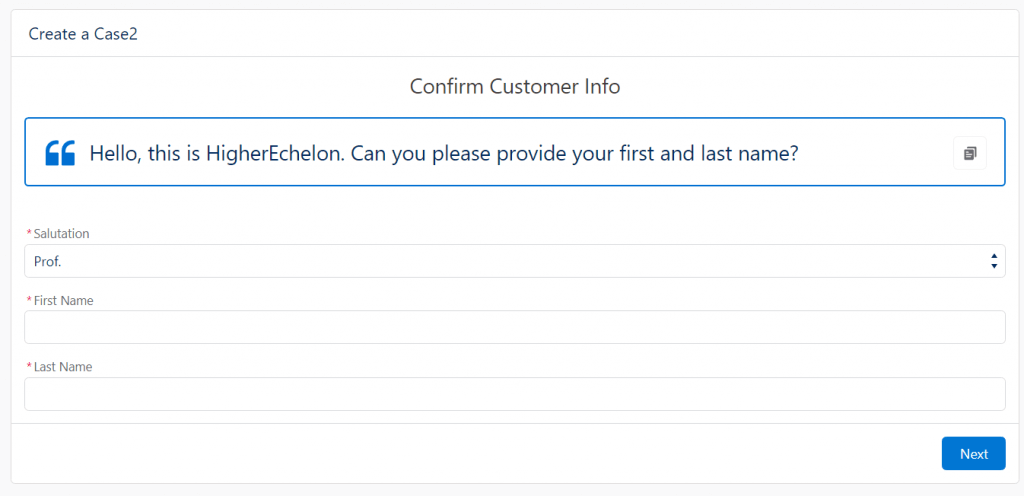 Learn more about what new features are available with the Summer '21 release through the release notes, and contact us if you'd like to learn more about how HigherEchelon partners with organizations to help quickly and successfully implement Salesforce.
Katie Levy is a 5x certified Salesforce Consultant with HigherEchelon, Inc. and has a passion for finding and sharing the latest and greatest Salesforce features.
Contact HigherEchelon for Proven Salesforce Implementation Services
Call us at 866-488-9228, email us at Solutions@higherechelon.com, or fill out this form so we may discuss your needs.
---
Client Review: 5/5
★ ★ ★ ★ ★
HigherEchelon provided excellent, efficient, and smart solutions, to meet our specific needs with Salesforce. They were able to speed up our configuration and completed our project nearly 8 weeks ahead of schedule. They are prompt and quick to help if a need arises. We highly recommend them!
– Public sector client, AppExchange review
More Information: