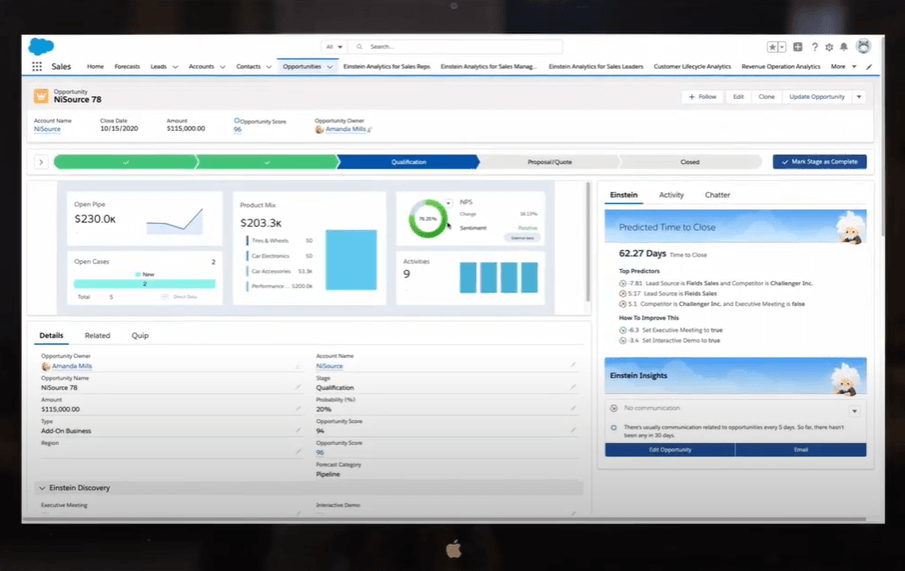 Author: Daryush Nadimi
Have you been considering Tableau CRM (formerly known as Einstein Analytics) as an additional suite to your Salesforce Enterprise solution, but don't know where to start or how to use it for project planning and implementation? Tableau CRM is a powerful tool that can be designed to serve two critical purposes. The first is the ability to deliver actionable understanding to users. The second is the ability for executives to recommend certain actions based on this understanding. This article will focus on tips for using the Tableau CRM Analytics Dashboard and assumes that you have already started your exploration journey. Tableau CRM's core functionality is Dashboards, Prediction Builder, and Discovery – great foundations for any analytics strategy.
7 Tips for Using Tableau CRM in Project Planning:
Assemble your team, or partner with the right Salesforce Implementation consulting firm

, to ensure the project has the proper resources on deck to ensure the job gets done right. This step is crucial — if the implementation is poorly done, users may face issues such as delays in data refreshing, or even worse, outdated or invalid data, which can result in the solution losing its integrity and users losing faith in its usefulness. While assembling your team, think about who will steer the project, who will manage the project, who will build the core functionality, and who will ensure implementations are correctly carried out.

Gather the appropriate requirements.

Requirements are a crucial part of any project scope; however, critical as they are, they should be seen as more of a wish list for the ideal outcome of the project and how your team envisions Analytics working out for your business. As business and technical requirements are formalized for the use case, defining scope and prioritizing must haves, nice to haves, and out-of-scopes should be well thought out.

Determine the data architecture by dissecting the data model.

The great part about Tableau CRM is that it (of course) runs with your Salesforce data. Additionally, if you need to migrate data from another data warehouse, Tableau CRM can handle that as well.

After the data connections are in place, define the level of granularity needed for end-users and start to build out your lenses and dashboard components.

This will be the fancy slicers and dicers, the things that make users say, "wow" and allow a person not familiar with the data to come in and get a coherent understanding of the dashboard and what the data represents.

After you have the initial design in place, establish ongoing maintenance

to ensure the Dashboards and Apps stay intact and provide a consistent, high quality experience for end users. To ensure accuracy, gather feedback and deploy redesigns and tweaks. Review data sources for accuracy, quality, and areas of improvement. Revisit the implementation frequently to see if there are any issues affecting your users.

Highlight wins.

Long-term adoption of the technology will be encouraged and sustained when the team rallies around the vision for better customer experiences. By highlighting short-term and long-term wins, the team will see the value in a strong analytics strategy firsthand and build momentum for further growth.

Ensure success with end-to-end change management and training.

Unfortunately, most change initiatives fail, according to McKinsey & Co research. Why is that? In short, because humans are hard-wired to resist change and the way humans think about change is complicated. Even when we perceive changes will help us (and especially when we think they will not), our brains tend to prefer steady-state because change is uncomfortable and disruptive. HigherEchelon is an award-winning Salesforce Implementation Partner who can fully set up Tableau CRM for your organization and provide world-class organizational change management and training in one comprehensive solution.

Quick Tip: Another great Tableau CRM feature is that if you want to share your Analytics Dashboards with community members (partners or customers), you can enable Analytics for Communities. Just flip the switch and you are on your way.
4 Key Terms to Understand:
App

– You can think of an app like a folder. Just like a folder can store multiple files, an app can store multiple analytics items such as dashboards, lenses and datasets (a dataset is the culmination of a data flow). And just like how you can share a Salesforce report or dashboard folder with users, roles or groups, you can share an app in the same ways and provide each with different level of access: manager, editor or viewer. Furthermore, similar to how Salesforce provides private report and dashboard folders for personal use, each user of Analytics has their own app called "My Private App."

Dashboard

– Just like a Salesforce dashboard, an analytics dashboard is made up of widgets. A useful tool of Tableau CRM dashboards is called faceting. Widgets that use the same datasets can be related to one another using facets. When a user selects on one widget, the values will be shown on other widgets. If a widget uses filters that are enabled by facets, those widgets will also be filtered. This makes the dashboard dynamic and easy to understand.

Lens

– Think of a lens as a report that sits behind a standard Salesforce dashboard. The difference in Analytics is that lenses are not used as the data source.

Dataflow

– A dataflow is how datasets are built and is what feeds data into an Analytics dashboard. Think of it as a chain of nodes for data transformation and conversion into an Analytics dashboard.
Sources:
Daryush Nadimi is a Salesforce Consultant at HigherEchelon. He is also a U.S. Air Force Veteran who served four honorable years during the midst of Operation Enduring Freedom. Besides honing his Salesforce craft, Daryush enjoys kickboxing and playing basketball with friends.
Contact HigherEchelon for Proven Salesforce Implementation Services
Call us at 866-488-9228, email us at Solutions@higherechelon.com, or fill out this form so we may discuss your needs.
---
Client Review: 5/5
★ ★ ★ ★ ★
Higher Echelon provided excellent, efficient, and smart solutions, to meet our specific needs with Salesforce. They were able to speed up our configuration and completed our project nearly 8 weeks ahead of schedule. They are prompt and quick to help if a need arises. We highly recommend them!
– Public sector client, AppExchange review
More Information: