Salesforce delivers innovative features three times each year during seasonal releases: Spring, Summer, and Winter. The cloud-based platform automatically upgrades and delivers all updates in real time, ensuring all customers run the same version of Salesforce with the latest features. The Release Readiness Trailblazers Community is a great resource for information about upcoming releases and an opportunity to collaborate with other customers and experts.
If you are worried about missing the release updates, Salesforce has you covered. Upgrades automatically take place on specific dates that are published on the Salesforce Trust website; here customers can look up their instance to see upcoming maintenance schedules. Upgrades are also typically pushed into sandbox instances 4-6 weeks before a release goes live to allow for testing. Some features are enabled automatically while others require an admin to enable and configure them. Additionally, release notes are available for each release.
Winter '20 Release Highlights
Each release comes packed with new features for multiple Salesforce products. From Sales to Service, mobile to Chatter, Communities, Files, and other critical updates, understanding applicable upgrades helps admins, developers, even end users prepare. Depending on your role and the Salesforce products and features you use, your highlights may be different, but these are our top six updates coming with Winter '20.
Lightning Experience Activation Critical Update for All Orgs (Delayed)
Salesforce planned to turn on Lightning Experience on a rolling basis with the Winter '20 release, giving access to users who have the Lightning Experience User permission. The critical update has been delayed and will now be available within 72 hours of January 7, 2020.
The critical update delay applies to orgs that received Winter '20 on October 5 and those slated to get it on October 11 . This includes users with any standard profile, custom profiles with the permission enabled, or a permission set with the permission enabled. These users will see the "Switch to Lightning Experience" link in the Salesforce Classic header, and once per week, users working in Salesforce will automatically be logged in to Lightning Experience.
Users will still have access to Salesforce Classic via the Switcher, but as the focus on upgrades and new features continues to be in Lightning, now is a good time to begin the transition. Despite the delay, administrators can still self-enable Lightning Experience before the critical update and are encouraged to do so to take advantage of everything the new interface has to offer. Watch this video to understand how the critical update will affect you and your users, and review the Lightning Experience Transition Assistant.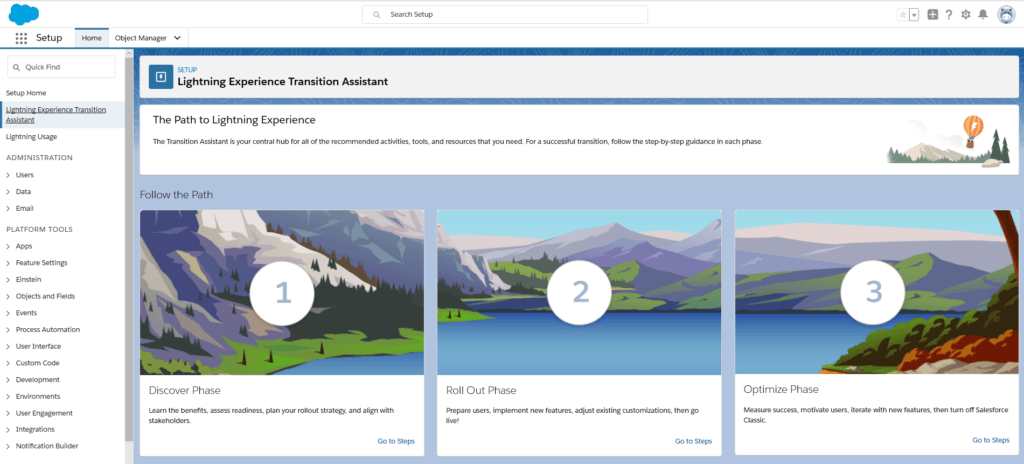 Lightning Experience In-App Guidance
With the Winter '20 release, declarative offering of prompts using clicks, not code, is available to support user adoption, onboarding, change management, and to highlight new features. Originally released as a beta feature in Summer '19, the feature is now fully available.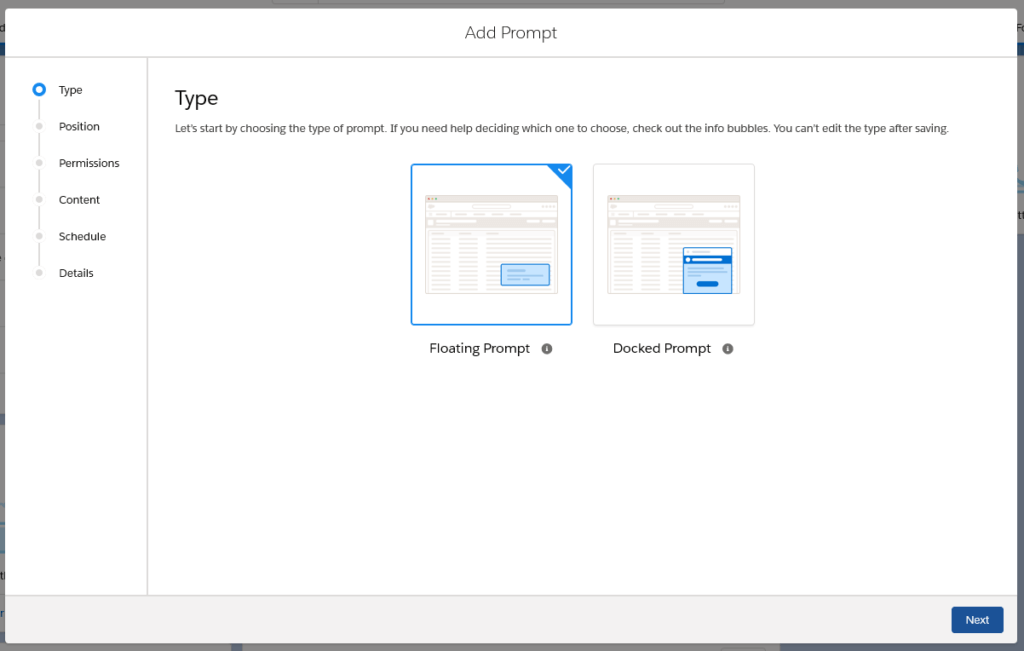 Administrators can hide all Salesforce standard prompts using a master toggle and use a button click test mode feature to test prompts–both new features with the Winter '20 release. Additionally, administrators can see prompt type, display location, creator, visibility metrics, activity status, and also access a drop-down menu to modify, preview, delete, or deactivate a prompt.

Recycle Bin Available in Lightning Experience
Users no longer need to switch back to Salesforce Classic to access the Recycle Bin. Instead, users can view, permanently delete, or restore items from the Recycle Bin in Lightning. The Recycle Bin can be accessed via the App Launcher under "All Items" and can be added as a tab in the Lightning App Builder.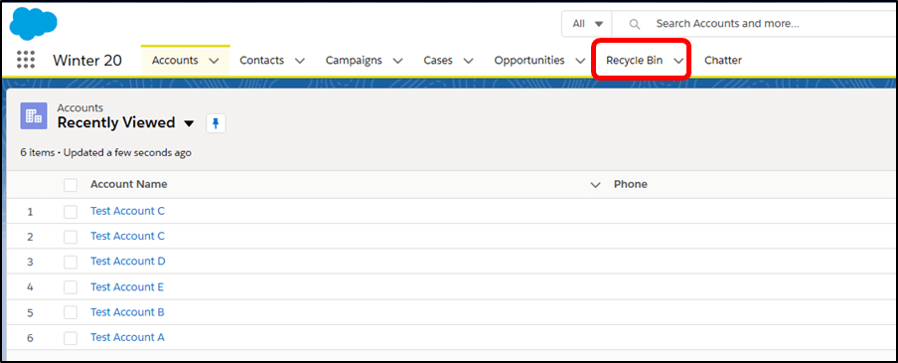 The New Salesforce Mobile App
New and improved features make the Salesforce app easier to access on the go and provides admins with more tools to customize the mobile experience. The new experience will be available beginning the week of October 14, 2019.
The new app features everything users are accustomed to on the mobile app but with a more intuitive navigational experience that mirrors Lightning navigation. A new navigation bar added to the bottom of the mobile app's UI makes is easier to access search, favorites, and app notifications. An added app launcher feature allows users to easily move between apps on their mobile devices.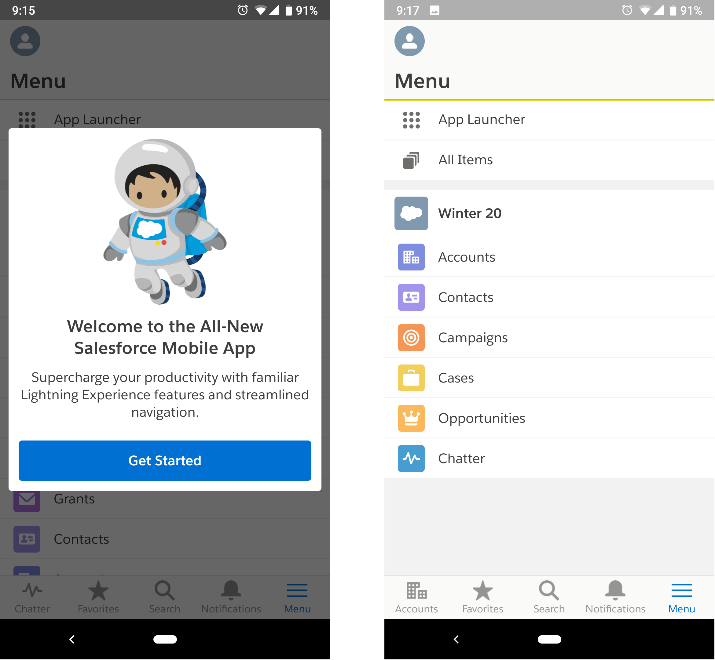 Administrators can build apps, pages, and components, and choose to make them available through the desktop experience, mobile experience, or both. Additionally, users can take control of their workflows by personalizing their navigation in Lightning Experience, including adding and reordering tabs, which now extends to the mobile app.
Start Flows on a Schedule
Flows can be used to make changes to data in Salesforce using automation. For example, administrators can use Flow and Process Builder to post information about an opportunity on the related account's Chatter feed when an opportunity is created with an amount greater than $500,000. But in some cases, flows may only need to run once daily or weekly, or only for records meeting certain criteria.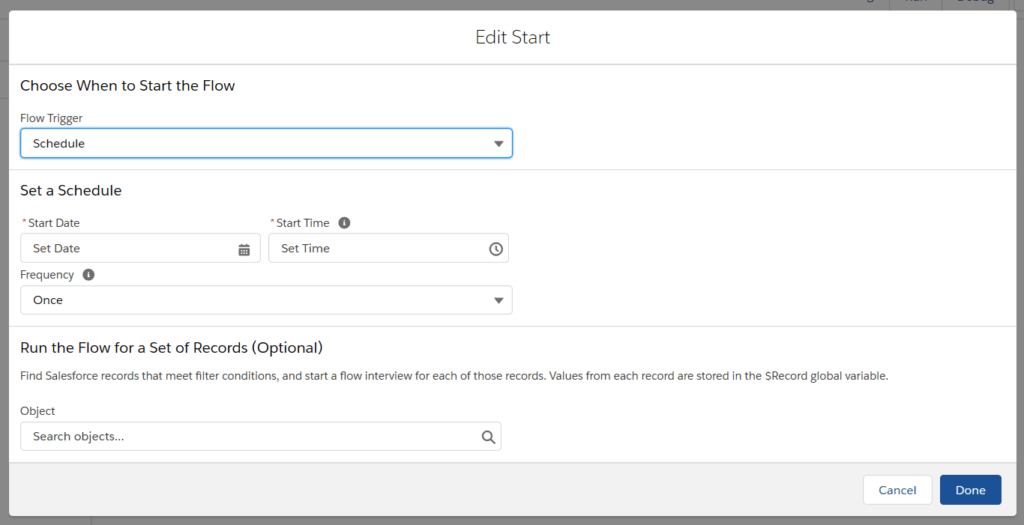 With the Winter '20 release, administrators can schedule a flow to start on a particular date and/or occur at a particular frequency. Additionally, administrators can specify whether the scheduled flow should only run for a set of records.
Printable Views for Lists
Users can now access printable pages for list views to make hard copies more easily. Printable View supports a multitude of objects but is not available on Recently Viewed lists or related lists. Learn more.

Learn more about what new features are available with the Winter '20 release through the release notes, and contact us if you'd like to learn more about our Salesforce implementation services.