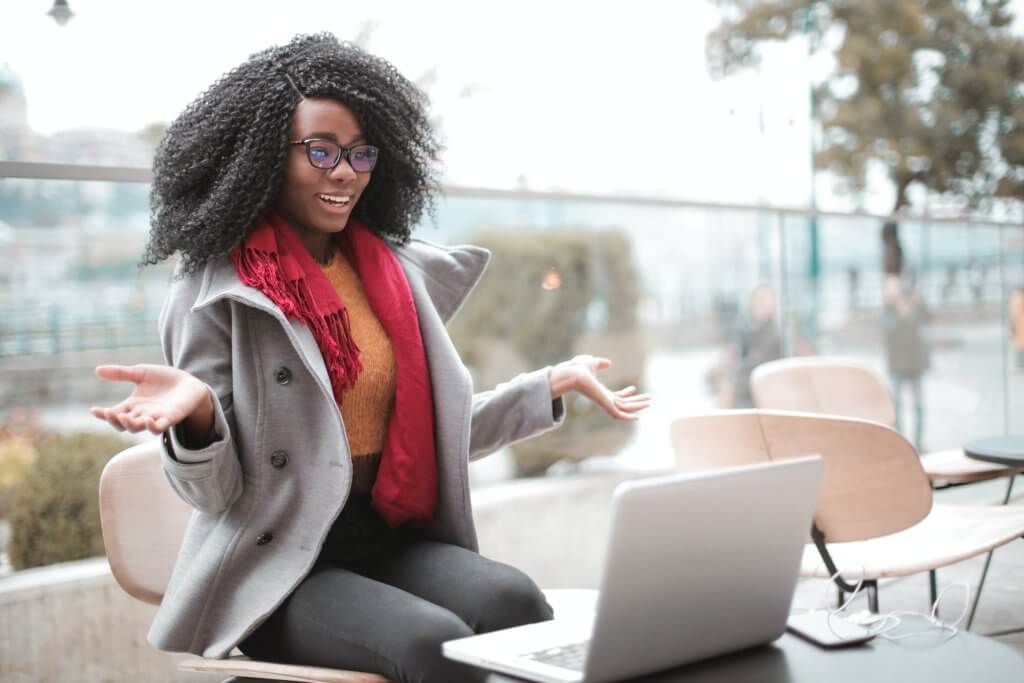 HigherEchelon Contributors: Michele O'Brien, Salesforce Consultant and Stephanie Maenza, Jr. Business Analyst
Calling All Sales & Marketing Teams (Plus Salesforce and Pardot Admins): You are 15 Minutes Away from Successfully Subscribing Your Salesforce Contacts to Your Email Lists. Follow the Easy Steps Below.  
*Note: Pardot is now called Marketing Cloud Account Engagement. Read more about the change here. 
Are you looking for ways to streamline your marketing with your CRM? Are you wondering about the best way to manage all those leads and contacts that you have worked so hard to obtain? Or are you looking for ways to reach your leads and contacts even more efficiently and faster in your CRM system? Salesforce, or better yet, Pardot, has a solution for you!
Wouldn't it be great to take those leads and contacts and put them into an email distribution list with the click of a button in Salesforce? You know how important keeping a consistent line of communication with your contacts is to your brand, but you don't have the time to build out some complex marketing channel, nor the budget. Fortunately for you, your company has purchased Pardot (if not, maybe it is time to convince them to do so). Pardot can take those connections you made, nurture them, and help turn them into sales in just a few short steps.
Here is what you need before you get started:
Your Salesforce and Pardot org must have the Salesforce Connector established and configured (connector instructions, if needed).
In Pardot: Active email segmentation lists established.
In Pardot: Email templates and campaigns established.
If these three conditions are set, you are 15 minutes away from your solution.
Don't want to do this yourself? Reach out to our Salesforce implementation team – we'll do it for you! Learn more about our services here.
Solution Steps
Make sure your Pardot email lists are "Visible" in Salesforce.

Pardot: Prospects -> Segmentation -> Segmentation Lists -> Select Desired List -> Edit -> Check "CRM Visible" checkbox. (This will ensure your email list can be seen inside of Salesforce.)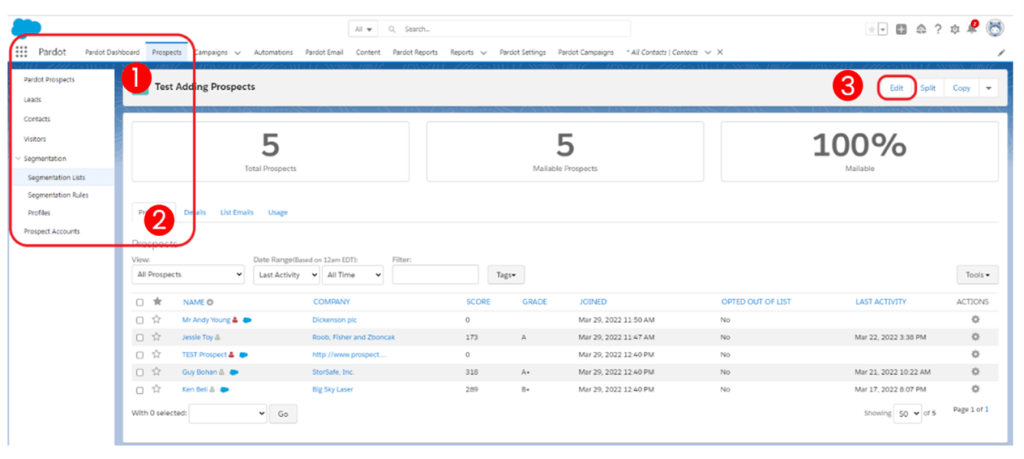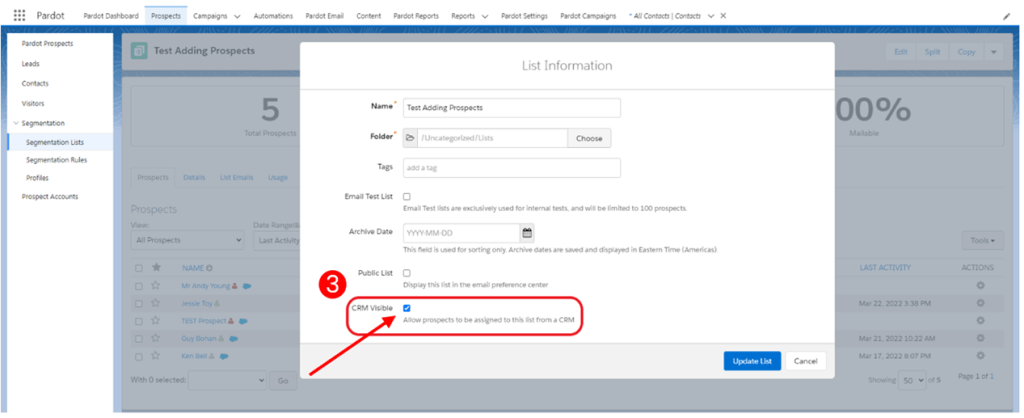 From Salesforce open the "Contact" object editor.

Under "Page Layouts", select the appropriate page layout you wish to add the Pardot email list button to.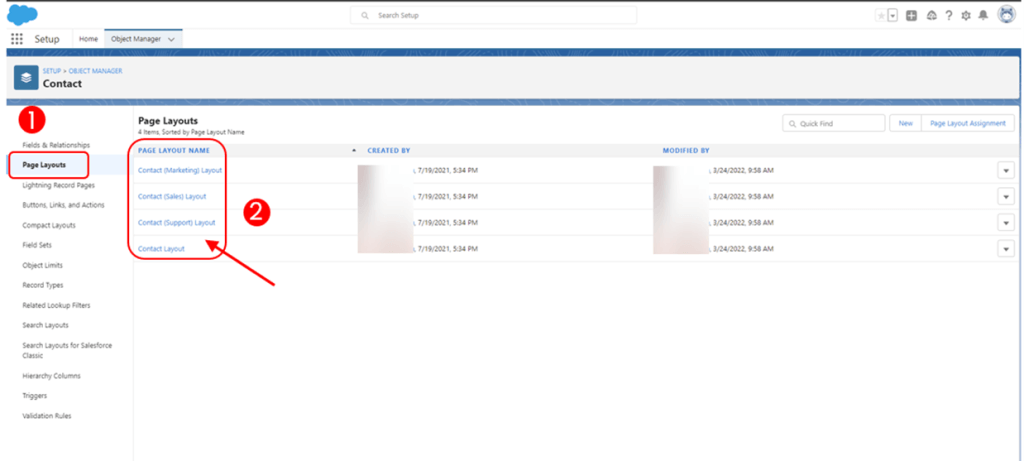 Recommended step but not required: Add a new page break section named "Pardot" if one does not already exist.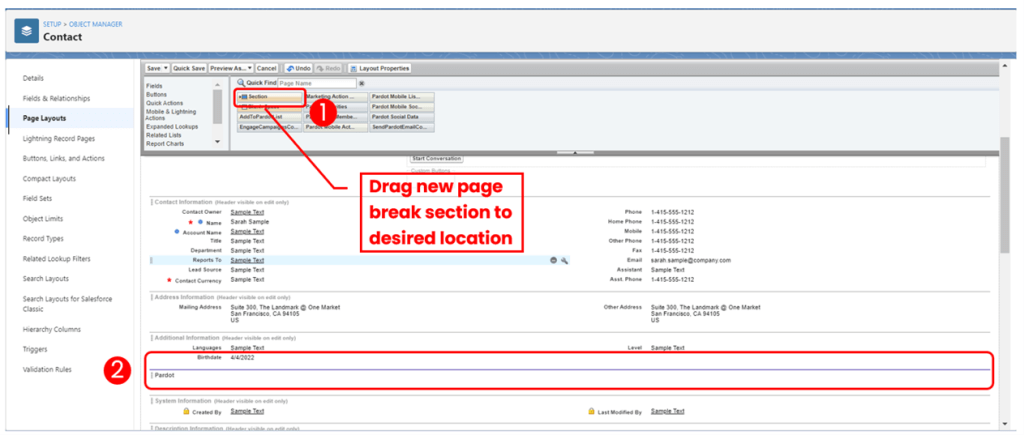 Set Up Your Page Layout

Select "Visualforce Pages" from the left-hand page navigation.
Drag and drop the "Pardot List Membership" button to the Pardot page break section on your page layout.
Click "Save" and you are done!!!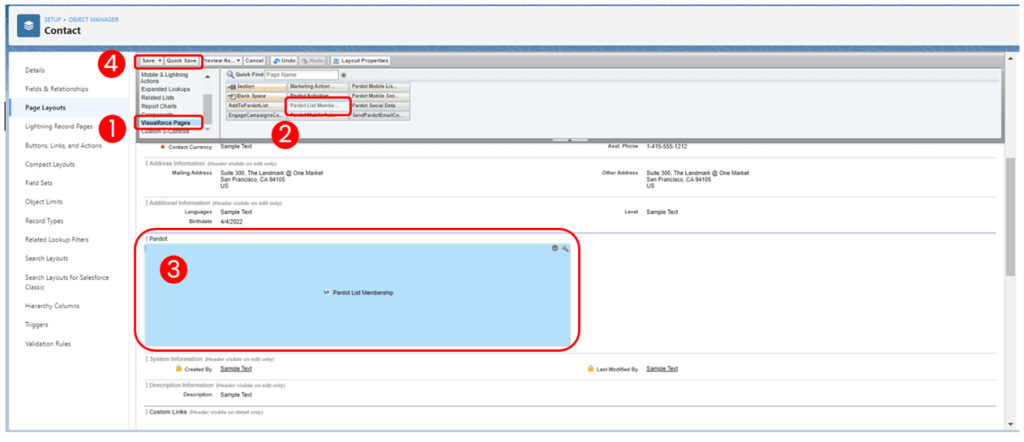 Now it's time to test out your new toy.

Select a Contact who is also a Prospect in Pardot
Navigate to your new "Pardot" page break section
Select the appropriate "Prospect List(s)" – *multiple lists can be selected*
Click "Save"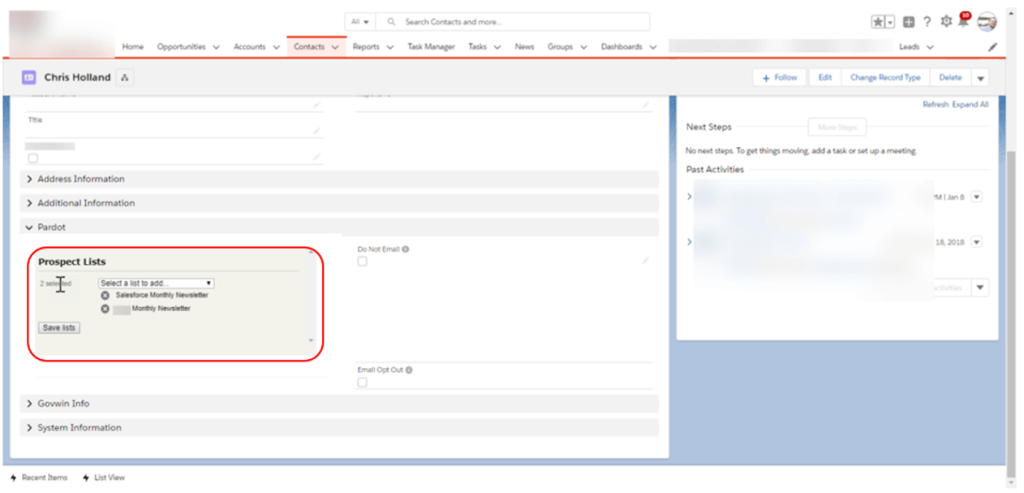 Want to try more out-of-box features?
You can also add Salesforce Leads and Contacts to a Pardot email list from the Lead or Contact record or list view.
Pardot Actions in a Lead or Contact record in Salesforce

From the Lead or Contact Page Layout in Object Manager
Select "Mobile & Lightning Actions" from the left-hand page navigation.
Drag and drop the "Add to Pardot List" action to the Salesforce Mobile and Lightning Experience Actions section on your page layout
Click "Save"

Try it out!

Select a Contact
From the dropdown of actions in the upper right corner, select "Add to Pardot List"

Search and select the Email Lists you want your Contact on (bonus tip: your contact/lead can be on up to five Pardot email lists at a time)
Click "Add"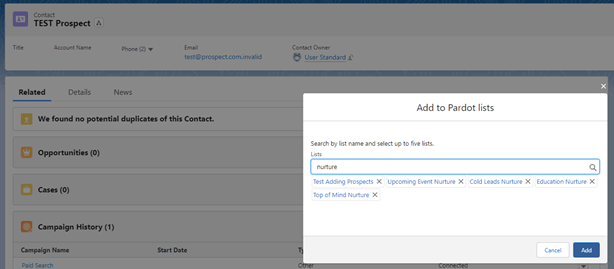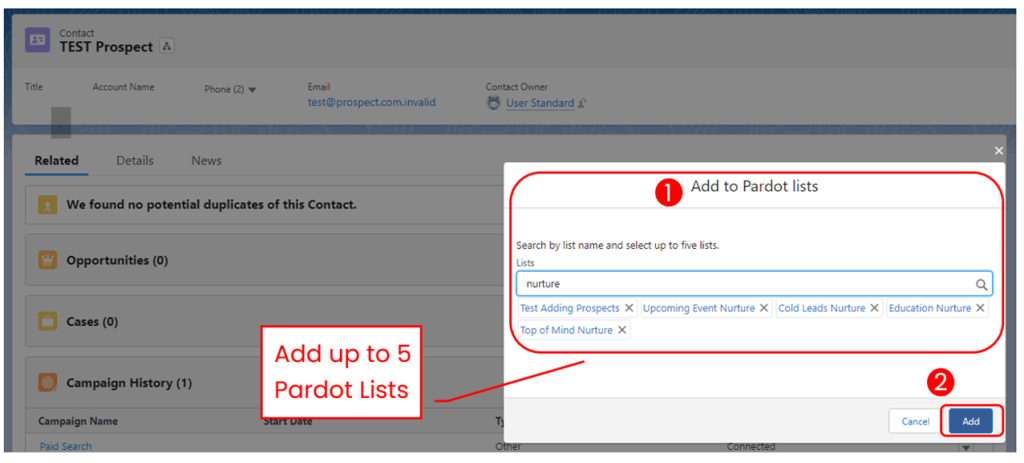 Pardot Actions in a Lead or Contact list view in Salesforce

From the dropdown of actions in the upper right corner of the Lead or Contact list view, select "Add to Pardot List"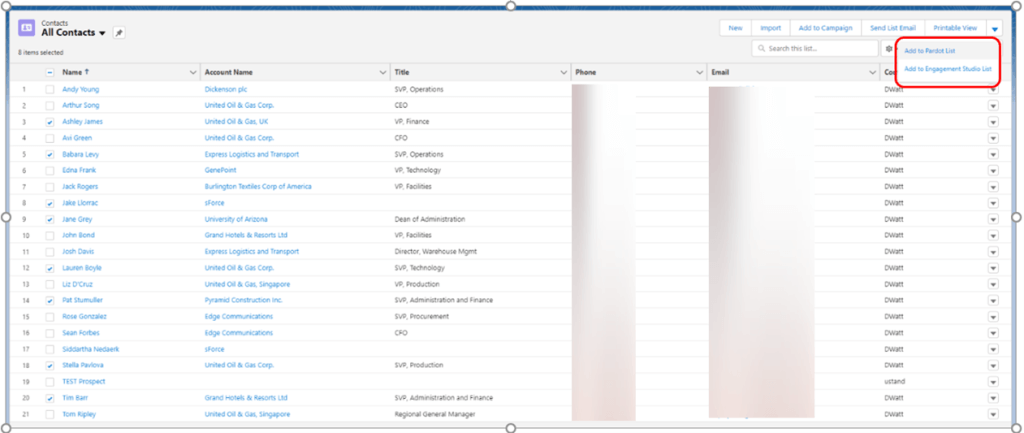 Search and select to add the Contact to up to five Pardot email lists at a time
Click "Add"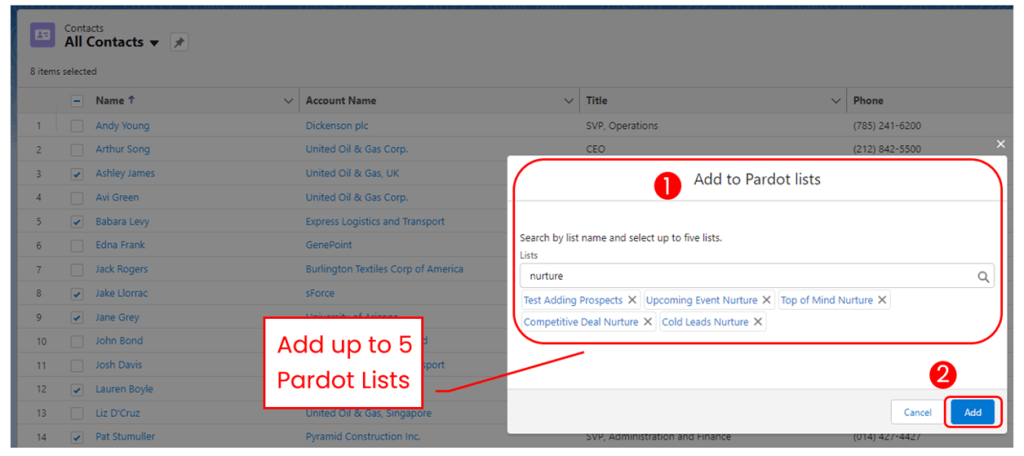 Congratulations! Your Salesforce users now have the power to add contacts to your Pardot email lists. Just remember that in the United States, CAN-SPAM regulations apply to all marketing commercial emails. Make sure your organization becomes familiar with these laws and always maintains compliance.
A Few Last Things
These Pardot enhancements will add value to several components of your organization, from eliminating the need to train users on Pardot to reducing time spent updating email lists from the continuous influx of contacts from your sales team. Before you go, here are a few parting tips and tricks that will maximize your new add-ons to the fullest.
Assign your Salesforce users to Pardot. Without a corresponding Pardot user account, the solution will not function as expected. Pardot's fee structure is based on usage limits, not seat licenses like Salesforce. So, there is no real harm in having an associated Pardot user account matching every Salesforce user in your org. Pardot has an easy user account sync function accessible under "Administration."
The lead or contact you want to add to a Pardot email list must have a corresponding "Prospect" record with a matching email address in Pardot. Without it, the Salesforce component will display an error message. This typically occurs because a historical contact sync was not performed at the time the "Salesforce-Pardot Connector" was established. The connector will only sync moving forward.  Any historical data records in Salesforce needing to be displayed in Pardot must be imported via a one-time manual import.
You Don't Have to Go It Alone
If you prefer a turnkey solution that takes the burden of execution off you so you can focus on what you do best, reach out to the HigherEchelon Salesforce Implementation team.
While Salesforce has a wide range of functionalities and tools that businesses can use, it can be challenging and time-consuming to choose the right tools and implement Salesforce without help. To save time and streamline the implementation process, it is best to trust a Salesforce specialist who understands the ins and outs of the platform.
We can quickly get you up and running and enjoying all the benefits Salesforce has to offer.  We can also help with your overall Salesforce system and walk you step-by-step through many more Pardot tools to save you time, money, and headaches.
Contact the HigherEchelon team today to learn more about Salesforce and where it can be implemented to improve your business.
Client Review: 5/5 ★ ★ ★ ★ ★
The knowledge and understanding of the SFDC architecture is exceptional. They were able to quickly identify and implement a safe, effective solution for a problem that we had been struggling with for a long time. The communication was excellent throughout, and the commercial engagement process was fair and collaborative. – Retail client, public AppExchange review
Watch a case study video of Salesforce work we did for Yulista Holding, LLC: