Salesforce Implementation Services
Client Review: 5/5
★ ★ ★ ★ ★
HigherEchelon's team is extremely professional and high caliber. They are very knowledgeable on the Salesforce platform, while offering solutions to business problems. That's a hard mix as most partners tend to be over indexed in one particular way. HigherEchelon knew how to leverage the platform to solve our business needs.
– Client, Financial Services Sector, public review on Salesforce AppExchange
The modern work environment has become faster and more complex. Are your systems and people up to speed?
In today's competitive and fast-changing environment, organizations must grow and adapt to serve their customers more effectively while efficiently using resources. This often requires a digital transformation such as implementation of Salesforce — a platform that is incredibly rich in capability that can be configured to do almost any business function… once you know how to use it.
Salesforce can enable organizations to improve work environments, enhance business processes, and optimize methods of customer service. However, there is both an art and a science to understanding what tools to use within the vast platform so that the best results are achieved.
Most organizations require an implementation partner to help them maximize their Salesforce investment and see all of its benefits.
Looking for Government Cloud Consulting and Implementations? We're experts: Find out more here.

Do any of these challenges sound familiar to your organization?
Failed CRM deployments that have you wondering if you made the right investment

Problems with a legacy system that was designed long ago and is not worth upgrading
Time-consuming HR Recruiting, Applicant Tracking and Employee Onboarding systems

Inefficient business processes resulting from use of outdated technology or general lack of technology support

Lack of real-time visibility into workflows or processes

Inability to meet deadlines efficiently due to reliance on manual processes for time consuming functions

Inability to realize fiscal efficiency due to costly maintenance and upgrade processes for on-premise, custom software

Large and complex data-cleansing and data loading needs that haven't been addressed.
HigherEchelon can help. 
100+ Active Partner Certifications | 5 out of 5 Customer Satisfaction Rating on Salesforce AppExchange
Why choose HigherEchelon as your Salesforce implementation partner?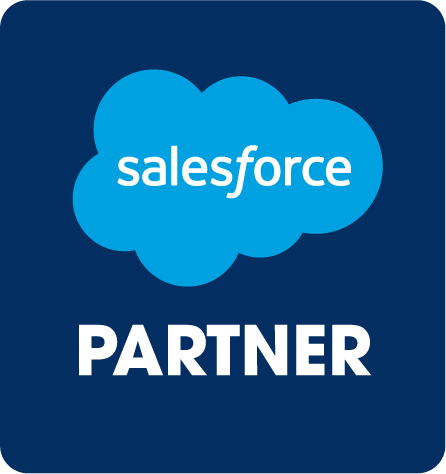 HigherEchelon is a multi-award-winning, registered Salesforce CREST Gold) level Consulting Partner with 100+ active partner program certifications held by our staff and a 5 out of 5 customer satisfaction rating on the Salesforce AppExchange. We provide expert Salesforce development and implementation support services to modernize and improve organizational processes and efficiency. We utilize an Agile framework with a focus on technology and process to enhance the business value of the Salesforce platform. As a strategic partner to Salesforce, HigherEchelon has an expert understanding of what tools to use in Salesforce's portfolio to achieve the best results for our clients.
Our approach saves you time, money, and future headaches
The best Salesforce consulting solution provides strategic front-end planning and one-stop-shop accountability that prevents clients from costly and time-consuming re-dos or the need to bring in multiple consultants.
We provide front end strategic planning for future use-cases & needs that minimizes potential design conflicts and costly back-tracking that can occur without experienced forward thinking.
We provide cost-effective long-term solutions through a clicks-not code approach. We utilize standard functionality everywhere possible for codeless custom functionality that integrates with future Salesforce updates. When custom code seems necessary, we collaborate with clients to navigate pros & cons before development.
We provide one-stop-shop capabilities so you don't have to work with multiple vendors whose solutions may not integrate.
Read our E-Book to learn the full-scope of our capabilities and approach:
White-glove treatment and custom Salesforce implementation solutions for business challenges
When clients choose to work with HigherEchelon, they get white-glove treatment and custom solutions from an award-winning, all-U.S. based team with deep experience serving clients who often:
Need to rapidly get "up and running" with Salesforce but don't know where to start

Need expert assistance moving to the cloud

Are not happy with a former implementation partner or with their own attempts to integrate Salesforce

Have a functional Salesforce system but are interested in maximizing their investment with additional improvements, including business process automation

Have processes they need to digitally transform that involve data collection and reporting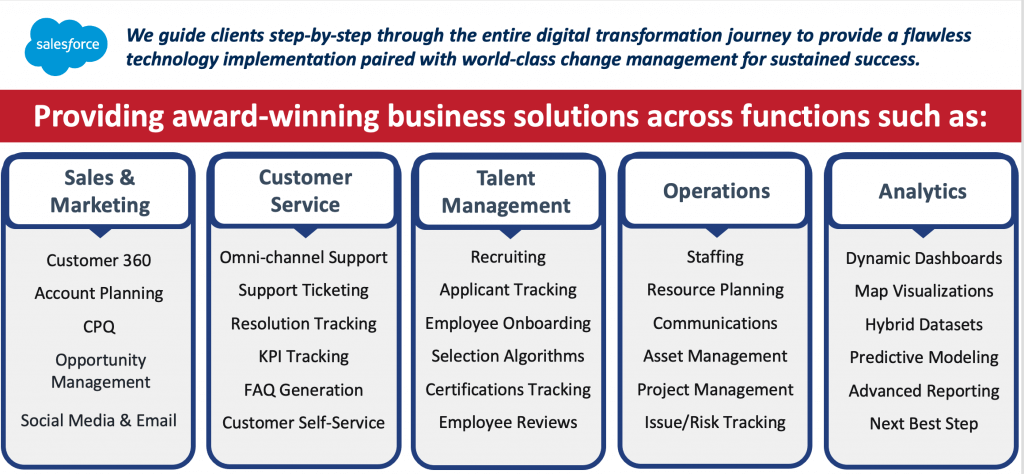 Call us at 866-488-9228, email us at Solutions@higherechelon.com, or fill out this form so we may discuss your needs.
---
Client Review: 5/5
★ ★ ★ ★ ★
We brought HigherEchelon onboard to help us thoughtfully and quickly implement new capabilities across our Salesforce instance. Their expertise, especially in the private equity space, was extremely valuable… they were extremely responsive to our needs and requests, including being onsite to help troubleshoot development or our production roll-out to the business. HigherEchelon consistently worked to our schedule and scope and delivered a product on time and within budget.
– Brian Cohn, Director of Information Technology, Federal Capital Partners
---
VIDEO: The benefits of using an expert Salesforce implementation partner
Our Team – Highly Certified Salesforce Experts

OUR SPECIAL EXPERTISE INCLUDES:
Sales Cloud
Service Cloud
Public Sector Cloud
Community Cloud
Customer Portal including Self Service
Lightning Deployments and Migrations
Marketing Cloud
Pardot
Einstein Analytics
Integrations

User Centered Design resources on staff

 

Automated Testing expertise on staff

 

Strong DevOps expertise on staff, with skills in Gearset, Metazoa, SFDX and Copado

 
100+ Active Partner Program Certifications Held By Staff Including

:
System Architect

 

Application Architect

 

Sales Cloud Consultants

 

Service Cloud Consultant

s

 

Community Cloud Consultant

s

 

Marketing Cloud 

Consultants

 

Platform Developer I and II

 

Platform App Builder 

 

Copado Administrator

Administrator and Advanced Administrator

 

MuleSoft Certification

 Level 4

 
What does a Salesforce implementation partner do?
We walk organizations step-by-step through Salesforce implementations and digital transformations that have the potential to dramatically improve business processes, increase efficiency, maximize cost savings, and increase revenue. We reduce or eliminate the use of custom code in Salesforce solutions everywhere possible to streamline operations. This approach is encouraged by Salesforce and reduces complexity, improves maintainability, and keeps overall costs down. We follow Agile methodologies to ensure that the customer knows exactly what we are building, can see project progress, and has the opportunity to provide feedback throughout the implementation process.
We offer an always-expanding suite of services and expertise including:
Sales & Marketing
Implementing Sales and Service functionality, bringing the Customer 360 into perspective ♦ Account Planning ♦ CPQ ♦ Opportunity Management ♦ Social Media (Social Studio) & Email (Marketing Cloud, Pardot)
Customer Service
Omni-channel Support ♦ Support Ticketing ♦ Resolution Tracking ♦ KPI Tracking ♦ FAQ Generation ♦ Customer Self-Service
Talent Management
Recruiting ♦ Applicant Tracking ♦ Employee Onboarding ♦ Employee Portals ♦ Employee Support Request Ticketing ♦ Selection Algorithms ♦ Credentials Tracking ♦ Employee Reviews ♦ Learning Management System integrations with Salesforce
Operations
Past Performance Analysis & Tracking ♦ Staffing ♦ Resource Planning ♦ Communications ♦ Asset Management ♦ Project Management ♦ Issue/Risk Tracking
Analytics
Dynamic Dashboards ♦ Map Visualizations ♦ Hybrid Datasets ♦ Predictive Modeling ♦ Advanced Reporting
Digital transformations that optimize organizational performance
Our complete digital transformations optimize organizational performance, replace manual or legacy functions, and extend Salesforce into adjacent workloads to maximize ROI. We can also: Provide mobility as a feature to enhance adoption and effectiveness. We digitize complex, lengthy forms and make them accessible on mobile devices. Our special expertise includes design, development, and implementations in private equity and financial services scenarios. We solution for complex business logic including sophisticated scenarios involving load balancing, algorithms, and advanced calculations. We untangle obsolete, non-operational code from existing deployments and streamline current operations using 'clicks not code' whenever possible to save clients money. 
---
Client Review: 5/5
★ ★ ★ ★ ★
The knowledge and understanding of the SFDC architecture is exceptional. They were able to quickly identify and implement a safe, effective solution for a problem that we had been struggling with for a long time. The communication was excellent throughout, and the commercial engagement process was fair and collaborative.
– Retail client, public AppExchange review
---
Exceptional customer service & trusted Salesforce implementation solutions
No Salesforce implementation project is too small or too complex. HigherEchelon has proven skills in deploying, configuring, and customizing Salesforce with experience implementing Salesforce in a variety of use cases, including the following projects:
Led the implementation of Salesforce for several thousand users at hundreds of locations across North America, supporting nearly 80 P&L centers and with complex integrations to third-party data sources and applications.
Led the re-architecture and implementation of Salesforce supporting an international private equity firm (with $200B assets under management).
Performed multiple small and medium-size business implementations in financial services, government contracting, professional services and other industries.
Contact us for proven Salesforce Implementation Services
Imagine the wins on the other side of a successful digital transformation. We can get you there. Contact us today for trusted Salesforce Implementation Services.
Call us at 866-488-9228, email us at Solutions@higherechelon.com, or fill out this form so we may discuss your needs.
---
Client Review: 5/5
★ ★ ★ ★ ★
Higher Echelon provided excellent, efficient, and smart solutions, to meet our specific needs with Salesforce. They were able to speed up our configuration and completed our project nearly 8 weeks ahead of schedule. They are prompt and quick to help if a need arises. We highly recommend them!
– Public AppExchange review
---
More Information