HR Talent Management Recruiting Solutions
Client Review: 5/5
★ ★ ★ ★ ★
We were new to Salesforce last year… Having somebody with expertise on how to use it strategically and to your advantage was really important. I think we'd be a little lost if it wasn't for some of the consultants from HigherEchelon coming in and coaching us through that.
— Josh Herren, President & CEO, Yulista Holding, LLC
Are Your Talent Management Processes Frustrating, Time-Consuming & Outdated?
With the speed of technology change and the fierce competition to find and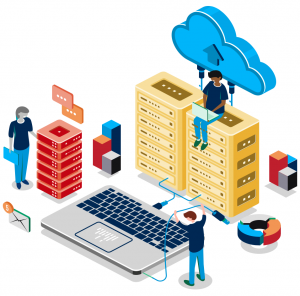 hire the best talent, it has never been more important to have up-to-date talent management systems and processes that are scalable and reliable.
Still — sometimes organizations stick with older systems and processes that no longer serve their needs because transitioning to a new digital system seems overwhelming. Which software is best? How is data migrated? How will teams learn the new systems and get up-to-speed while managing ongoing operations? These are legitimate concerns that require expert guidance to successfully navigate. That's where we come in.
HigherEchelon is a Ridge-level Salesforce Consulting Partner that solves a full-range of recruitment and hiring challenges and drastically improves workflows through custom Salesforce implementations and organization-wide training that walks clients step-by-step through digital transformation journeys.
We relieve talent management headaches by replacing burdensome processes and harnessing the power of the Salesforce Platform so organizations can quickly target, reach out to, and hire the right candidates.
Most organizations require an implementation partner to help them maximize their Salesforce investment and see all of its benefits.
Talent Management Solutions That Take the Long View

Modern, successful recruiting efforts take the long view — moving through a series of strategic steps that leverage the power of the Salesforce Platform to deliver a connected, seamless experience from recruitment through a long-term career. Organizations that stand out make the recruitment process easy, paperless, and mobile in order to reach candidates on their preferred channels.
Integrated Job Posting Portal to Speed Up & Scale Processes
Say goodbye to time-consuming management of multiple job posts and sites. We can replace your Careers page with an integrated job posting site for easy management and data analysis. Enter the job post once in Salesforce – with one click, it will appear on your company's job posting site.
We can set up a portal that provides full visibility into opportunities and empowers recruiters with relevant information and effective tools to manage their pipeline in far less time.
Example: Integrating with Indeed.com
One example is our ability to integrate Salesforce with an organization's Indeed.com listings in one seamless solution.
Indeed has a very large user base, and many of our customers already invest in their service for job postings. Indeed also provides a service where they can 'scrape' the web page of the job posting site that is maintained by your company and 'mirror' the postings on your site onto their site. Further, they can configure the Apply button on their postings to instead say "Apply on Company Site" and send the applicant directly to your application page.
This is a very helpful offering, and it allows companies to have the best of both worlds with the reach that Indeed provides with the control and configurability that Salesforce can deliver to orchestrate your recruiting needs.
Read more — Recruiting: How to Integrate Indeed and Salesforce
We Optimize Recruiting & Talent Management Through Expert Salesforce Configurations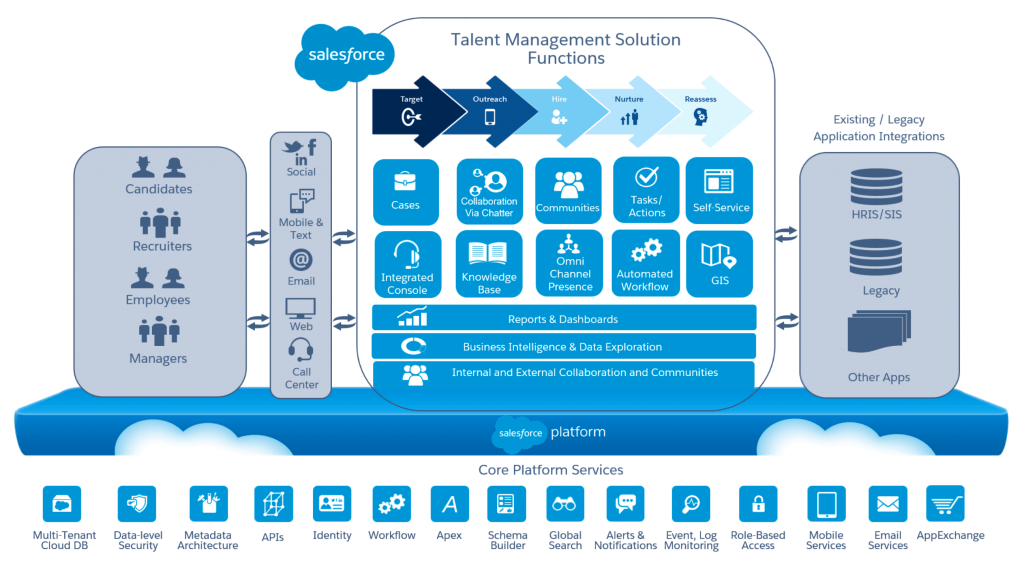 The above is a typical Service Cloud and Community Cloud configuration for recruiting.
The right Salesforce configuration provides dramatic relief of burdensome processes and remarkable analytics abilities such as:
Intelligent "Lead scoring" based on a set of ideal attributes organizations determine make for best-fit candidates.

Simple platforms that make it easy to reach out to candidates through out-of-the-box email, communication, and marketing tools such as application landing pages.

An entirely digitized hiring process with logic-enabled forms, e-signature functionality, and paperwork elimination.

Automated alerts and activities that track a candidate through the candidate process and send communications and to-dos at the proper time without manual HR processes.

Much more!
These recruitment benefits are only the beginning. With a properly architected Salesforce platform, organizations reap the benefits of automation and analytics from pre-hire and applicant tracking through long-term careers.
Talent Management Does Not End with an Offer
Onboarding and nurture programs greatly influence productivity, continual development, and satisfaction. While HR departments traditionally have owned onboarding and employee programs, retention improves when recruitment teams stay informed of candidate success.
Forward-thinking companies now extend the participation of recruiters post-hire. Comparing actual career success against assumptions made about candidates helps organizations validate how they score targets, helping them refine their hiring process.
We can help you bring the entire talent management experience together with a solution that saves you time and money for the long-term.
Read the white paper we co-authored with Salesforce for a fuller description of the talent management solutions we provide through our Salesforce consulting and implementations — Talent Management – A Fresh Look at Recruitment
Why Choose HigherEchelon As Your Salesforce Partner?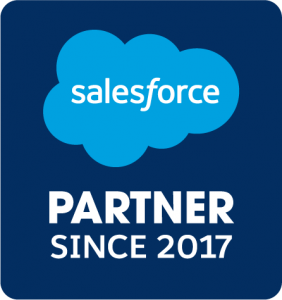 We have extensive experience serving commercial and public sector clients who need digital technology transformations customized to meet their specific recruitment, hiring, onboarding, and talent management challenges. HigherEchelon is a multi-award-winning, registered Salesforce Ridge-level Consulting Partner with 100+ active partner program certifications held by our staff and a 5 out of 5 customer satisfaction rating.  We provide expert Salesforce development and implementation support services to modernize and improve organizational processes and efficiency and utilize an Agile framework with a focus on technology and process to enhance the business value of the Salesforce platform. As a strategic partner to Salesforce, HigherEchelon has an expert understanding of what tools to use in Salesforce's portfolio to achieve the best results for our clients.
Click here to read about our Salesforce Implementation Services, special expertise, team certifications, and experience.
Call us at 866-488-9228, email us at Solutions@higherechelon.com, or fill out this form for a free consultation.
More Information