Applying Olympic Mindsets to Business with Jean-Francios (JF) Menard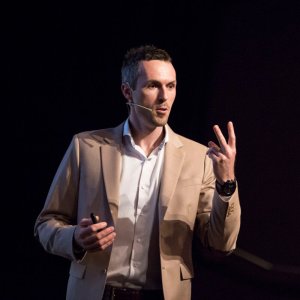 Learn to apply Olympic mindsets to your leadership so you can refocus and achieve your full potential. Hear from one of the world's top mental performance coaches, Jean François Ménard (JF).
If you watched the winter Olympics this year, you may have noticed that there is a slim difference between an athlete taking goal and not making the podium at all. This year, the best of the best athletes performed on the world's stage despite the unique challenges of a politically charged environment and Covid-19 protocols. Consider the mental and emotional skills that are needed for athletes to manage significant distractions and the added stress  perform, similar to the modern business environment, it's obvious that there is heightened stress and conflicting demands. 
Today's guest, Jean François Ménard (JF) is widely recognized for his contributions to the field of performance psychology. At the age of 25 and fresh out of graduate school, he joined the world-famous entertainment company Cirque Du Soleil, where he coached circus artists to deal with pressure and perform at their best, on demand, up to 450 times a year. Five years later, he founded Kambio Performance and has since become one of the most sought-after mental performance specialists in the country. During the 2016, 2018, and 2020 Olympic Games, his clients stepped on the podium eleven times and received 5 gold, 2 silver, and 4 bronze medals. He is a bestselling author, a radio personality and professional speaker with over 750 keynote speeches delivered to organizations such as the FBI, PepsiCo, RedBull, SunLife Financial, and NASA. His private clients are proven winners: Olympic Gold Medalists, SuperBowl and X-Games champions, professional athletes, surgeons, pop stars, and corporate leaders.  
In this Coaching Through Stories episode, JF shares why clowns were his favorite artists with Cirque Du Soleil, how visualization helped him with his work with a pediatric surgeon, why reinventing himself is a part of his philosophy, and how there's always a "no" attached to a "yes." Additionally, JF and Dr. Eric Bean discuss his new book, Train Your Brain Like an Olympian: Gold Medal Techniques to Unleash Your Potential at Work.  Listeners leave this episode feeling energized by JF's colorful stories and real-life takeaways to implement into their leadership.
Episode Highlights
[37:23]

What's his philosophy on high performance for himself?

[5:02]

His current role and what he's passionate about?

[8:16]

What are the underlying principles of helping people change?

[13:49]

A quick overview of his life story

[19:47]

What is his experience in Cirque du Soleil where he helped somebody see through a new lens?

[29:49]

What drives and motivates him to do what he's been doing?

[49:57]

How did it come about for this company, and what are some of the benefits of having a deep-focused time block and eliminating distractions?
Resources Mentioned:
Help us grow by leaving a rating or review on Apple Podcast  – here's how
To learn more about how you can take your leadership to the next level, check out HigherEchelon service offerings: Resilient and Adaptable Leadership, Executive Coaching, and Change Management.