The Resilient and Adaptable Leader© Program
Client Review
★ ★ ★ ★ ★
"The HigherEchelon Resilient and Adaptable Leader course was a transformative experience that brought new tools and perspective to our global organization. It is rare to find experiences that are this impactful. This program is relevant to any leader and any industry contributor. It is an essential ingredient to exceeding in any company and any industry. I highly recommend it."
— DIRECTOR, PAYPAL CORPORATE TREASURY
The modern business environment is complex and constantly changing. Are you and your team equipped to adapt and excel?
The most crucial employee attributes that will impact your company's future do not show up on a resume. When leaders are asked to describe their most high performing individuals, they usually skip job-related technical skills and, instead, highlight characteristics such as team player, gritty, fiercely determined to solve problems, great communicator, flexible, adaptable, focused, resilient, optimistic, trustworthy, and emotionally intelligent.
Do you know how to assess for these traits when hiring and how to train and develop them in yourself and your talent? HigherEchelon's signature Resilient & Adaptable leadership development program and cutting-edge Adaptability Quotient Assessments & Training equips leaders and team members to become high performers through mental, emotional, and behavioral skill sets training that improves performance, job satisfaction, and personal well-being, while transforming business outcomes from the inside out.
Mental, emotional, and behavioral skills form the foundation of high performance and are trainable
Organizations often limit their potential by only focusing on technical skills. They overlook the tremendous value in training the mental and emotional competencies that support high performance. Our human capital services help organizations unlock their full potential by developing high performing leaders and teams capable of excelling in constantly changing environments.
High performing leaders drive high performing organizations
HigherEchelon's signature Resilient and Adaptable Leader© (RAL) program integrates principles of organizational and performance psychology with process improvement methodologies to optimize leadership development and human performance.  The program was co-developed by the former Director of the Center for Enhanced Performance at West Point and the former Director of the Air Force Smart Operations Program in the wake of 9/11 and is today the founation of the Army's Ready & Resilient (R2) Program. The principles in RAL have helped countless leaders increase their awareness, change their mindsets and behaviors, and finally become the leaders they want and need to be.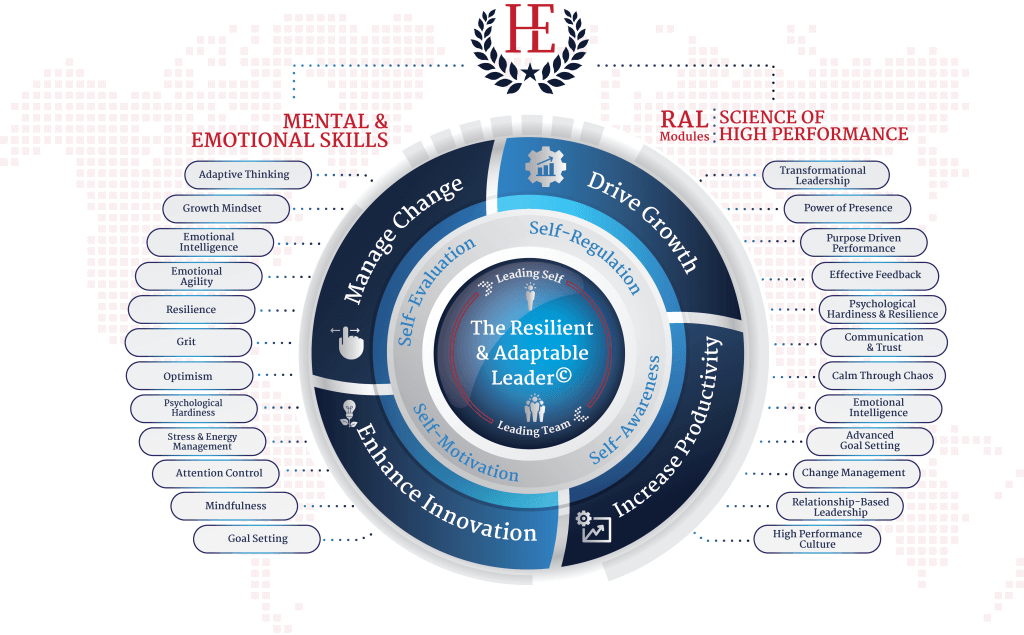 We harness the power of psychology and technology to turbocharge organizational effectiveness
Our customizable training plan helps leaders address common and perplexing issues such as: how to manage large and small-scale necessary changes, improve employee engagement, resolve conflict, manage stress, provide effective feedback, determine leadership and decision-making styles, motivate the work force, and establish a winning culture that is in alignment with business strategy. We integrate assessments, executive coaching, and deliberate practice to reinforce the training and develop productive habits that shape behavior for the long run under the direction of highly skilled and educated instructors with decades of experience leading organizations at the highest levels.
Not Your Typical Leadership Training
The RAL Program is different from many in that we go beyond teaching traditional leadership skills to focus on trainable performance skills that support consistent, high performance behaviors. Through on-going executive coaching and training, those behaviors become habits and ultimately lead to the business outcomes our clients desire. RAL is not a "one and done" approach—instead, it is an investment in people as the driving force for organizational excellence.
The Resilient and Adaptable Leader© program is a transformational experience that will take your organization to the next level. Learn more about each module here.
Check out our company awards and client testimonials
Client Review
★ ★ ★ ★ ★
"This was a very comprehensive course with an excellent consolidation, explanation and emphasis on basically every skill necessary to create high performance teams at all levels, both as a leader and team member. This is quite honestly one of the most useful, interesting, and practical training classes I have attended during my 22 years with NASA. I wish this training were available to every employee, because of the importance of the skills taught and the strong emphasis on enabling successful teams.
The instructor did an excellent job of encouraging interaction at all levels even with the virtual environment and shared interesting, invaluable examples and thought-provoking ideas based on experiences at NASA and on a personal level. This class is outstanding!"
— SUPERVISOR, TRAINING PARTICIPANT, NASA
RESILIENT AND ADAPTABLE LEADER© COMMERCIAL GROUP PRICING
All programs include one instructor and materials for up to 20 people. Training conducted at the customer site, and travel excluded from pricing.
1 DAY PROGRAM – $11,995/group
2 DAY PROGRAM– $21,990/group
3 DAY PROGRAM – $31,985/group
Begin your journey by calling us at (866) 488-9228 or by filling out a contact form. HigherEchelon offers professional development programs and services to help organizations perform at a higher level.
Find our Resilient & Adaptable Leader Information Brief here or in the flipbook below: