Virtual Sports Training Applications and Consulting
We'd love to discuss your needs. Call us at 866-488-9228, email us at Solutions@higherechelon.com, or fill out this form for a free consultation.

Provide Powerful Mental Reps & Fill Training Gaps With Virtual Technology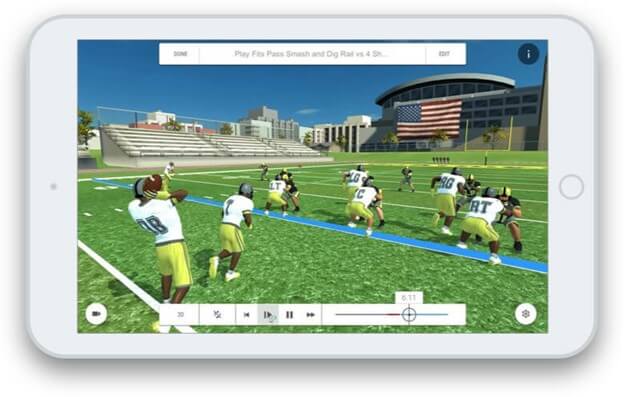 Is your coaching staff struggling to present your vision to players? Are you still grappling with implementing off-field training solutions in your program? Do you wish someone could show you how to integrate technology into your strategy?
HigherEchelon's Gaming and Simulation team includes former NFL and college coaches and players who train coaches in cutting-edge sports training applications we helped developed that give teams a distinct competitive edge through 3D technology.
Visualization and mental reps can powerfully impact go-time performance of your athletes. Virtual training environments are especially helpful for visual learners and can provide a non-contact way to get on-the-field training. In the aftermath of 2020 disruptions, as organizations permanently embrace new virtual training options, virtual training also provides a way for coaches and players to stay connected and moving forward toward goals despite physical separation or off-season limitations.
HigherEchelon provides training and consulting services for existing virtual sports training applications, along with custom solutions when you're ready to take your organization's virtual training to the next level.
GoArmyEdge: A Case Study in Cutting-Edge Solutions We Can Build For You
The GoArmy Edge suite of free apps is a case study in the successful virtual training applications we are proud to develop. GoArmy Edge applications are designed to help athletes and coaches learn and prepare in a virtual environment before taking the field. GAE is a unique cross-platform application (Mobile/Windows/Browser) that allows coaches to draw up plays and drills in a 2D editor and play them back in a full 3D virtual environment. The apps leverage cutting edge technology to allow coaches to create playbook content in a familiar "whiteboard" environment, then easily present the content to players in a full 3D virtual training environment.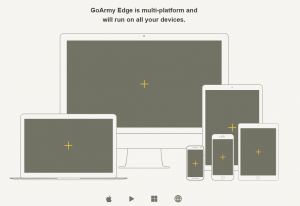 By adapting the same technology that the U.S. Army uses for virtual training, GAE allows athletes to get valuable mental reps that are difficult to reproduce in traditional training environments. As a team reviews an upcoming opponent's game film, they can better prepare for the match by modeling the opponent's plays against their own. This facilitates both coach-led training and individual training and provides players the ability to train from anywhere, at any time, on any device, while minimizing injury risk.
"I think the biggest thing in the GoArmy Edge app is the ability to control the environment. I think there are so many ways that you could utilize it and save your players wear-and-tear." — Bruce Matthews, Pro Football Hall of Fame Player and Coaching Consultant
GAE Football's reputation has quickly spread as the best play drawing tool with 3D capability to prepare players for game time. In the last few years, at least 12 professional football teams have launched GAE use with their teams – 10 in the NFL, one Arena team, and one from the former Alliance of American Football (AAF) league. Teams often use the application in a simulation room environment alongside classroom meetings.
Former LSU player Grant Delpit give ESPN reporter Maria Taylor a tour of the LSU virtual training room and demonstrates how the team uses GoArmyEdge:
How Can Your Team Implement Existing Virtual Training Applications?
Between video, playbook, and team communication, the marketplace of sports training applications is as crowded as ever. It can be daunting to get started integrating sports training technology into your program, and even more so when adding new tools to your toolbelt. HigherEchelon has on-staff former NFL and college coaches and players who are well versed in the sports training technology offerings that are currently on the market and are experts in connecting these tools to make the most efficient use of your time as a coach. We offer full training and consulting services to integrate applications like GoArmy Edge into your existing sports training technology suite. We train coaches and players through in-person, virtual, or hybrid events designed to get users quickly up-to-speed on how to best use the technology to optimize their performance.
Our Ph.D.-level sport psychology trainers and consultants can also deliver additional training in the mental and emotional skills and behaviors such as psychological hardness, grit, resilience, and adaptability that often makes the difference in performance. This combination provides a powerful training edge that can separate the good from the great, the great from the legendary.
What Next Level Results Could Your Organization Achieve with Customized Applications?
We can build a fully customized application to fit your organization's needs that drives optimal performance for your athletes. We specialize in utilizing gaming engines to provide top-notch virtual training that will meet and exceed your needs. With extensive experience developing Serious Games, Games for Training, and Educational Games for DoD and corporate programs, we have the skillset and knowledge to develop top notch training solutions.
Get in touch today to finally build the application you have been contemplating — we can take an idea from napkin to prototype to functioning application in a communication-rich process that brings the vision to life and takes users to next level performance.
We'd love to discuss your needs. Call us at 866-488-9228, email us at Solutions@higherechelon.com, or fill out this form for a free consultation.
Watch our Demo Reel: