Leaders live by their core values and model the behavior they seek with COL. Katherine Graef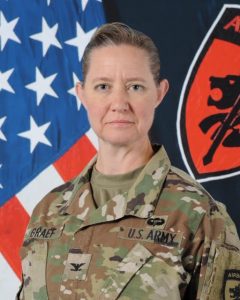 COL. Katherine Graef is the current Logistics Director of Special Operations Command Africa. Graef has also served as the Director of Logistics in Qatar, commanded the Combat Sustainment Support Battalion, and taught as a Military Professor at the Naval War College in Newport, RI. In this episode, Graef discusses how leading a group of high performers can sometimes be more challenging than leading a group with a mixed ability level. Graef also presents how authenticity became an explicit value for her  to overcome her own adversity and due to her experiences working with other leaders that lacked integrity and consistency. She even admits how there were even parts of her career where she felt like a hypocrite. Listen to this Coaching Through Stories episode and learn how Graef found her way to authenticity and how you can discover your own authentic path and be your true self in the workplace.
NOTE: This podcast was recorded in January 2020, shortly after an attack on US forces in Kenya. Kathy mentions this attack contemporaneously as a current event in January. This attack did not occur in April when this podcast airs. Views presented in the podcast as reflective of COL. Katherine Graef's personal opinions and are not those of the Department of Defense or any of its components.
Episode Highlights:
Graef's current role as Logistics Director of Special Operations Command Africa has been the most challenging but the most reward role so far in her career
"It takes moral courage to look somebody in the eye and say, 'Hey, you're not meeting the standard."
When leaders are faced with an employee who does not meet expectations, focus on the outcome you seek.
Reflect as a leader and ask yourself: 1. Are you providing the right instruction for your subordinates to be successful? 2. Are you as a leader giving an underperforming subordinate the tools needed to be successful? 3. Is your training or leadership style working for all of your subordinates?
Humans in general tend to gravitate toward problem-focused solutions to resolve issues rather than solution-focused. High performers approach problems with a solution-focused mindset.
Graef will test people if she feels integrity in compromised in someone and discusses how a lack of integrity is a deal breaker for her.
Leadership authenticity shows up in a leader's ability to be consistent in the treatment of their superiors, peers, and subordinates. "You have to model and reward the behavior you seek." A lack of consistency in leadership reduces credibility in the organization and the organization's values.
A lack of alignment of authenticity creates stress, Graef discusses her journey of being fully authentic and how it empowered her to fully enjoy life
As a leader, you must understand what an organization needs from you and under what competencies are required to prioritize, perform, and thrive.
Understand what your followers need from you as a leader.
A leader must set the pace to avoid burnout and live a balanced life.
A high performing leader has the ability to balance humility and confidence.
Self-awareness is critical, a leader much learn the physical symptoms that come with self-doubt and lack of confidence.
Sometimes it takes a situation or some kind of adversity to occur in order to provide the opportunity for a leader to be great instead of just average
Resources Mentioned: 
Help us grow by leaving a rating or review on Apple Podcast  – here's how
To learn more on how you can take your leadership to the next level, check out our service offerings: Resilient and Adaptable Leadership, Executive Coaching, and Change Management.