Exploring Workplace Resiliency with Karen MacNeill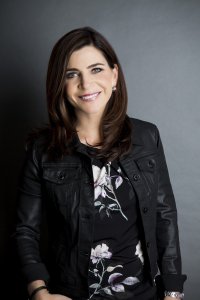 Over the last two years of the pandemic, one thing has become increasingly clear: resiliency is not a nice to have, it's a must have. Most people approach resiliency as a reactive quality, when, truthfully it's about deliberately cultivating the awareness, abilities, and insight prior to the snowstorm, to be able to not only bounce back, but actually grow stronger as a result of the disruption, change, and chaos. At HigherEchelon, our core model is about building Resilient and Adaptable Leaders. We're all in on the importance of resiliency in the pursuit of high performance. And so is our guest today.
Dr. Karen MacNeill is a performance psychologist, speaker and consultant with over 20 years of experience, helping Olympians, business leaders and organizations unleash their highest potential so they can shine in moments that matter. Karen has the unique experience of having competed and consulted on the World Stage. She has worked with athletes at the last 5 Olympic Winter Games, and competed herself at the international level for over a decade. At the 2018 and 2021 Olympic Games, Dr. MacNeill was the Lead Mental Performance Consultant for the Canadian Olympic Committee and will perform the same role at the 2022 Olympic in China. Karen also works with business professionals giving keynotes, supporting leadership teams and organizations as a performance coach and was a recipient of the Avenue Top 40 under 40 Award, the 2020 Women of Inspiration Game Changer Award, and Canada's Most Powerful Women- Top 100 Award. Her passion and drive for helping others be their best also translates into her life as a mother, wife, and outdoor enthusiast.
On today's episode Karen shares how her experiences as an athlete in her first Olympic games, which, as she put it "was a hot mess" shaped her approach to making sure her mind wasn't a thief of her big moment going forward. Karen shares how her approach to resilience is all about preparing to be resilient, ensuring that you have the skills, the abilities, the insight, and the awareness to handle the challenge when it shows up. As you listen to this episode, I'll ask you to consider where are there opportunities in your life, your sport, or at work where you can challenge yourself. The way to build resiliency is to practice being resilient, so put yourself in challenging situations that cause you to doubt yourself, or get uncomfortable and understand your patterns, strengths and weaknesses in responding to those challenges. Karen offers a lot of little nuggets in this episode so let's lock in and learn from Dr. Karen MacNeill.
Key Points:
Be prepared to need resilience.

Practice skills to build resilience so you can handle challenges when they show up.

Deliberately put yourself in challenging situations so you can reduce your doubt when adversity comes knocking.
Episode Highlights
[3:54] The importance of accepting challenging situations as Dr. MacNeill tells about her role and passion

[5:23] On how how her passion came to be transitioning to to and fro between Sports psychology and her own career in playfield hockey

[9:15] Starting the practice of mindfulness during events and prioritizing her emotional regulation in dealing with the athletes under her

[11:46] Space between the space: having that buffer of mental clarity in deciding how you want to respond to a situation and developing a recovery strategy through mindfulness 

[15:14] On being in the Canadian Olympic Committee, a performance consultant and an advocate for resilience through talks

[17:55] She quotes George Mumford in saying "failure is feedback" and explains how painful moments and hard-earned lessons shape your career

[19:32] The three phases in breaking free from one's psychological prison and cites the counseling psychology lifeline exercise

[24:03] On understanding how you think and the essence of resilience in the workplace

[27:03] Preparing for the challenge before it even happens and building resilience through the three C's

[31:14] She talks about core contributions and the process of stepping into the unknown 

[34:37] Her take on protecting resiliency despite the pandemic and the use of psychological hygiene tools

[39:00] Dr. MacNeill emphasizes the skill of connecting to yourself 

[44:48] The demand for mental well-being coaching considering the people are the biggest asset in today's economy

[48:16] Knowing oneself on a deeper level is the most crucial action to start on building resilience
Resources Mentioned:
Help us grow by leaving a rating or review on Apple Podcast  – here's how
To learn more about how you can take your leadership to the next level, check out HigherEchelon service offerings: Resilient and Adaptable Leadership, Executive Coaching, and Change Management.