Putting Character at the Heart of Culture Change with Former VA Secretary Robert (Bob) McDonald and University of South Carolina President Robert (Bob) Caslen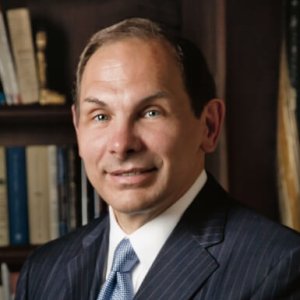 Today's Coaching Through Stories episode features former VA Secretary, Robert "Bob" McDonald. Dr. Eric Bean is also joined by guest co-host, University of South Carolina President Robert "Bob" Caslen. Learn how McDonald placed character at the heart of culture change to deliver Veterans with consistent, high-quality experiences and achieve sales metrics as the CEO at The Procter & Gamble Company. Listen to this episode and get the dose of depth and inspiration you need!
McDonald is credited with transforming the VA culturally to provide better and faster care for the nation's Veterans. Prior to serving as the VA Secretary, McDonald led Procter and Gamble (P&G) and significantly impacted their product portfolio, "expanded the marketing footprint by adding nearly one billion people to its global customer base, and grew the firm's organic sales by an average of three percent per year." 
Caslen is a retired Three-Star Lt. General who served 43 years in the U.S. Army and as the former Superintendent at West Point. He is the current President of the University of South Carolina and a co-author of the phenomenal book entitled The Character Edge: Leading and Winning with Integrity.
Key Points:
Character is an essential trait of a leader as well as integrating it in the organization.

Having the purpose and driving values to the leaders and employees are the foundation of high-performance organizations.

Understanding culture and the situation you are in and having a principle-based culture are keys in transforming an organization.
Episode Highlights
How McDonald succeeded in his career and what he is working on now

McDonald's purpose in achieving more in his life and career

What happened earlier in his life that drives McDonald to strive

What McDonald believes in and what he thinks is most important looking back

Why McDonald thinks that character is an essential trait of leadership

McDonald's encounter with non-driven employees and how he deals with them

What the 'Leaders Developing Leaders Program' is

McDonald's principles and values that drive his leadership philosophy

McDonald's role in transforming the culture of VA and the process he went through

How the Leaders Developing Leaders Program impacted cultural change in VA

What challenges McDonald encountered and the strengths he draws upon

How McDonald focuses on character development at the senior level of leadership

The annual McDonald Leadership Development Conference

How to strike a healthy balance between fostering positive relationships and keeping sight of priorities and goals

McDonald's recommended books
Resources Mentioned:
Help us grow by leaving a rating or review on Apple Podcast  – here's how
To learn more about how you can take your leadership to the next level, check out HigherEchelon service offerings: Resilient and Adaptable Leadership, Executive Coaching, and Change Management.