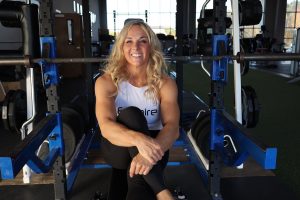 We're nearing the end of 2020, which has been a year that has taken a toll on most of us in at least some area of our lives. Perhaps two of those areas, for many, have been in the areas of our bodies, as we have faced the challenge of staying healthy during quarantines, and in the area of work, for those who own a small business, work in a small business, or were otherwise in professional situations impacted by COVID-19.
In this episode, the Belle Curve hosts interview fitness expert and entrepreneur Sarah Longshore Hayes to find out her secrets for having a healthy body and a healthy business. Sarah is a World Champion CrossFit athlete and the founder and owner of Empire Fitness, which has multiple locations throughout North Alabama. Sarah holds a master's degree in Exercise Physiology and has finished in the top 10 for five consecutive years at the World CrossFit Open, including a 1st place finish. She has more than 25 years of experience in the fitness industry and is a CrossFit Level 2 trainer, as well as a Les Mills Bodypump, RPM, GRIT, and BodyCombat instructor. She also provides nutrition counseling and coaching in her locations.
Key Points:
To motivate others you have to lead by example.
As a leader you can't assume people know the vision, you have to communicate it.
Mentors and coaches are essential, even for visionary leaders who coach others.
Episode Highlights:
Sarah's Top Five Tips To Have a Healthy Business:

We have to grow ourselves and constantly evolve to get better and stay ahead so you are not stuck in a old-school mindset.
Lead with passion in what you do. Be relentless. Have a mindset that there are no options to not succeed.
Focus on your own four walls by being the best you can be, not focusing on competition. All you can do is be your best.
Keep the main thing the main thing – whatever your mission is, make that front and center.
Make sure that your team is aligned with your vision and everyone is pulling in the same direction by clearly communicating your vision.

Sarah's Top Five Tips to Have a Healthy Body:

Allow yourself to follow the 80/20 rule: 80 percent of the time eat with discipline, 20 percent of the time, give yourself permission to eat what you'd enjoy.
Move your body every single day.
Avoid sugar – sugar disrupts so many things that should go on in a healthy body. The number one feeder for chronic disease is sugar.
Get out in the sunshine for 20 minutes every day.
Cultivate self-awareness by being present where you are each moment and being mindful about your choices.
Resources Mentioned:
Sarah's gyms are Crossfit Madison and Empire Fitness in Madison, AL; Empire Fitness South in Huntsville; and CrossFit Athens in Athens.
Sarah and Jeremy Bailey do a Facebook Live from the Empire Fitness Facebook page every Tuesday at noon CST.
HigherEchelon, Inc. is a consulting firm providing Human Capital Services including executive coaching and training in leadership, resilience, adaptability, applied high performance, change management, and a range of mental, emotional, and psychological skillsets meant to optimize organizational performance. The organization also provides a range of technology services such as Salesforce implementations and consulting, Enterprise Technology solutions, Gaming and Simulation services, and Cyber and Engineering Services.
Listen to Belle Curve on Apple, Spotify, Stitcher, Google Podcasts, or wherever you download podcasts and leave us a review!
Subscribe to Belle Curve: Apple Podcasts | Android
Belle Curve Podcast is sponsored by HigherEchelon, Inc. and co-hosted by HigherEchelon Director of Marketing Rachel Bryars.