Strategic Communications Consulting
The marketplace is loud. Cut through the noise with clear and compelling communication products.
At HigherEchelon, we know it can feel daunting to enter a seemingly endless sea of voices competing for limited attention. And yet, it has never been more important to engage. Brands and organizations that are invisible to their audiences and stakeholders cannot hope to compete in a global market or inspire engagement and loyalty.
Customers, employees, and stakeholders expect (and often demand) personalized, meaningful, up-to-date communication from today's organizations. Employees want to actively participate in the culture of their companies through frequent communication. And now more than ever, leaders are expected to be savvy communicators – capable of inspiring their teams in everything from a employee town hall to a social media video to a podcast interview.
We help you clarify your message, connect with your target audience, and find your authentic brand voice
HigherEchelon's strategic communications experts have decades of experience helping complex organizations clarify their message, determine desired audiences, and strategically deliver messages that inspire, inform, and persuade in an authentic brand voice.  We guide you through a series of strategic planning stages to develop strategic and operational plans that provide a North Star for all brand communications. We help clients navigate the vast landscape of technology, platforms, and processes, by staying on top of cutting-edge trends and breakthroughs in the industry.
The result is a trusted partnership that helps clients get the most from their budgets, while delivering immaculate attention to detail.
Social Media Highlight: GoArmy Edge Sports
HigherEchelon supports the social media needs of the U.S. Army's GoArmy Edge suite of applications through social media management, quality content production, and influencer outreach that has resulted in:
Analysis of social media platforms and determination that Twitter is the top priority platform for this unique audience
Mentions, shares, engagement and follows from major NCAA and NFL influencers, coaches, and players
High organic engagement that is a result of expert knowledge of the platform and does not require the client to pay for post boosts
Increased awareness measured by action taken (app sign-up) among the target audience of potential U.S. Army recruits
Internal Communications Highlight: NASA Network and Telecommunications Services (NASA NaTS)
HigherEchelon serves as the change management and strategic communications team for the NASA NaTS Service Line — an organization that experienced massive change and needed expert help navigating multiple facets of the transition, including ongoing strategic communication support. HigherEchelon created a strategic communications plan based on audience analysis surveys and focus groups and created dozens of top-notch communication products, including this video that was unveiled as a special team tribute during an annual Face to Face at Kennedy Space Center (KSC).
Internal Communications Highlight: Transportation Security Administration (TSA)
As part of HigherEchelon's contract to provide cognitive enhancement training across airports served by the TSA, the organization needed an internal communiations video to inspire participants to connect the purpose of the training to the larger mission of the TSA, as well as give them a preview of what to expect in the training.
External Communications Highlight: Yulista Holding, LLC
HigherEchelon collaborated with Yulista Holding, LLC to create a robust case study / testimonial video for a combination of external and internal audiences that would communicate the mission, vision, and values of Yulista, while sharing about the impact that HigherEchelon training and technical implementation had on the organization.
Branded Podcast Highlight: Coaching Through Stories & Belle Curve Podcast
HigherEchelon produces two HigherEchelon-branded podcasts, while consulting and contributing in the creation of internal and external podcasts for outside clients. Podcast production includes:
Creation of podcast logo and collateral
Management of all RSS feed information that populates the major podcast platforms (i.e. Apple Podcasts, Stitcher, Spotify, etc.)
Professionally written show notes
Professional audio capture and editing
Social media products such as audiograms that provide short clips in a consumable format for easy sharing and podcast promotion
Analytics
Content Production Highlight: Salesforce White Paper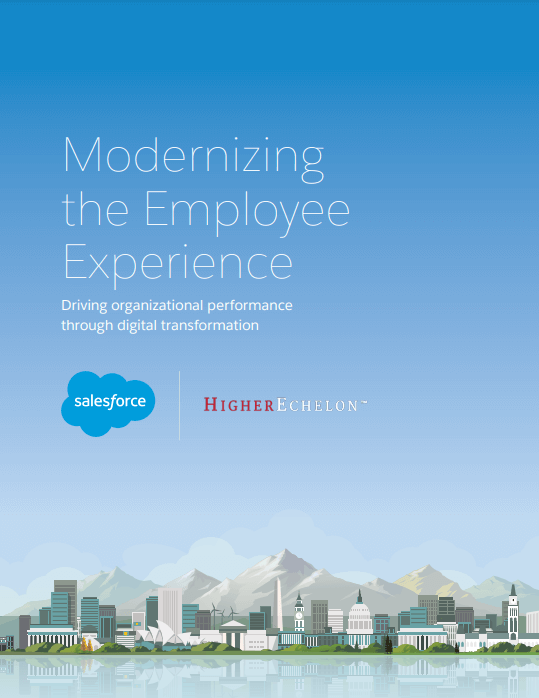 HigherEchelon created a co-branded white paper, showing unique solutions powered by the CRM Salesforce, that both organizations could use in content marketing, sales, and other communications.
Casual Video Highlight: HigherEchelon President on Why Veterans Inspire Him
This interview with HigherEchelon President Joe Ross, PhD was shot on a cell phone. We help clients learn how to leverage the tools they already use and love to create professional products that don't have to require long shoot days or expensive equipment.
Learn More
Rest easy knowing HigherEchelon's experts will guide you through a step-by-step plan to help you create a strategic communication plan and create quality communications products for your audiences. Call us at 866-469-9945 or fill out this form to get started.