Strategic Planning & Consulting Services
Client Feedback
★ ★ ★ ★ ★
"The strategic planning kick-off event and process interview sessions with the Board of Trustees and stakeholders last week were excellent, and we are looking forward to a stellar product."
– Board Member, Non-Profit Organization
If You Fail to Plan, You Plan to Fail
Do you ever feel like you are working so hard to execute day-to-day operations that you don't have any time to stop and assess whether you are working hard on the right things? Do you keep running into the same recurring problems because you haven't charted a new course to avoid them? Are you worried that if you don't get a handle on strategy now, you will pay for it later?
You are not alone. Many clients come to us with a common desire — they know they need to strategically plan to achieve long-term success. They want to leverage benefits that come from effective strategic planning such as:
Increased organizational sustainability and continuity
Clarity about leadership misalignments that may be hurting the organization
Growth from clearly identified market opportunities
Informed decision-making based on analytics
The ability to pinpoint ineffective processes and tactics and reengineer how things get done
But they also often share a common problem — many leaders do not have the bandwidth, know-how, or buy-in to effectively execute strategic planning themselves.
We Guide You Step-By-Step Through Proven Strategic Planning Processes
Sometimes it takes a trusted outside partner who knows the right questions to ask and the complexities involved in market forces and team dynamics to facilitate truly productive strategy sessions. We are that trusted partner with proven experience guiding clients as large as the U.S. Army to as small as local non-profits step-by-step through strategic planning processes to help clients:
Accurately assess where you are
Thoroughly envision where you want to be
Realistically strategize how to get there
Achieving Organizational Excellence Through Strong Strategy
At HigherEchelon, we believe in playing to win and helping our clients chart a strategic path to your vision of victory. We bring together a range of tools to ensure you are not only doing things right but doing the right things. We know that successful strategies are not just about problem-solving – but more importantly, about problem-framing, and about devising the right action plan that will inform movements on the micro and macro levels.
It All Begins with Vision, Mission, and Values
Effective strategy is like a bridge that allows you to move from a starting point (where you are now) to where you want to be (your mission and aspirational vision) through a journey marked by guideposts (means & methods) and supported by a strong foundation (your values). Often, organizations fail in their strategic planning efforts because they focus only on improving means and methods without thoroughly charting out the vision, mission, and values. This is ill-advised and like building a shaky bridge without knowing where it will lead or if you have enough materials to finish the job.
We ensure you do not skip over these crucial areas, while working with all stakeholders to foster buy-in, collaboration, and fruitful discussion. When difficult discussions are necessary, we provide professional conflict management to leverage disagreement as an opportunity for organizations to grow stronger and pull in the same direction.
We Offer Customized Human Capital Services and Tailored Strategic Planning Solutions
Every organization has unique goals and needs and we pride ourselves on custom – not canned – services that help you win. Strategic plans are not useful unless there is also an operating plan to drive results short and mid-term. HigherEchelon's practitioners incorporate both in a multi-phased approach so clients have a long-term plan along with short-term actionable projects that will drive results and achieve desired outcomes.
STRATEGIC PLAN
A tool that provides guidance in fulfilling an organization's mission or achieving a goal with maximum efficiency and impact. Effective strategic plans articulate specific business goals and describe the action steps and resources needed to accomplish them. As a rule, most strategic plans should be reviewed and revamped every three to five years.
OPERATING PLAN
A coordinated set of tasks for carrying out the critical goals delineated in the strategic plan. The plan goes into greater detail than the strategic plan, spelling out time frames and the roles of individual staff, executive team, and board members, for example. It also has a shorter horizon than a strategic plan — usually one fiscal year.
Case Study: Typical Strategic Planning Engagement for Non-Profits
Engagements vary based on industry type and organizational needs. Below is an example of a typical strategic planning engagement for non-profits: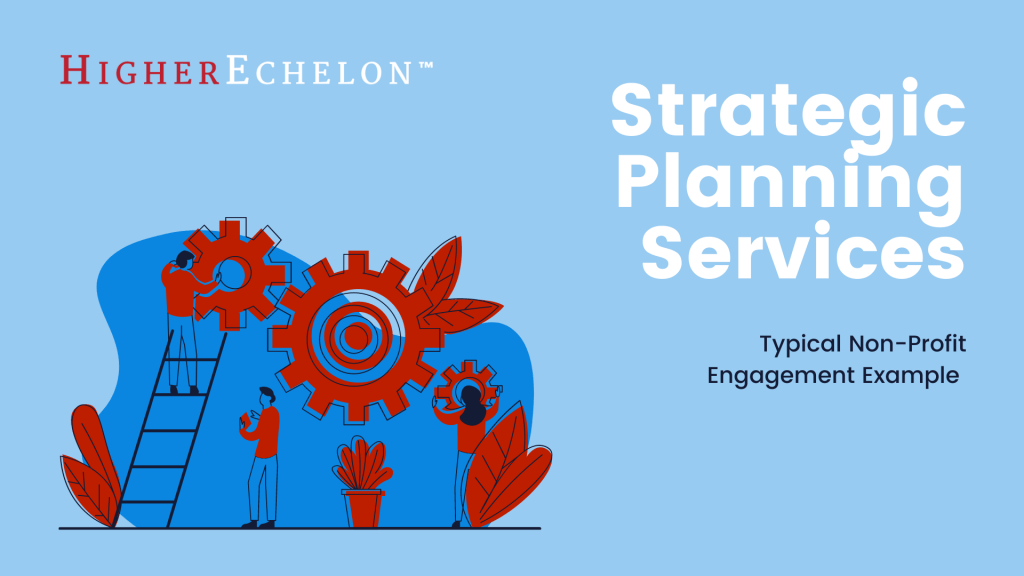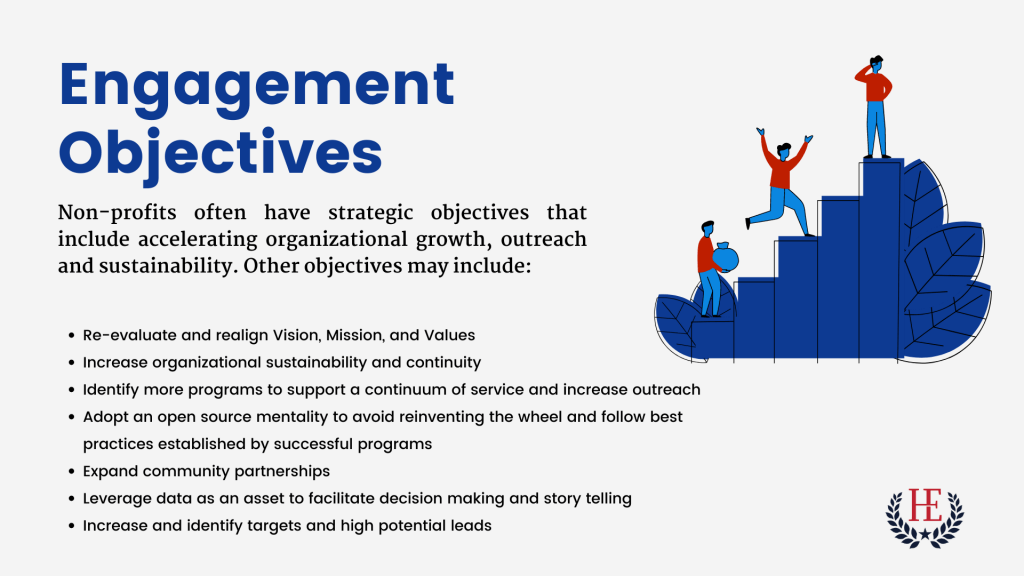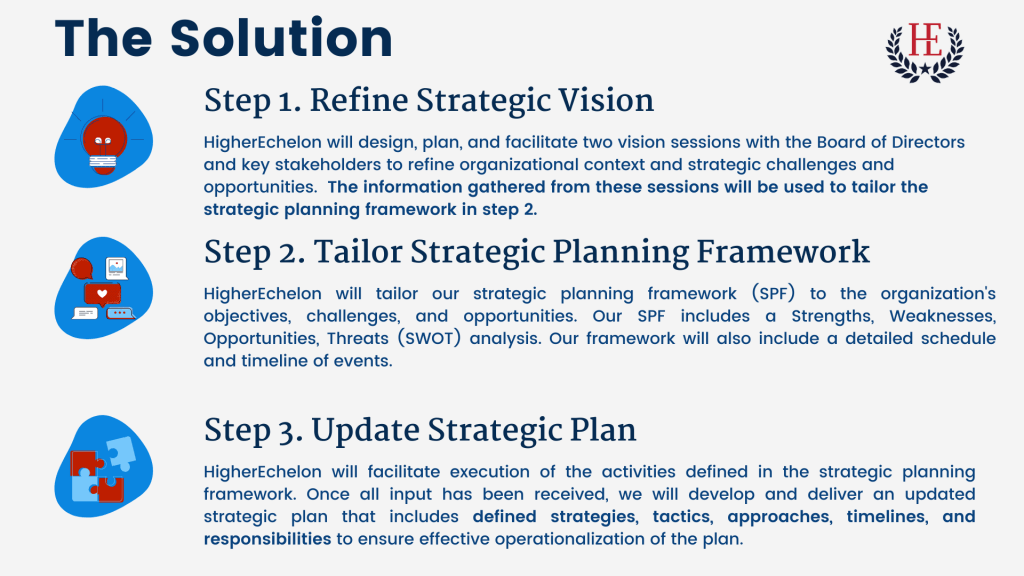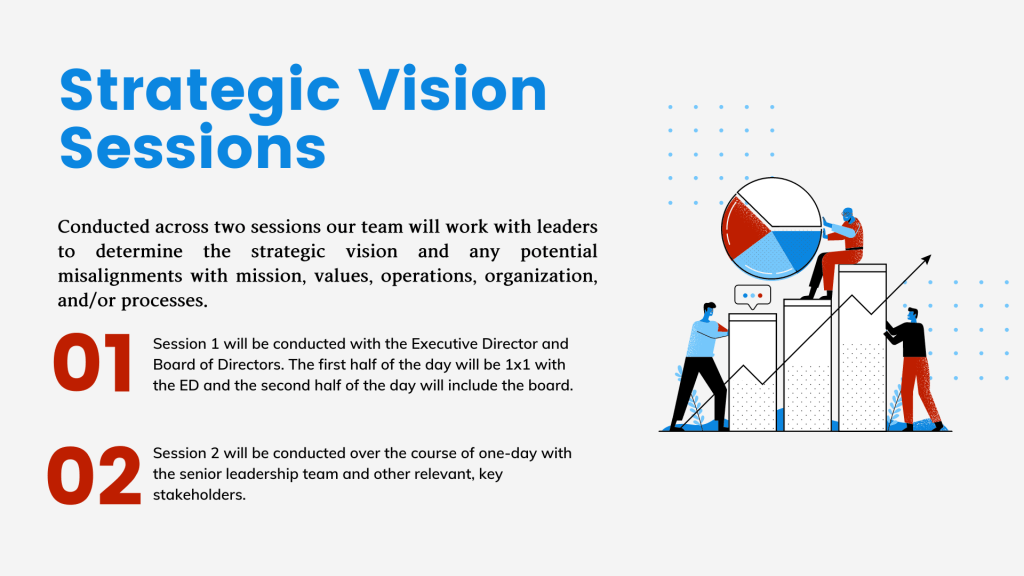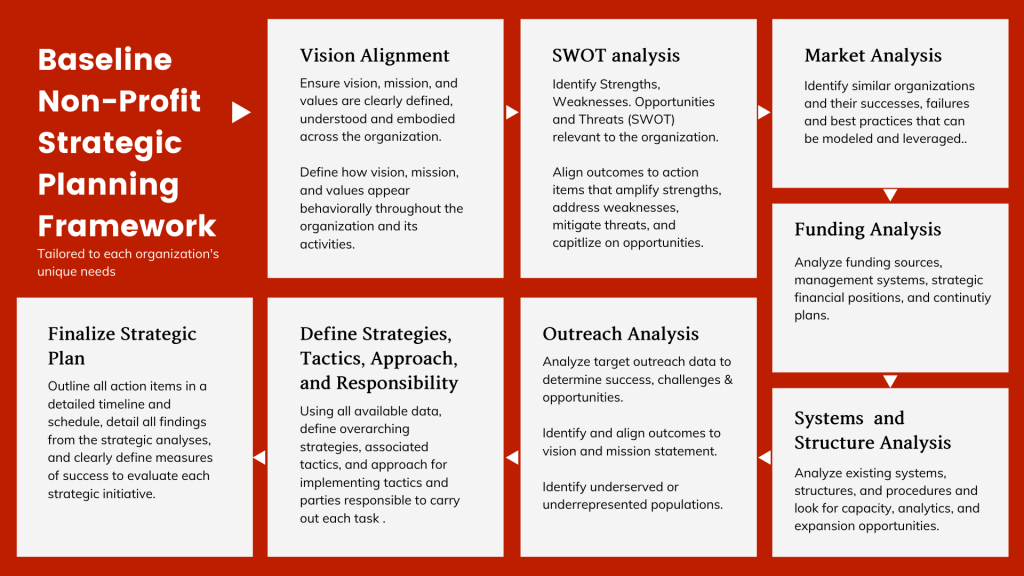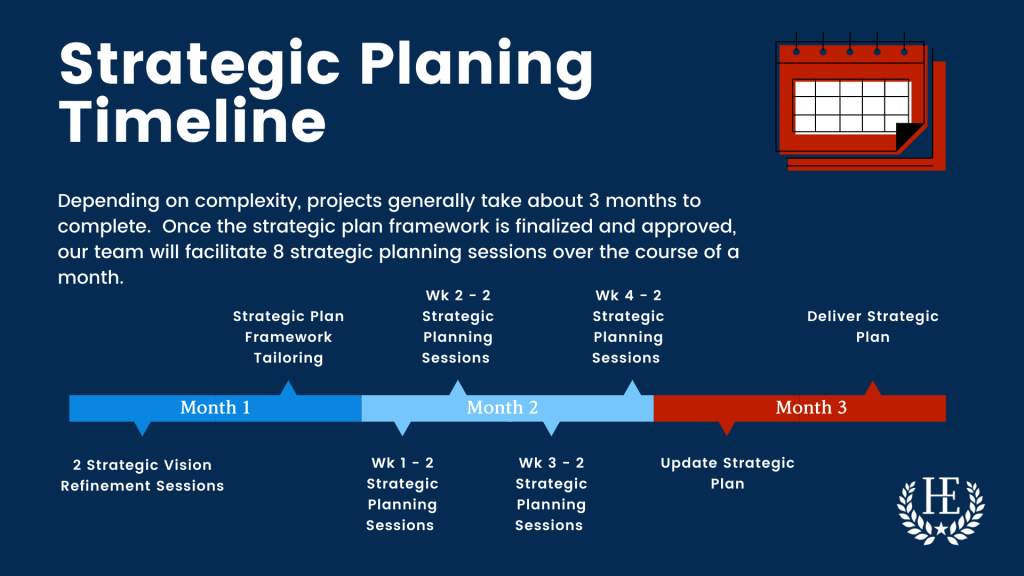 Amplify Strategic Outcomes with Sustained Support
Once we guide you through the strategic planning journey, you will have a solid set of tools to execute your vision and reach your goals. Our partnership does not have to end there — we recommend follow on support including Executive Coaching, High Performance Training, Organizational Change Management and Corporate Team Building to amplify your outcomes.
Contact HigherEchelon for Effective Strategic Planning Services
Your journey begins with a complimentary discovery call where we learn about YOU and your goals. Fill out the form below or contact HigherEchelon at Solutions@HigherEchelon.com or (866) 488-9228.