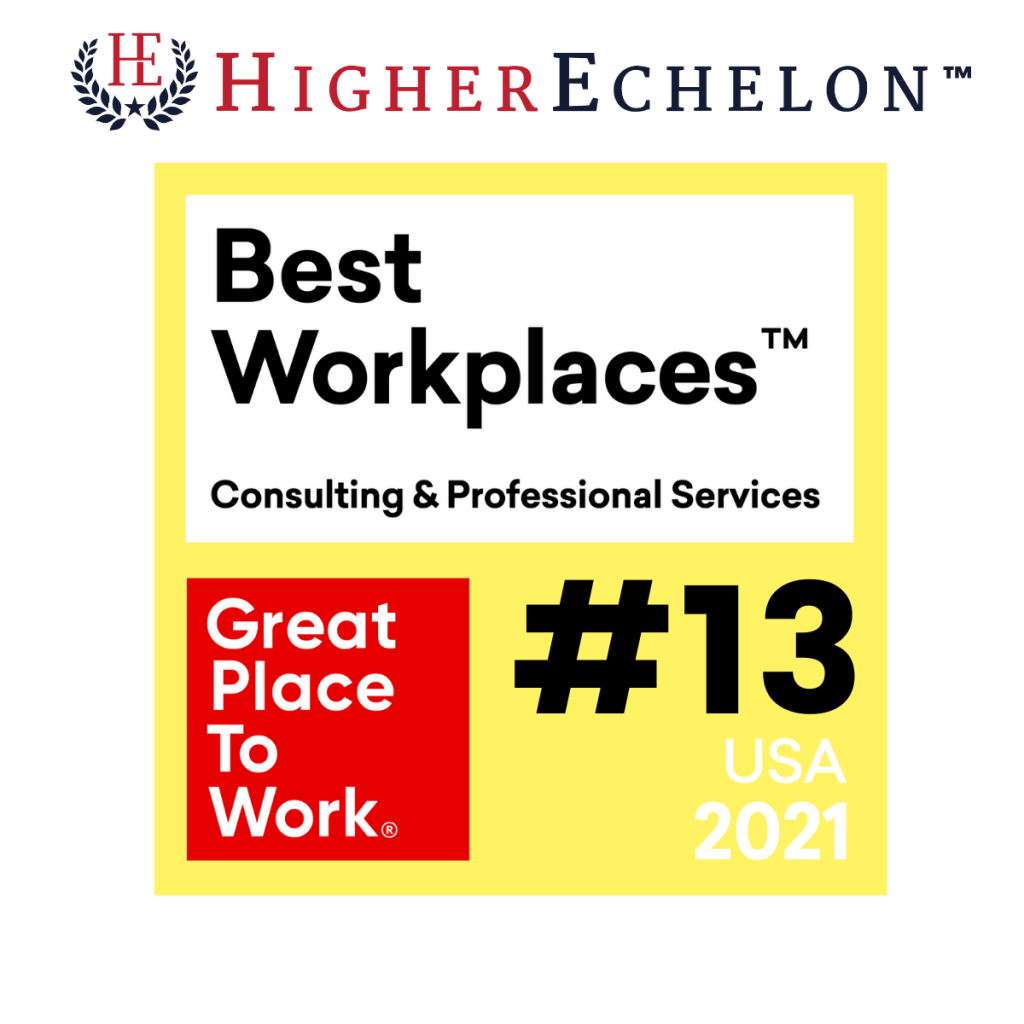 HigherEchelon, Inc. Achieves #13 National Ranking on Best Workplaces in Consulting & Professional Services List 
HUNTSVILLE, ALABAMA – HigherEchelon, Inc. this week announced its ranking as the #13 Best Workplace in Consulting & Professional Services for small and medium businesses, according to Great Place to Work®, who placed the company based upon validated employee feedback gathered with rigorous, data-driven methodology.
According to Great Place to Work®:
"To determine the 2021 Best Workplaces in Consulting & Professional Services list, Great Place to Work® analyzed confidential survey feedback representing more than 463,000 employees working in the consulting or professional services industries in the United States.
Employees responded to over 60 survey questions describing the extent to which their organization creates a Great Place to Work For All™. Eighty-five percent of the evaluation is based on what employees say about their experiences of trust and reaching their full human potential as part of their organization, no matter who they are or what they do. Great Place to Work analyzes these experiences relative to each organization's size, workforce make up, and what's typical relative to their peers in the industry.
The remaining 15 percent of the rank is based on an assessment of all employees' daily experiences of innovation, the company's values, and the effectiveness of their leaders, to ensure they're consistently experienced.
To be considered, companies had to meet the Great Place to Work-Certified standard. To ensure survey results truly represent all employees, Great Place to Work requires that Trust Index© survey results are accurate to a 95% confidence level with a 5% margin of error or better. We review any anomalies in survey responses, news and financial performance to ensure there aren't any extraordinary reasons to believe we couldn't trust a company's survey results. Companies with 10 to 999 people were considered for the small and medium category; companies with 1,000 employees or more were considered for the large category and those that appear on Fortune's 100 Best Companies to Work For list are ranked first."
The national list ranking follows HigherEchelon's recent achievement of becoming a Great Place to Work-Certified Company with unusual results: HigherEchelon's results significantly surpassed the typical company's, according to Great Place to Work™.
To receive certification, companies must have at least 7 out of 10 employees report a consistently positive experience. Ninety-seven percent of employees at HigherEchelon say it is a great place to work compared to 59% of employees at a typical U.S.-based company, according to a Great Place to Work™ 2019 U.S. National Employee Engagement Study.
"I'm blown away by HigherEchelon's scores," said Shelia Kelly, client solutions manager at Great Place to Work™. "When we see scores like these and talk to employees who value their organizations as much as HigherEchelon employees do, it is so fulfilling to us and our mission."
HigherEchelon employees were asked to indicate agreement or disagreement in Likert-score anonymous survey responses across a variety of statements. HigherEchelon's outstanding results included the following highlights:
— 99% say "People avoid politicking and backstabbing as ways to get things done."
— 99% say "Our customers would rate the service we deliver as 'excellent.'"
— 99% say "People care about each other here."
— 99% say "You can count on people to cooperate."
— 98% say "Management makes its expectations clear.
"We make employee experience a high priority and it means a lot to see our employees report such consistently positive experiences with their co-workers, their leaders, and their jobs," said Paul Maggiano, HigherEchelon Co-founder and Partner. "This is important to us because we value our team and also know that when our employees have a high-trust experience, they are more productive, drive better business results, and make a difference to our customers."
HigherEchelon is an award-winning organizational performance consulting firm founded in 2009 that helps organizations embrace change and thrive in the modern business environment by developing resilient and adaptable leaders, optimizing business processes, and implementing transformational technology solutions.
"We are honored to be Great Place to Work-Certified™ and rank so highly on the Best Workplaces list," said HigherEchelon President Joe Ross, Ph.D. "We are driven to create an outstanding corporate culture for our employees and know we could not be where we are without these hard-working and trusted individuals. We care about their experiences and are grateful for each team-member."
HigherEchelon offers solutions in: Human Capital Services, Salesforce Consulting, Gaming and Simulations, Enterprise Technology, Engineering, and Cyber Operations and Training.
"When I transitioned out of the military, I wanted to find a company that valued me and would develop me as a professional," said Jeff Caslen, HigherEchelon Senior Proposal Writer. "Everyone in HigherEchelon cares about me achieving my personal and professional goals, and spends time mentoring me. HigherEchelon practices the organizational approach they teach to other companies, and it creates a warm and welcoming culture of excellence."
HigherEchelon employs 140 people across the country and is headquartered in Huntsville, with a corporate office in the Washington-D.C. area.
"HigherEchelon is an amazing place to work as they saw not only the skills I had when applying, but the potential for growth in the future," said James Holland, HigherEchelon Systems Engineer. "They gave me the tools and support needed for me to succeed and almost immediately put me in a leadership role. I have not only received career and developmental advice from every level of company leadership, but have also received personalized notes, letters, and nudges at every major personal and professional milestone. This company truly cares about its people in the office and at home."
Great Place to Work is the global authority on workplace culture, employee experience and the leadership behaviors proven to deliver market-leading revenue and increased innovation.
"Of all our customers, this is the first time I've seen a company's bottom scoring area still receive a 90% positive rating," said Carissa Bradford, Great Place to Work™ customer success manager. "This is wonderful to see."
To learn more about HigherEchelon, visit HigherEchelon.com and their Great Place To Work company profile page. Find helpful resources for optimizing human and organizational performance on the company's LinkedIn, Twitter, and Facebook pages.
"I love working for HigherEchelon, because of the people and the opportunities to learn from each other," said HigherEchelon Salesforce Trainer Ashley Hayes. "Every team member is always willing to support and help you through a challenge. I learn something new every day from one of my colleagues and appreciate that HigherEchelon gives us that opportunity for professional development and creates a work environment to do so."