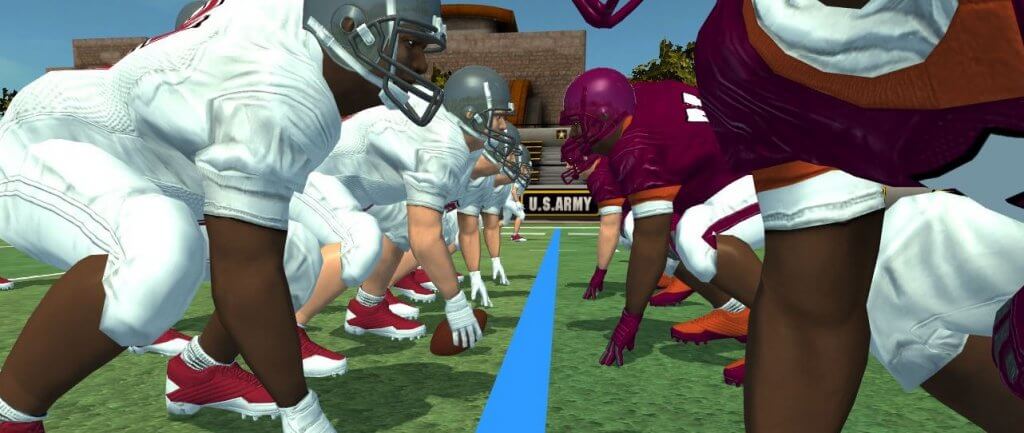 Author: Brent Osborne, HigherEchelon VP of Gaming & Simulation
Editor: Rachel Bryars
Football programs are already kicking into high gear for the 2022 season, but it's not too late to integrate 3D visualization tools into your tech stack.
Even as football programs move back to more in-person sessions, virtual sports training will continue to serve a vital role in the preparation of student-athletes across the nation. The power of mental reps, the ability to practice as a team while separated, and the impact virtual training has on visual learners are just some of the benefits.
What's the best way to leverage virtual sports training? By integrating tools like GoArmy Edge Football (GAE) into your existing training plan. GAE is a free football training application developed by the U.S. Army that allows coaches to easily create playbook content in a 2D "whiteboard" editor and play that content back in a fully realized 3D environment. This application is a fantastic addition to any program's training arsenal and is used by football programs ranging from high school to college to the NFL.
GAE released developments this year that make it easier than ever to get your players in the mental zone through visualization. Those updates are:
Playbook Import/Export — a huge time-saving feature for coaches who use separate software for their 2D and 3D plays.
GoArmy Edge Football VR on the Oculus Quest 2 — Edge Football VR increases the realism for student athletes, literally placing them on the field with the same Edge plays drawn for Phones and Tablets. More on that below.
For the past nine years, the HigherEchelon Gaming & Simulation division has supported the development and sustainment of the GoArmy Edge Football application.
Our In-Season Approach
Here's how football programs, like the high school one I have helped coach, integrate GoArmy Edge into their tech stack to save time and take their players to the next level.
Like most high school football programs, we utilized Hudl for our video solution. Practices and games were filmed, tagged, and cut, then uploaded for our players to review. Regardless of your video solution (QuikCut, Catapult, etc), this is a must – 3D visualization like GoArmy Edge isn't meant to be a replacement for film, but another tool in your coaching arsenal.
For our playbook, we used a combination of three applications:
We used ProQuickDraw for initial 2D Drawing.
At the time, we re-drew the plays in GoArmy Edge Football for 3D Playback capabilities. While Edge Football has plenty of time-saving capabilities, this still required additional time and effort. With GoArmy Edge's new Import feature, you can now directly import plays from ProQuickDraw from an export file.
Finally, we pulled in our drawings and captured videos from ProQuickDraw and GoArmy Edge into Learn To Win. Learn To Win allowed us to add additional coaching points to our diagrams and was great for installs and unique situations.
When pandemic restrictions limited on-field time, we utilized virtual meetings with our players through Zoom to do installs and practice corrections. For players who were not able to attend the virtual meetings due to scheduling conflicts, we recorded the Zoom meetings and did separate voice-overs to send out before practice.
Even with on-field time expanding for most programs, there is always uncertainty. It is still crucial to have a remote plan in place for quarantined players or teams, not to mention injury, weather events, or other regular practice disruptions.
Our Schedule
Our staff utilized a flipped-classroom learning model, where we provided all the information to our student-athletes ahead of practice. This allowed us to have fast and efficient on-field practice, as the long install and walk-through periods were no longer needed.
Before the season started, the staff built our practice schedule around these virtual meetings and content. This allowed the staff to get in a solid battle-rhythm in terms of getting content generated at a reasonable pace, while giving the student-athletes the advantage of knowing what to expect each week.
Each practice day, we did the following:
Morning

Virtual Install – We sent install clips using GoArmy Edge to the players in the morning for review on their own time.
Corrections – we provided voice-over correction videos for players who could not attend our pre-practice meeting.

Before Practice

Virtual Meetings (Zoom or In-Person) – using a combination of video and GoArmy Edge, our position groups met to review corrections from the previous practice along with install for the upcoming practice.
Quick Walk-Through – 10 minutes before practice to cover the install material sent out before practice.

Practice
Post-Practice

A la Cart Follow Up – we created and sent out additional tailored content based on the specific learning needs of each athlete. Some of my players would be able to pick up corrections in GoArmy Edge alone, while others preferred telestration in Hudl.
We used this flipped-classroom model with our student-athletes for the 2020 and 2021 season. One of the biggest advantages you gain from using these platforms is that players have access to this content 24/7 instead of just one hour before practice. Between having on-demand access, and having content available in different mediums, your athletes will have the greatest chance to succeed on the field.
Pre-Season Approach
With summer training in full swing, now is a great time to start implementing virtual training with your student athletes. These in-season install procedures can easily be implemented before the season begins, getting your athletes used to the schedule before training camp.
The new GoArmy Edge Football VR on the Oculus Quest 2 is a great way to give your student-athletes more realistic mental reps, especially in situations where on-field time is limited. Edge Football VR is compatible with playbooks you've already drawn in Edge Football and can be used in a classroom setting (coach watching on an external monitor while a QB goes through their progressions) or at home.
Visit www.goarmyedge.com for more information.
Are You Interested in Virtual Sports Training?
Thinking about integrating this type of technology into your sports program or beyond? We are the go-to provider of virtual sports training solutions as well as extended reality experiences for a range of organizational training needs.
Leverage our experience to bring your vision to reality: Schedule your free consultation and demo today by calling us at 866-488-9228, emailing us at Solutions@higherechelon.com, or filling out this form.
Have other training needs that are dangerous, expensive, or otherwise difficult to fulfill? Check out our range of safe and cost-effective serious games and virtual trainer solutions and the range of extended reality (XR) possibilities we bring to life for clients.
Read more Gaming & Simulation Blogs & Articles
Never miss a blog post: Get Gaming & Simulation blogs and tips in your email inbox