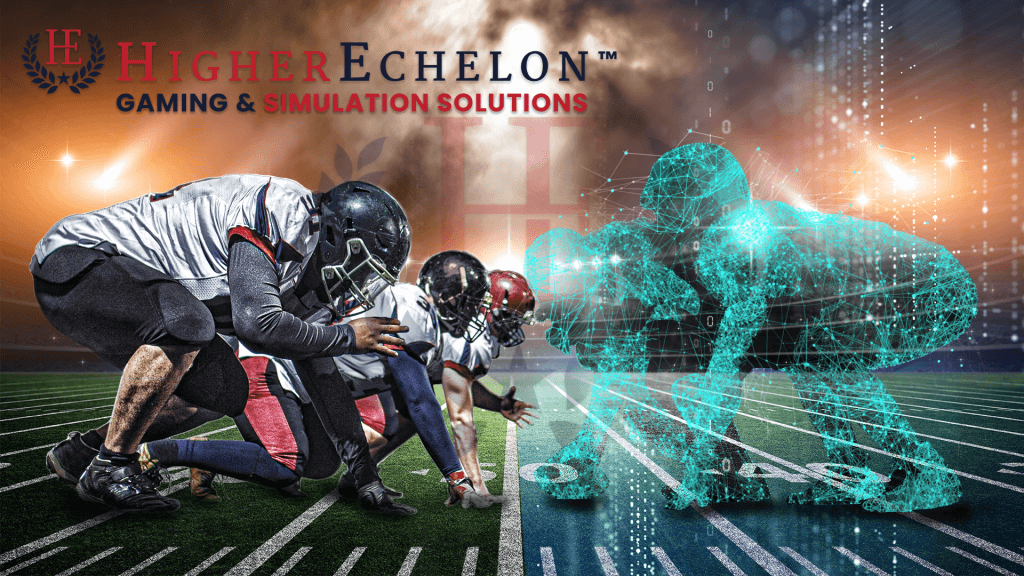 It's no secret training is critical to success for athletes at every level, from rookies to professionals. However, many coaches and managers struggle to find effective and efficient ways to fill training gaps that happen during the off-season, athlete injury, weather events, travel, and, in recent years, pandemic quarantines. Now more than ever, teams are turning to digital solutions to support these efforts.
If you are looking to leverage cutting-edge technology to train your team, virtual sports training is the solution for you. Using gaming and simulation technology, you can develop a place where your athletes can learn and prepare in a virtual environment before going out on the field – regardless of any events that may prevent synchronous on-field practice.
Understanding Virtual Sports Training
Virtual sports training typically uses 3D graphics to emulate real-world environments, providing an immersive experience for players. Many of these applications also leverage virtual reality technology. When you enter a virtual reality environment for training, you find yourself immersed in the simulation and can gain hands-on experience practicing certain skills.
Increasing numbers of sports teams use virtual reality to accelerate their athletes' training routines, especially when they do not have access to the usual tools or field. It is becoming ever more important to integrate virtual sports training into your program to remain competitive against other teams who already do.
The Benefits of Virtual Training for Athletes
By investing in virtual training, coaches and managers can improve their teams' skills and cohesiveness, plus leverage a range of benefits such as:
Provide a Realistic Environment:

One of the major benefits of virtual sports training is that these simulations provide a highly realistic environment for athletes. By simulating the actual field, athletes are better equipped to bring their skills from the virtual environment to the actual game. 

Practice Anywhere, On Demand:

Athletes can use this technology to run unlimited reps or practice plays before a game in virtually any location. This can be valuable during travel or when athletes are unable to meet in person.

Fill In Training Gaps:

Virtual training makes it simpler to visualize plays and understand game strategies before going out on the field. This technology can fill in critical training gaps and help get your entire team on the same page, reducing mistakes.

Reduce Training Impact:

Training on the field can have a significant impact on an athlete's body, and recovery can be tough. By providing a virtual environment, coaches can reduce the impact of training on their athletes, allowing them to perform at their very best on the field. Additionally, injured players don't have to fully sit out or risk re-injury while they recover. VR technology means sidelined athletes can still get mental reps and improve skills in highly realistic digital environments.
Case Study: GoArmy Edge
For the past nine years, the HigherEchelon Gaming & Simulation division has supported the U.S. Army's development of the GoArmy Edge suite of sports training applications.
GoArmy Edge Football is a free football training application that allows coaches to easily create playbook content in a 2D "whiteboard" editor and play that content back in a fully realized 3D environment. This application is a fantastic addition to any program's training arsenal and is especially effective for athletes that are visual learners.
Football teams ranging from high school to college to the NFL use GoArmy Edge throughout their seasons for uses such as:
Install
Formation Recognition
Blitz Pickup
Special Teams Install
GoArmy Edge is available for Windows, Mobile, and browser use. Visit www.goarmyedge.com for more information.
Are You Interested in Virtual Sports Training?
If you're looking for a high-stakes training environment to boost your athletes' competitive edge, the experts at HigherEchelon can deliver. The ideal solution for your organization will depend on your unique needs. For example, youth leagues may want to develop programs that help athletes learn and practice core skills at home, like passing, hitting, or setting. A professional team may want to add supplemental cross-training exercise or stretching programs to its regimen.
Our team provides virtual sports training consulting and applications for all of your high-performance needs, walking you and your team though every step of the process. Schedule your free consultation and demo today by calling us at 866-488-9228, emailing us at Solutions@higherechelon.com, or filling out this form.
Have other training needs that are dangerous, expensive, or otherwise difficult to fulfill? Check out our range of safe and cost-effective serious games and virtual trainer solutions and the range of extended reality (XR) possibilities we bring to life for clients.
Read more Gaming & Simulation Blogs & Articles
Never miss a blog post: Get Gaming & Simulation blogs and tips in your email inbox
Check out our demo reel:
Learn about our work and approach: