High Performance Sales Team Training
Client Review
Success in sales requires teams to win in all phases of the cycle: preparation, execution, and follow up, much like competitive sports. Clearing our mind, adding focus, and uniting a leadership team to these principles were beacons to our success. I am certain these improved, sustained behaviors allow us to consistently achieve our goals. This training helped me achieve business results simply because it helped me get the best out of my team."
– Stryker General Manager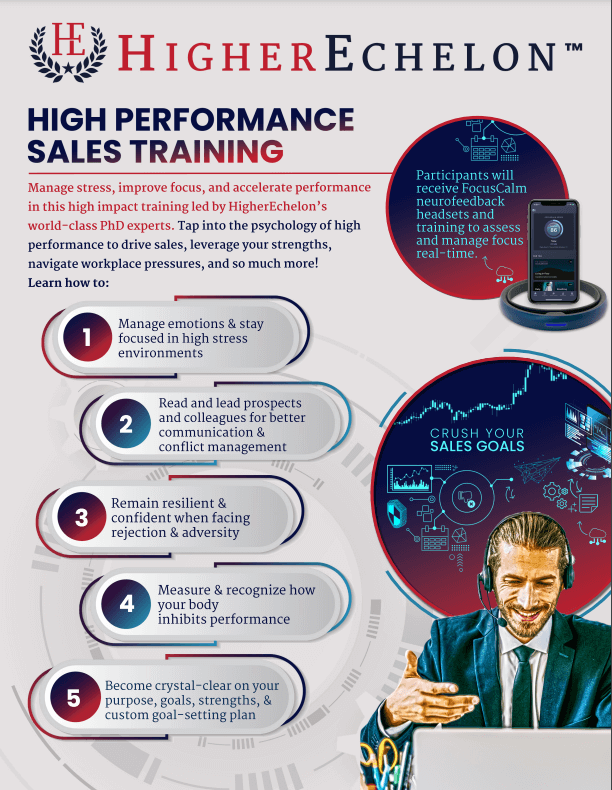 High Performance Sales Start with High Performance Skills
Close More Deals, Thrive in Stressful Environments & Persevere in Sales Longterm
Sales teams are under more pressure than ever to adapt and succeed in a complex business environment that is high-pressure, globally competitive, and digitally complex. Amid looming recession concerns and widespread layoffs, it's no secret that sales teams exist on the cusp of perpetual burn-out, with current statistics pointing toward a sharp increase in that trend. According to The Bridge Group, the average sales rep tenure is roughly 1.5 years, as compared to roughly three years in 2010. And according to a Forrester study, 65% of survey respondents reported that they are experiencing unwanted sales turnover.
Post-pandemic expectations have added to the pressure. The ability to successfully connect with leads in a saturated virtual landscape has become an essential skill: Even as traditional face-to-face selling opportunities have returned, lead appetite for virtual options remains. According to McKinsey and Co. research,"Hybrid sales reps will soon become the most common sales role. Sixty-four percent of B2Bs intend to increase the number of hybrid sellers over the next six months, making this model the lead sales role."
These conditions and more provide a range of challenges and opportunities for modern sales reps, who often are also coordinating with their own team members in hybrid, dispersed environments that add time and complexity to their jobs, while managing the range of tasks that eat into sales activities. One study of 720 reps found that nearly two-thirds (64.8%) of reps' time, on average, is spent in non revenue-generating activities, leaving only 35.2% for functions related to selling.
What does all of this mean? Successful sales reps must develop a strong base of high performance skills that will help them adapt to technology changes, manage their mental and emotional landscape under pressure, and thrive in the rapidly changing modern environment.
The Sales Game-Changer: High-Performance Training in Mental, Emotional & Behavioral Skillsets
Have you ever wondered how the best surgeons, professional athletes, elite special forces teams, CEOs, and other top professionals in demanding, stressful roles perform at peak levels that appear to go beyond normal human ability? What's their secret? Mental, emotional, and behavioral skillsets that are trainable.
HigherEchelon is the premier provider of high performance sales training that harnesses the power of high performance psychology to develop mental and emotional skills such as resilience, grit, psychological hardiness, attention control, stress and energy management, emotional agility, and adaptive thinking. We work with NFL teams, professional athletes, Fortune 500 sales teams, high stakes medical providers, national security teams, elite special forces divisions, and beyond to drive high performance at the highest levels.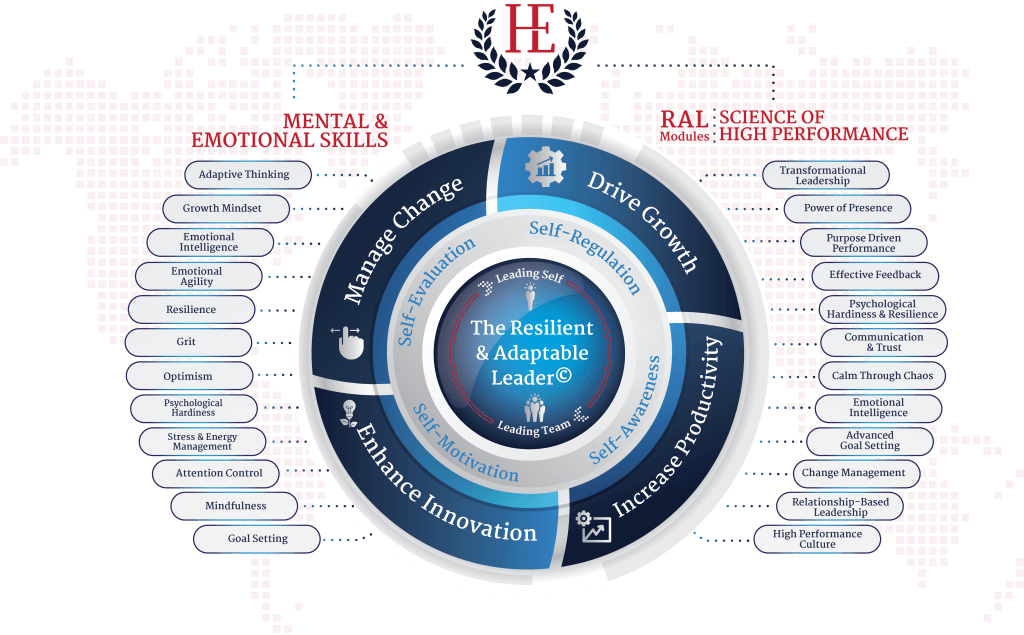 Our Approach to High Performance Sales Training
HigherEchelon's approach to developing a high performance sales team consists of three phases that incorporate workshops, training, 1-on-1 coaching, group coaching, assessments and ongoing support in three phases: (1) Build, (2) Fortify, and (3) Achieve.
Phase One lays the foundation of high performance and sales skills. Phase Two includes hands-on application time centered on re-enforcing the learning from the build phase.  Phase Three establishes high performance behaviors through repetition and coaching.
Throughout the phases, we take time to get to know each participant, build authentic trust and rapport, and determine primary motivators. Through coaching, we draw out feedback that allows us to address fundamental strengths and weaknesses.
Client Review
"To this day I still utilize the training and techniques we worked on together. It was the best coaching I've ever received in my 35 years as a manager and sales representative."
– Hyster-Yale Area Business Manager
Training Paired with Coaching Turbo-Charges Results
According to a Personnel Management Association internal report, individuals increase their productivity by an average of 86% when training is combined with coaching, compared to just 22% with training alone. HigherEchelon brings together high-impact training and coaching to turbo-charge outcomes that persist long-term.
We work with the organization's sales team and executives to generate powerful goals, a clear picture of the organizational culture and processes, and develop the necessary tools for high performance. We often break out teams into reps and leaders to target specific needs within each group to support their development, while bringing both groups together in sessions to learn from our instructors and each other. By providing candid feedback and participation, the participants work as a team to align the organization's strategic goals.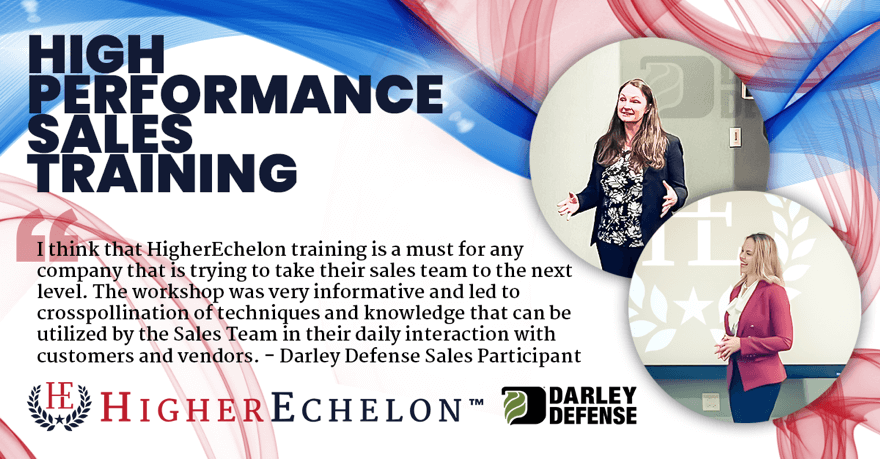 SALES WORKSHOPS
Our workshops allow participants to collaborate under the direction of highly skilled and educated instructors. We tailor our curriculum to meet the specific needs of the organization and work with teams on Capstone projects that bring the material into practice. Ultimately, the workshops are transformational experiences that help the sales team break through personal limitations and barriers to measurably improve their outcomes.
EXECUTIVE-LEVEL WORKSHOPS
Executive-level workshops are designed for executives to take a guided deep-dive into their organization and develop strategies to run and manage an effective team. Our instructors also support the development of intercommunication skills to increase trust and transparency throughout the organization.
Examples of Workshop topics include:
1. Building a High Performance Sales Culture
Organizational Performance
Communication and Trust
High Performing Team Culture
Optimized Remote Culture
Developing a Clear Success Framework
2. The High Performance Mindset
Fundamentals for Consistent and Deliberate High Performance
Power of Presence
Sales Mindset
Why Mindset Matters More Than Talent
3. Sales Leadership
Sales Team Data Management and Reporting
Effective Planning
How to Professionalize the Team
4. Leading an Effective Sales Meeting
Communication and Trust Facilitating High Performance
How to Build a Clear Success Framework
5. High Performance Fundamentals for Consistent and Deliberate Sales High Performance
Psychological Hardiness
Grit and Resilience
Business Development as a Performance Anyone Can Master
6. Business Development Skills and Behaviors
Time Management
Preparation and Goal Setting
Authentic Sales Conversations
Follow up and Information Management
How To Quickly Build Rapport
How To Listen for Pain Points
ONE-ON-ONE COACHING
HigherEchelon's one-on-one coaching allows each participant to have personalized sessions with our ICF-certified executive coaches. Through the coaching sessions, sales representatives develop their personal and professional goals, identify strengths and weaknesses, and learn methodologies for increased productivity based on their skillsets. Our coaching sessions remain confidential, fostering honest and open discussions with participants. The participants leave the coaching sessions with a renewed focus and motivation to achieve their personal and professional goals.
GROUP COACHING
Our group coaching sessions serve as part of our reinforcement training and are proven tools to strengthen teams, improve morale, reinforce learning lost due to the "forgetting curve", and powerfully bond team members through accountability, shared experiences, and camaraderie.
EFFECTIVENESS ASSESSMENTS
One of the reasons HigherEchelon is the premier trusted partner for sales training is that we track and measure program effectiveness over time.  Prior to training delivery, we develop and formulate custom assessments that determine readiness and are administered online to all identified audiences to determine a baseline understanding of program goals and training. We assess and measure for impact and effectiveness at multiple other points during the three phases.
Upon completion of the development program, HigherEchelon provides organizations with a detailed report for continued awareness, development, and informed decision-making.
Meet Some of Our Instructors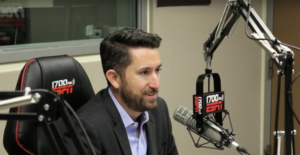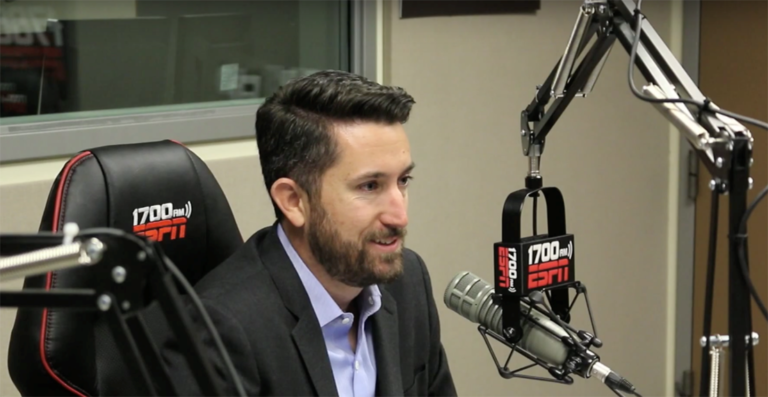 Dr. Eric Bean holds a masters degree and Ph.D. in Sport and Exercise Psychology with over 15 years of experience as an Executive Leadership Coach, Organization Performance Consultant, Mental Performance Coach, and Instructor for both Military and private sector clients. Through both one-on-one and group trainings, Dr. Bean has worked with Army Special Forces, Navy SEALs, surgeons, business professionals, and athletes on the psychology of high performance, leadership development, culture, and team dynamics.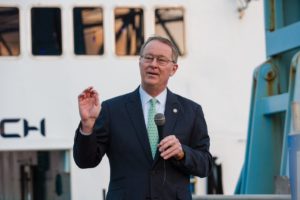 Donnie Horner, Ph.D.
Dr. Donnie Horner graduated from the United States Military Academy at West Point with a Bachelor of Science degree in General Engineering, where he was an Army football QB. He earned an M.S. in Transportation (Systems) from the Massachusetts Institute of Technology, and an M.A. and Ph.D. in Sociology (Organizational Theory) from Stanford University. He has worked for and with leaders at the highest levels of the government and commercial sectors and is an expert in organizational culture, change management, leadership, and high performing teams.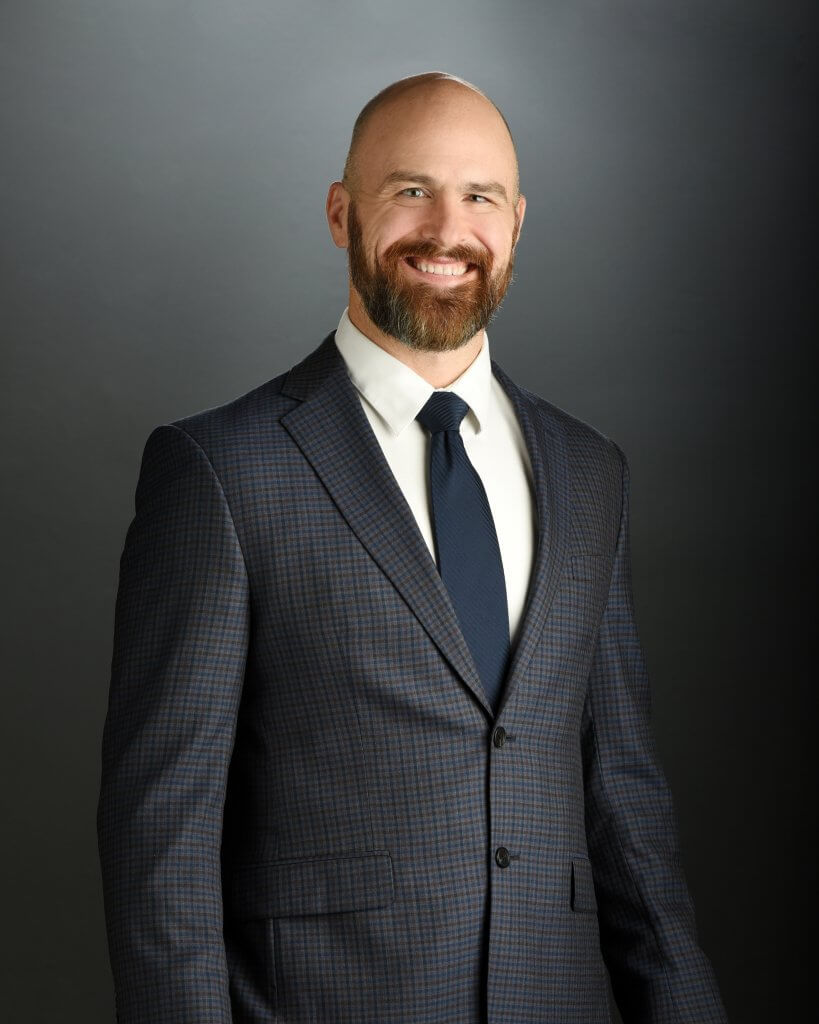 Steven Spaulding, M.A.
Steven Spaulding has 25 years of human behavior, leader development, business development, and coaching experience. In his first year as the director of business development at HigherEchelon, Steven closed the largest commercial contracts in company history, while delivering high level coaching on multiple programs, serving as a program manager, and developing company marketing materials. Steven graduated in the top 20% of his class from the United States Military Academy at West Point with a degree in Systems Engineering and Human Factors Engineering and earned a varsity letter in football. He holds a master's degree in Clinical Mental Health from Antioch University New England. He is an Airborne Ranger qualified armor officer who deployed with the 1st Cav to Iraq, he spent time as a procurement officer in telecommunications and previously served as the Assistant Athletic Director for Leadership at Dartmouth College.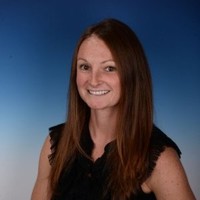 Angie Fifer, Ph.D.
Dr. Angie Fifer is a Program Manager at HigherEchelon, Inc., where she manages programs and delivers trainings as a subject matter expert in human high performance. Dr. Fifer also provides executive and high performance coaching for government and private sector organizations, including business development teams in the public and private sector. Dr. Fifer is a certified mental performance consultant through the Association for Applied Sport Psychology (AASP) and an Associate level coach through the International Coaching Federation (ICF). She is a Prosci-certified change practitioner and has worked on multiple government contracts providing leadership development and cognitive enhancement training, as well as in multiple university athletic departments. Dr. Fifer earned her masters degree in Sport and Exercise Psychology from California State University at Fullerton, and a Ph.D. in Sport and Exercise Psychology from Michigan State University.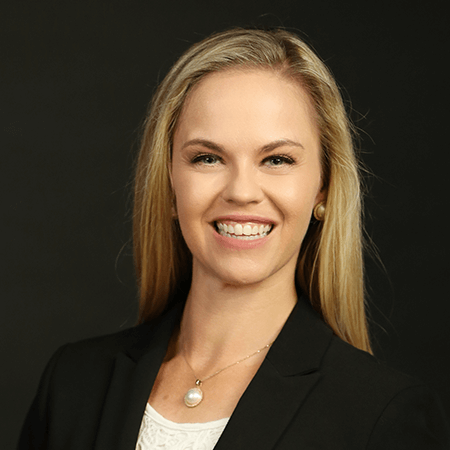 Rachel Bryars, M.A. 
Rachel Bryars began her career in sales and advertising, appearing in national and international ad campaigns for companies ranging from Pepsi to the U.S. Army. She worked in multiple agencies serving businesses with short sales cycle support needs ranging from car sales to high end clothing retail to non-profit fundraising events to industry conferences. She has taught communication topics that apply to sales and general persuasion scenarios in multiple colleges and universities, including to U.S. and NATO service members earning their degrees at the University of Maryland's overseas campus in Naples, Italy. Before coming to HigherEchelon, Bryars owned and operated a successful creative services agency, serving a range of corporate and media clients. She holds a M.A. in Communication with an honors thesis distinction from The Johns Hopkins University and is co-host of Belle Curve Podcast, covering life and work topics, including how to get out of your own way to better communicate.
Get in Touch Today to Take Your Sales Team to the Next Level
Ready to take your team to the next level? Call us at 866-488-9228, email us at Solutions@higherechelon.com, or fill out this form to be contacted about an initial consultation.
Read more about our signature Resilient & Adaptable Leader Program
Check out our company awards and client testimonials
Client Review: 5/5
★ ★ ★ ★ ★
I have worked with a few other coaches in my past and came to our initial sessions with some predetermined thoughts/expectations on how they would play out and what I could ultimately gain from them. However, it took only a few meetings to understand that Eric brings to his work a very different level of knowledge with a genuine passion that I had not previously experienced. He absolutely helped me reach the goals that we set out to address. However, through our work and various conversations I realized his teachings could be applied to several other areas in both my professional and personal life. I thoroughly enjoyed working with Eric. He is exceptional at what he does and I greatly value everything I have learned from him."
– SVP Sales & Marketing, company confidential