Employee Portals & Applicant Tracking Powered by Salesforce
Client Review: 5/5
★ ★ ★ ★ ★
HigherEchelon's team is extremely professional and high caliber. They are very knowledgeable on the Salesforce platform, while offering solutions to business problems. That's a hard mix as most partners tend to be over indexed in one particular way. HigherEchelon knew how to leverage the platform to solve our business needs.
– Client, Financial Services Sector, public review on Salesforce AppExchange
Save Time & Streamline Processes with User-friendly Employee Portals powered by Salesforce
Employee portals are essential to productivity. If they are well designed, they can help employees work faster, find key content faster, connect with others in the organization faster, and find answers to questions faster. In short, a well-designed employee portal enables everyone within your organization to work smarter, not harder.
The speed of technology change requires organizations to be efficient, and to make efficient use of resources to remain competitive. This means cutting down on the time it takes for employees to do everything from completing the onboarding process to submitting an expense report, finding company policies, managing performance evaluations, even requesting support through an internal ticketing system.
Do You Need an Employee Portal, or Does Your Current Portal Need Modernization?
Though it may seem daunting to take on designing, configuring, building, and launching an employee portal, or making improvements to an existing employee portal, it is important to weigh the cost of change against staying the same. Is your organization keeping key documents up to date, or are company policies and procedures out of date, and stored in disconnected systems? Is it easy for employees to get the support they need, or does it take multiple emails and phone calls for them to get an answer? Do all your systems – employee facing or otherwise – talk to each other, or do your teams have to log into multiple systems each day to complete their work?
Digital transformations may feel daunting, but on the other side are long-term wins that will pay dividends in saved work hours and resources. Additionally, when employees know there is a one stop shop for everything they need, they are more likely to feel supported and engaged. When employees are engaged, they are more focused, happy, and productive.
HigherEchelon Can Help You Leverage All the Benefits of Your Salesforce Implementation with an Employee Portal.
So how does an organization begin to design and implement an effective employee portal? That is where HigherEchelon can help, and we believe the best CRM to handle the full range of organizational needs, including an employee portal, is Salesforce. And we know because it is how we do it. From an internal support ticket system to tools configured to help employees manage purchase requests, annual reviews, training, even recruiting, our own internal employee portal is an efficient, organized, one stop shop.
Most organizations that invest in Salesforce will require an implementation partner to set up, configure, and train on how to use it and get the most out of the investment — that is where we come in. Our team of experts knows how to ask the right questions to come up with the right solutions to help your team create an employee portal that significantly improves productivity and engagement. We can help you leverage the Salesforce platform to support an employee portal that:
Serves as a one-stop-shop for all organization needs
Is fully customized to reflect your organization's branding
Offers an internal place for employee communication and chats that facilitate collaboration
Stores, tracks, and manages employee credentials
Automatically sends out alerts and reminders for outstanding tasks
Provides a user-friendly experience with intuitive tabs to make resources easy to find
Integrates information from the recruiting, applicant tracking, and onboarding stages of the overall talent management experience
Take it from Us. We've Seen Results with Our Own Employee Portal.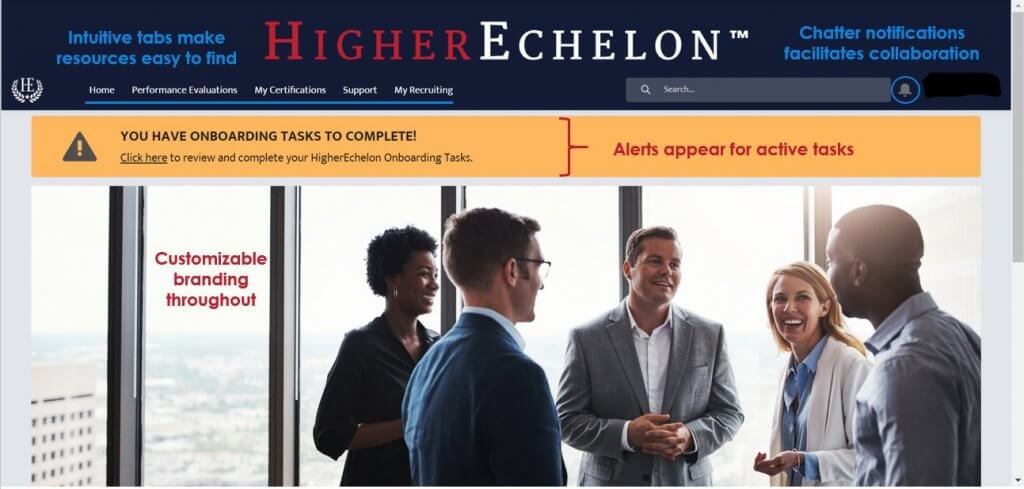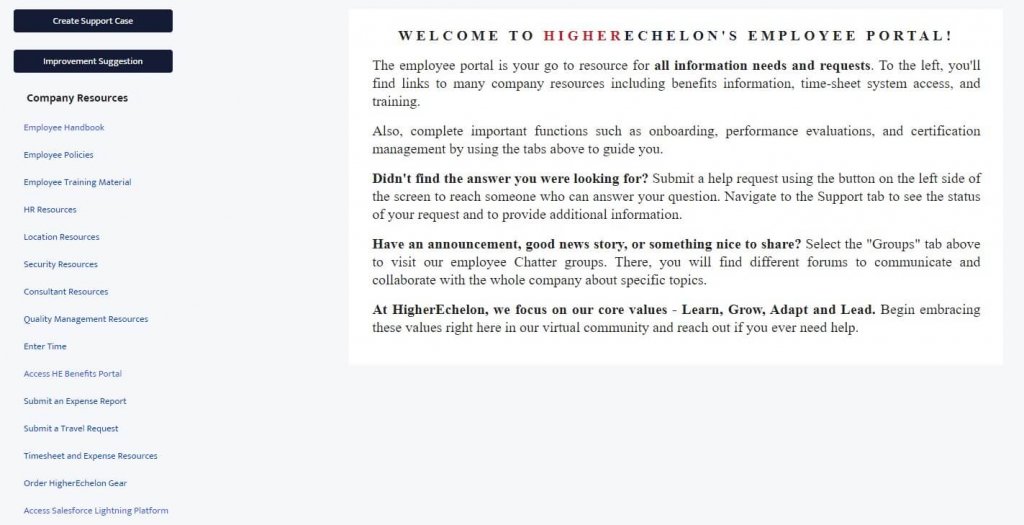 Are You Juggling Multiple Business or Employee Management Apps? HigherEchelon Can Help.
Though we strongly believe in the capability of the Salesforce platform to meet organizational needs, we also understand the necessity of balancing the cost of procuring license with platform utility. Our team of experts knows that, with a bit of creative configuration, you can stretch your user licenses and get the most out of your platform investment. For us internally at HigherEchelon, that means using the vast customizability of the platform to manage and centralize as much of our business model as possible.
Using an iterative model, HigherEchelon has successfully applied Community Cloud and Sales Cloud to handle entire employee experiences. This includes recruiting, onboarding, performance evaluations, and case management. What used to be handled with a stream of OneNotes, Outlook emails, PDFs, and Excel trackers is now housed in one convenient platform that is efficient and manageable for both employees and managers.
It might be time to harness the power of Salesforce to consolidate and automate your business processes. HigherEchelon's Salesforce experts can help you in your pursuit of excellence.
Why choose HigherEchelon to create your employee portal?
HigherEchelon is an award-winning Ridge-level Salesforce Consulting Partner that solves a full-range of Human Resources challenges and drastically improves workflows through custom Salesforce implementations. We relieve talent management headaches by replacing burdensome processes and harnessing the power of the Salesforce Platform and our highly certified team so organizations can quickly recruit, hire, onboard, and train new employees in user-friendly experiences that get employees off to a great start.
We can set up a seamless solution for you that solves numerous human resources challenges at the same time and saves time, money, and headaches long-term through an employee portal.
Most organizations require an implementation partner to help them maximize their Salesforce investment and see all of its benefits.
More Information