Employee Portals & Applicant Tracking Powered by Salesforce
Call us at 866-469-9945, email us at Solutions@higherechelon.com, or fill out this form to be contacted about an initial consultation.
Save time & streamline processes with user-friendly employee portals powered by Salesforce implementations
The speed of technology change and the ever-present need to streamline processes and make efficient use of resources to remain competitive often requires finding ways to work smarter not harder. One of the best ways to significantly cut down on the time it takes to manage talent and quickly scale without hiring more staff is to set up employee portals that provide a main access point for smart tracking and management of onboarding checklists, employee evaluations, certifications, resource access, IT ticketing, case support, and more.
Employee portals powered by Salesforce and set up by HigherEchelon
What is it costing you in time and resources to rely on outdated, manual, time-consuming processes that are not sustainable and have you falling behind competitors? What key data management and analytics are you missing out on, or worse, what information is falling through the cracks due to human error?
Digital transformations may feel daunting, but on the other side are long-term wins that will pay dividends in saved work hours and resources for the long haul.  The best CRM to handle the full-range of organization needs is Salesforce. Most organizations who invest in Salesforce will require an implementation partner to set up, configure, and train on how to use it and get the most out of the investment — that is where we come in.
We can set up a central employee portal that:
Acts as a one-stop-shop for all company needs
Is fully customizable to reflect your company brand
Offers an internal place for employee communication and chats that facilitate collaboration
Stores, tracks, and manages employee credentials
Automatically sends out alerts and reminders for outstanding tasks
Provides a user-friendly experience with intuitive tabs to make resources easy to find
Integrates information from the recruiting, applicant tracking, and onboarding stages of the overall talent management experience
This is how our company employee portal looks: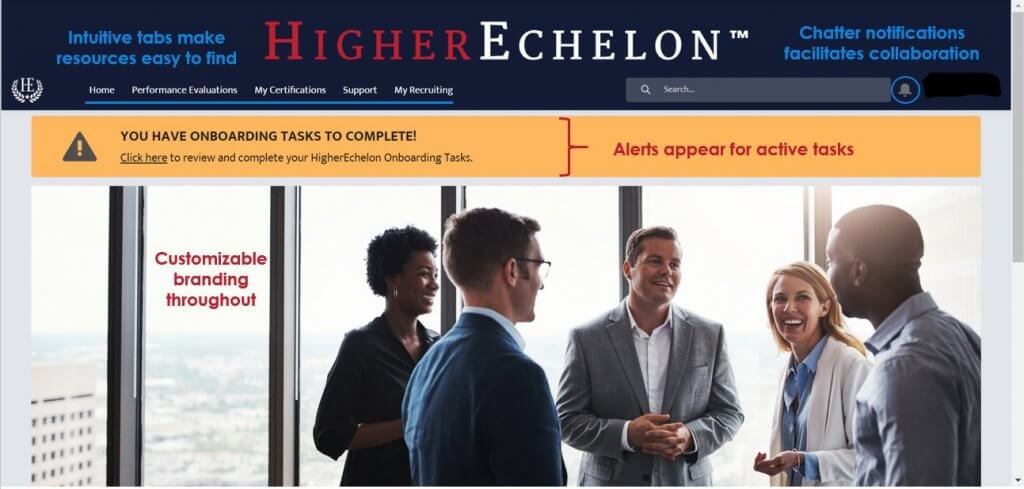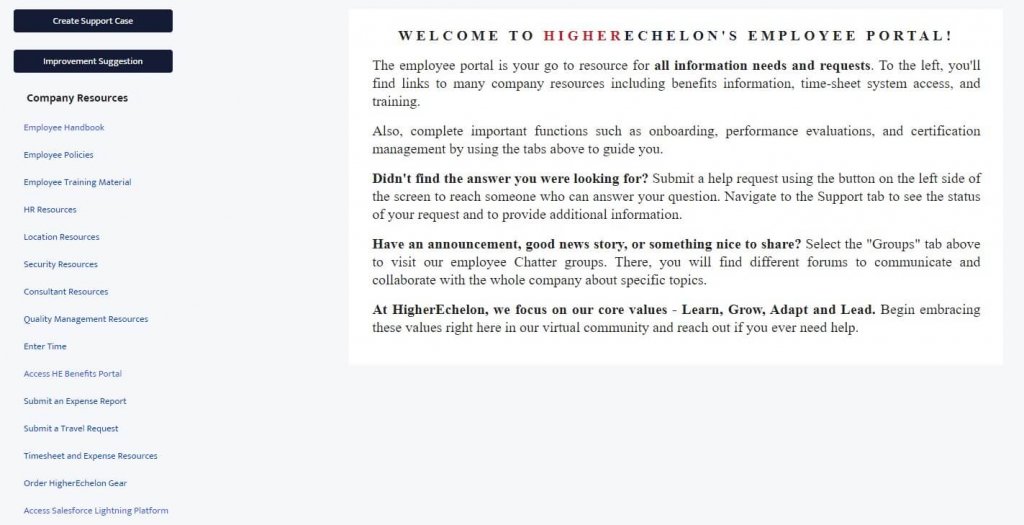 Are you juggling multiple business or employee management apps?
While securing a Salesforce user license for every employee in a company might seem like a steep price, with a bit of creative configuration, you can stretch your user licenses and get the most out of your platform. For us that means using the vast customization ability of the platform to manage and centralize as much of our business model as possible.
Using an iterative model, HigherEchelon has successfully applied Community Cloud and Sales Cloud to handle entire employee experiences. This includes recruiting, onboarding, performance evaluations, and case management. What used to be handled with a stream of OneNotes, Outlook emails, PDFs, and Excel trackers is now housed in one convenient platform that is efficient and manageable for both employees and managers.
It might be time to harness the power of Salesforce to consolidate and automate your business processes. HigherEchelon's Salesforce experts can help you in your pursuit of excellence.
Why choose HigherEchelon to create your employee portal?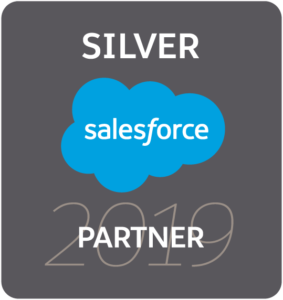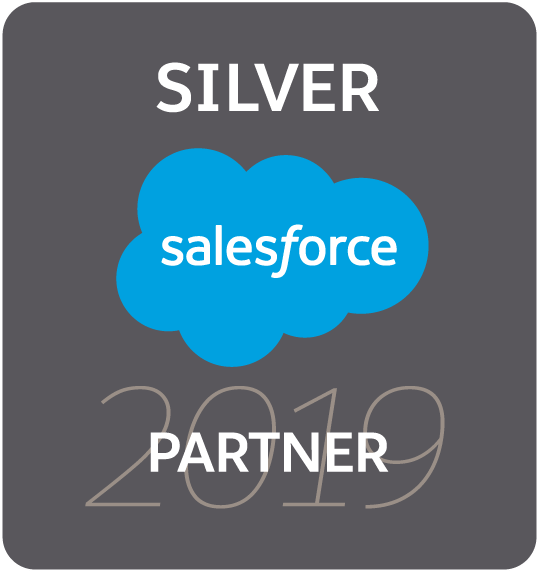 HigherEchelon is an award-winning Ridge-level Salesforce Consulting Partner that solves a full-range of Human Resources challenges and drastically improves workflows through custom Salesforce implementations. We relieve talent management headaches by replacing burdensome processes and harnessing the power of the Salesforce Platform so organizations can quickly recruit, hire, onboard, and train new employees in user-friendly experiences that get employees off to a great start.
We can set up a seamless solution for you that solves numerous human resources challenges at the same time and saves time, money, and headaches long-term through an employee portal.
Most organizations require an implementation partner to help them maximize their Salesforce investment and see all of its benefits. Call us at 866-469-9945, email us at Solutions@higherechelon.com, or fill out this form to be contacted about an initial consultation.
---
Client Review: 5/5
★ ★ ★ ★ ★
HigherEchelon understood our requirements upfront, and was able to handle opportunities to deliver additional value through their quick and efficient roll out and implementation process. Their customer focused approach also identified potential value for future enhancements without losing track that on-tie project delivery (they were actually early on an aggressive schedule) and no scope creep were important to us. A great experience delivering a much needed system to help us rapidly grow our business.
– Public client review on Salesforce AppExchange, Professional Services industry
---
Our Team – Highly Certified Salesforce Experts

OUR SPECIAL EXPERTISE INCLUDES:
Sales Cloud
Service Cloud
Public Sector Cloud
Community Cloud
Customer Portal including Self Service
Lightning Deployments and Migrations
Marketing Cloud
Pardot
Einstein Analytics
Integrations

User Centered Design resources on staff

 

Automated Testing expertise on staff

 

Strong DevOps expertise on staff, with skills in Gearset, Metazoa, SFDX and Copado

 
100+ Active Partner Program Certifications Held By Staff Including

:
System Architect

 

Application Architect

 

Sales Cloud Consultants

 

Service Cloud Consultant

s

 

Community Cloud Consultant

s

 

Marketing Cloud 

Consultants

 

Platform Developer I and II

 

Platform App Builder 

 

Copado Administrator

Administrator and Advanced Administrator

 

MuleSoft Certification

 Level 4

 
---
Client Review: 5/5
★ ★ ★ ★ ★
HigherEchelon's team is extremely professional and high caliber. They are very knowledgeable on the Salesforce platform, while offering solutions to business problems. That's a hard mix as most partners tend to be over indexed in one particular way. HigherEchelon knew how to leverage the platform to solve our business needs.
– Client, Financial Services Sector, public review on Salesforce AppExchange
---
VIDEO: The Benefits of Using an Expert Salesforce Implementation Partner
More Information