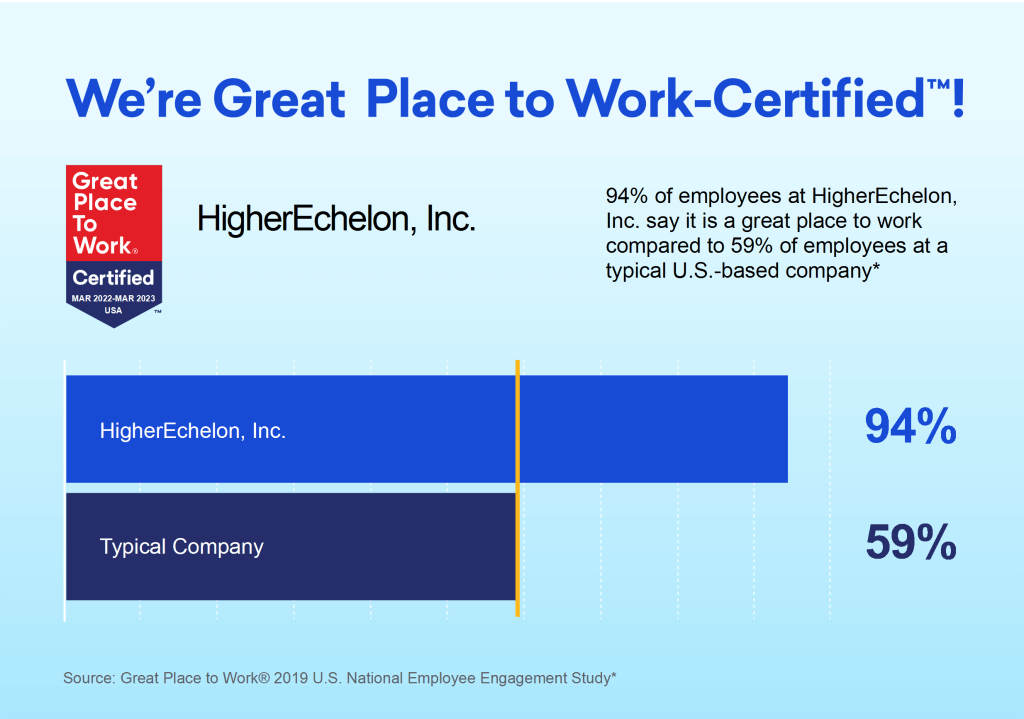 HigherEchelon, Inc. Earns Great Place To Work-Certified™ Company Designation for Second Consecutive Year
HUNTSVILLE, ALABAMA – HigherEchelon, Inc. is proud to announce the company this month achieved Great Place to Work-Certified™ designation for the second year in a row.
HigherEchelon's results, which are based upon validated employee feedback gathered with rigorous, data-driven methodology, surpass the typical company's results by 35 percentage points, according to Great Place to Work™.
To receive certification, companies must have at least 7 out of 10 employees report a consistently positive experience. Ninety-four percent of employees at HigherEchelon say it is a great place to work.
"Great Place to Work Certification™ isn't something that comes easily – it takes ongoing dedication to the employee experience," said Sarah Lewis-Kulin, vice president of global recognition at Great Place to Work. "It's the only official recognition determined by employees' real-time reports of their company culture. Earning this designation means that HigherEchelon is one of the best companies to work for in the country."
HigherEchelon team members were asked to indicate agreement or disagreement in Likert-score anonymous survey responses across a variety of statements. HigherEchelon's team rated the company most highly in the areas of Camaraderie, Fairness, Pride, and Credibility.
"We make employee experience a high priority, and it means a lot to see our employees report consistently positive experiences especially considering the challenges of Covid, which are unique to each person and family," said Paul Maggiano, HigherEchelon Co-Founder and Partner. "This is important to us because we value our team and also know that when our employees have a high-trust experience, they are more productive, drive better business results, and make a difference to our customers."
HigherEchelon is an award-winning firm founded in 2009 with a company mission to optimize organizational performance to meet the rapidly changing, complex and often ambiguous requirements of today's world by developing resilient and adaptable leaders, implementing transformational engineering and technology solutions, and modernizing and enhancing processes.
HigherEchelon offers solutions in: Human Capital Services, Salesforce Consulting, Gaming and Simulations, Enterprise Technology, Engineering Solutions, and Cyber Operations and Training.
"We are excited to be recognized by Great Place to Work two years running," said HigherEchelon President Joe Ross, Ph.D. "Our vision is to be our clients' premier trusted partner in achieving organizational excellence by living our company values of Learn, Grow, Adapt, and Lead each day. We could never accomplish this vision nor live these values without the top-notch and talented employees we have assembled over the last 10 years. This award belongs to the HigherEchelon team for their attitude, dedication, and effort to optimize organizational performance!"
HigherEchelon employs 160 people across the country and is headquartered in Huntsville, with a corporate office in the Washington-D.C. area.
"When I transitioned out of the military, I wanted to find a company that valued me and would develop me as a professional," said Jeff Caslen, HigherEchelon Senior Proposal Writer. "Everyone in HigherEchelon cares about me achieving my personal and professional goals and spends time mentoring me. HigherEchelon practices the organizational approach they teach to other companies, and it creates a warm and welcoming culture of excellence."
To learn more about HigherEchelon, visit HigherEchelon.com and the company's Great Place To Work company profile page. Find helpful resources for optimizing human and organizational performance on the company's LinkedIn, Twitter, and Facebook pages and reach out to connect through this form.
"I love working at HigherEchelon because of the solid relationships, culture, camaraderie, and shared values of growth and excellence," said HigherEchelon Director of Marketing & Communications Rachel Bryars. "I get to learn something every day from my teammates, who are high performers inspiring me to be my best."
About Great Place to Work Certification™
Great Place to Work® Certification™ is the most definitive "employer-of-choice" recognition that companies aspire to achieve. It is the only recognition based entirely on what employees report about their workplace experience – specifically, how consistently they experience a high-trust workplace. Great Place to Work Certification is recognized worldwide by employees and employers alike and is the global benchmark for identifying and recognizing outstanding employee experience. Every year, more than 10,000 companies across 60 countries apply to get Great Place to Work-Certified.