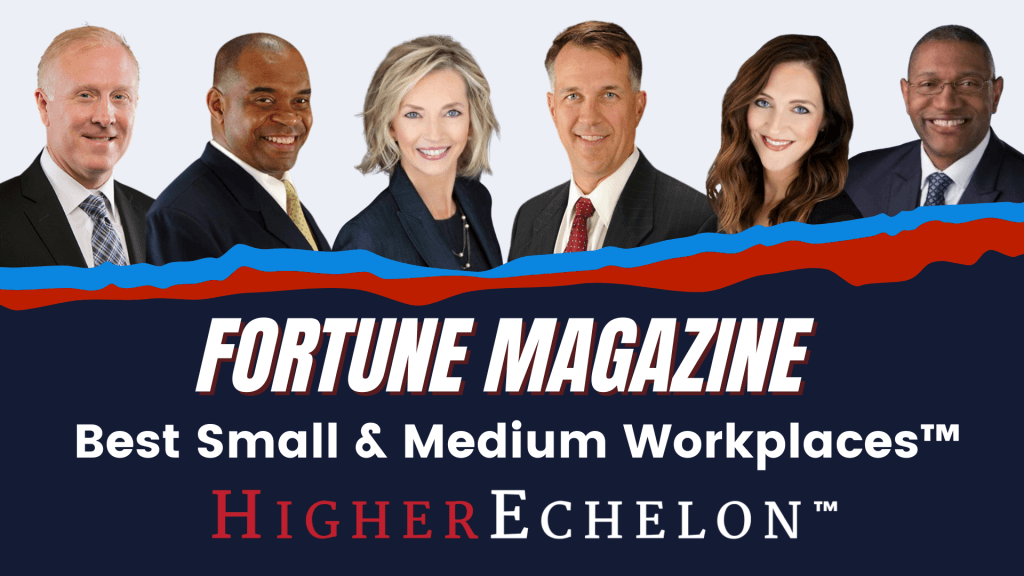 Fortune Magazine and Great Place to Work® Names HigherEchelon to National Best Small & Medium Workplaces List 
Fortune magazine and Great Place to Work® have named HigherEchelon to the prestigious 2021 Best Small & Medium Workplaces™ list. HigherEchelon is one of only four Huntsville companies to make the list, joining well-known digital leaders such as Monday.com, Calendly, Nerdwallet, Roblox, Gitlab, Chegg, Inc., & Braze.
"HigherEchelon has a rich heritage in the military, to the point where successes are celebrated with the phrase 'BOOM!'" said Senior Vice President for Enterprise Technology & Cloud Solutions Tim Pash. "That's just fun. Plus they maintain a small company vibe by acknowledging employee birthdays and anniversaries with cards and small gifts."
The Best Workplaces award is based on analysis of survey responses from more than 280,000 current employees nationwide. Great Place to Work®, the global authority on workplace culture, selected the list using rigorous analytics and confidential employee feedback. Companies were only considered if they are a Great Place to Work-Certified™ organization.
"These companies may be small in size, but their impact and commitment to improving employee experience stacks up against some of the world's largest corporations," says Michael C. Bush, CEO of Great Place to Work®. "Their ability to scale business while maintaining a high level of employee care is nothing short of amazing. A job well done to the Best Small & Medium Workplaces."
The national list ranking follows HigherEchelon's recent achievement of becoming a Great Place to Work-Certified Company with unusual results: HigherEchelon's results significantly surpassed the typical company's, according to Great Place to Work™.
To receive certification, companies must have at least 7 out of 10 employees report a consistently positive experience. Ninety-seven percent of employees at HigherEchelon say it is a great place to work compared to 59% of employees at a typical U.S.-based company, according to a Great Place to Work™ 2019 U.S. National Employee Engagement Study.
"I'm blown away by HigherEchelon's scores," said Shelia Kelly, client solutions manager at Great Place to Work™. "When we see scores like these and talk to employees who value their organizations as much as HigherEchelon employees do, it is so fulfilling to us and our mission."
HigherEchelon employees were asked to indicate agreement or disagreement in Likert-score anonymous survey responses across a variety of statements. HigherEchelon's outstanding results included the following highlights:
— 99% say "People avoid politicking and backstabbing as ways to get things done."
— 99% say "Our customers would rate the service we deliver as 'excellent.'"
— 99% say "People care about each other here."
— 99% say "You can count on people to cooperate."
— 98% say "Management makes its expectations clear.
HigherEchelon was also recently ranked nationally as the #13 Best Workplaces in Consulting & Professional Services for small and medium businesses, as well as being named by Fortune Magazine to the Best Workplaces for Millennials list.
"We make employee experience a high priority and it means a lot to see our employees report such consistently positive experiences with their co-workers, their leaders, and their jobs," said Paul Maggiano, HigherEchelon Co-founder and Partner. "This is important to us because we value our team and also know that when our employees have a high-trust experience, they are more productive, drive better business results, and make a difference to our customers."
HigherEchelon is an award-winning organizational performance consulting firm founded in 2009 that helps organizations embrace change and thrive in the modern business environment by developing resilient and adaptable leaders, optimizing business processes, and implementing transformational technology solutions.
HigherEchelon offers solutions in: Human Capital Services, Salesforce Consulting, Gaming and Simulations, Enterprise Technology, Engineering, and Cyber Operations and Training.
The company employs more than 140 people across the country and is headquartered in Huntsville, with a corporate office in the Washington-D.C. area.
To learn more about HigherEchelon, visit HigherEchelon.com and their Great Place To Work company profile page. Find helpful resources for optimizing human and organizational performance on the company's LinkedIn, Twitter, and Facebook pages.
"I love working for HigherEchelon, because of the people and the opportunities to learn from each other," said HigherEchelon Salesforce Trainer Ashley Hayes. "Every team member is always willing to support and help you through a challenge. I learn something new every day from one of my colleagues and appreciate that HigherEchelon gives us that opportunity for professional development and creates a work environment to do so."