How to cultivate a "Team First" approach with San Francisco 49ers Director of Player Engagement, Austin Moss, and Dr. Eric Bean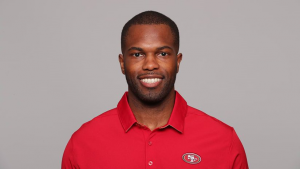 During this episode of the Coaching Through Stories podcast, host Eric Bean interviews Austin Moss, Director of Player Engagement with the San Francisco 49ers. Austin shares how he uses his role to educate, empower, and guide players to reach their potential both on and off the field. Austin demonstrates his passion for greatness throughout this conversation as we discuss hard work, the importance of bringing more diversity to the NFL, and the value of creating a culture with a team first approach.
Three Key Points:
Great leaders cultivate a team first mentality where everyone focuses on doing their part..
Working hard will help you achieve your goals. Success is earned, not given.
Pros differentiate themselves from amateurs by their level of commitment and dedication.
Episode Highlights:
Austin shares about his experience growing up in the small town of Hopkinsville, Kentucky in a multi-generational household.
His family instilled a work ethic in him that helped him achieve his goals.
He first fell in love with football while competing with his older brother. They both dreamed of playing for the University of Kentucky. He went there as a preferred walk-on and was eventually awarded a scholarship.
Having a strong work ethic, teamwork, perseverance, and faith were emphasized in his home growing up.
Faith helped him respond to doubt.
When you practice, you can gain the ability to achieve at a high level.
Austin believes his passion for the game was given to him for a reason.
He knew his odds of making it to the NFL were slim but he wanted to stay as close to the game as he could without playing.
Austin grew up in a small town without much diversity. He was often the only black person in his class.
Looking at the history of executives in the NFL, there's a lack of diversity. Austin set out to be part of changing that as his next goal when he stopped playing.
Austin received an MBA and a master's degree in Sports Management at the University of Central Florida. This program focused on bringing diversity and equality to sports.
In his role with the 49ers, Austin is responsible for building culture. He is also responsible for helping players with personal development, decision making, life skills, financial education, continuing education, and career development.
The average NFL career is three years. They help players see possibilities outside the game.
He starts with rookies to help them find balance and broaden their thinking about their lives. They talk about the on-field component, but they also talk about the off-field.
The 49ers create touchpoints for their players with tech companies in Silicon Valley.
When they're talking to veteran players they talk about what they want to do when they're done with the game.
They also encourage peer-to-peer conversations between veterans and younger players.
The biggest transition from being an amateur to a pro is understanding the time and dedication it requires to be elite.
Many people grow up naturally gifted but in the NFL you can set yourself apart with your mindset and how you take care of your body.
You've got to love doing the stuff that people don't see. That's part of the process to become elite.
In the 49ers' culture, they want contagious competitiveness and people who are passionate about the game.
They believe that smarter football players make better teams.
Everyone focuses on doing their part and it isn't about who receives the credit. This is key.
To buy into a team first mentality, you must be self-critical.
In their business, film is the #1 evaluator. Leaders can think about their meetings and assess what would undeniably show up on tape if their meetings were recorded in a similar manner.
Successful athletes hold themselves to a high standard and put systems and processes in place to consistently meet those standards.
Even after a successful year, you have to re-evaluate yourself to make sure you approach each day with intensity.
Players will make mistakes. It's important to make sure they know how their decisions can impact their goals and their team.
Austin wants to be the best player engagement director in the league that he can be. He knows if he can take his skill set and apply it to any business or industry.
Great leaders clearly communicate their standards, create a team environment, and stay ahead of the game.
Austin recommends helpful books on leadership.
Resources Mentioned:
Help us grow by leaving a rating or review on Apple Podcast  – here's how
To learn more on how you can take your leadership to the next level, check out our service offerings: Resilient and Adaptable Leadership, Executive Coaching, and Change Management.